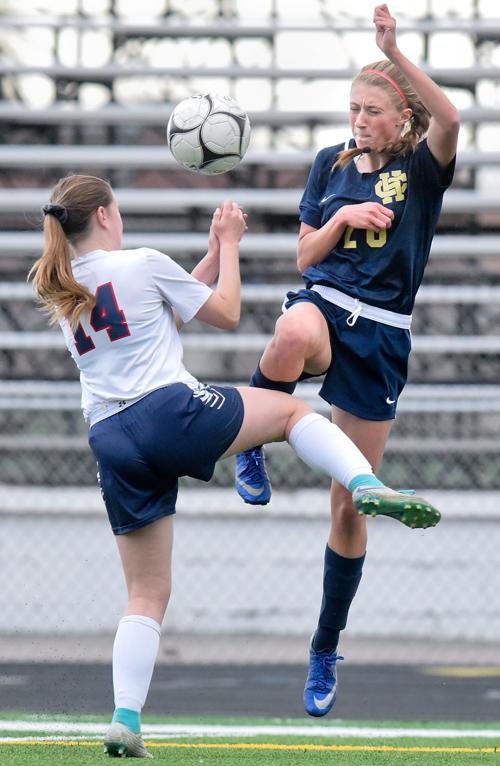 SIOUX CITY -- Even though Ashley Aesoph had a decent season as a junior, Bishop Heelan girls soccer coach Clark Charlestin wasn't ready to put her in the starting lineup to begin the season.
Charlestin needed to see more out of the senior forward. So he sat down with Aesoph and went over the things she needed to do to crack the starting lineup.
It only took two games on the bench for the message to become clear for Aesoph. In the third match of the season, Charlestin inserted Aesoph into the starting lineup and she two goals in a 3-2 win over Treynor. They were her first goals of the season and the first victory of the season for the Crusaders.
"She has the talent to do that," Charlestin said. "We talked about the things we needed to see out of her to earn a spot in the starting group and I think she took the message very well. She really is a competitor and went after it."
Aesoph, this week's Sioux City Journal Metro Athlete of the Week, became more aggressive and it has paid off for her and for the team. Aesoph currently has nine goals, more than she had in her previous three seasons combined, and is a key reason why Heelan is ranked No. 2 in Class 1A with an 8-3 record.
Aesoph didn't score a goal in her freshman or sophomore seasons. Last season Aesoph had six goals and two assists. So the nine goals this season are three more than she had for her high school career coming into the season.
Charlestin said Aesoph is more aggressive now, leading to the uptick in goals.
"I think this year she's better in front of goal. More decisive with her moves," Charlestin said. "She would pass the ball early or not take the defenders off the dribble. Now she's more decisive with the ball and making a run at the defenders."
In the last nine games, Aesoph has scored in seven of them, including two goals in two of those games. Last week she had a goal in all three of Heelan's game, including the game-winner against Lewis Central in the 1-0 victory. Lewis Central was ranked No. 1 in Class 2A at the time.
"She is very efficient for her position. Her speed is one of the most lethal things you can have at this level," Charlestin said. "She understands what her skill set is."
Aesoph's new-found aggressiveness as a striker has allowed Charlestin to change things up top a bit. Sophomore Ellie Gengler led the Crusaders with 15 goals last season. Her goals are down this season with five but she already has 10 assists playing as a midfielder.
"I spoke to Ellie about the pressure scoring goals. That's not the main thing and there are so much more things that she does for us," Charlestin said. "Defensively, she's the first one putting pressure on top and she is a smart defender. She's one of those smart players who know what we need the most. This year, we needed her more composed to win games. She does that."
Aesoph's scoring has also opened up other teammates on the offensive end. Last season the Crusaders had 36 goals with Gengler scoring almost half of the goals.
This season the Crusaders have 29 goals through 11 games. After Aesoph's team-leading nine goals, Katelyn Stanley has five goals along with Gengler. Katie Cooke has three goals and six more players have at least one goal.
Now opposing teams have more scorers to worry about than just Gengler with Aesoph opening up the offense.
"That's always good to have. We can really be dangerous. The main important thing, as long as we stick as a team defensively first, the goal is going to come from somewhere," Charlestin said. "Ellie can score at any point, Ashley can score at any point, Katelyn can score at any point. Any day it can be anyone. So far, Ashley has been tremendous."
Nya Diew, South Sioux City -- Diew won the discus and the shot put at the Rivers City Conference meet last week and set records in both events. Her toss of 152-feet, 6-inches is a new RCC record in the discus and her 43-1 toss in the shot put also set the RCC record.
Megan Hansen, South Sioux City -- Hanson won the 100 hurdles at the RCC meet in a time of 15.26 seconds. She also won the 300 hurdles in 49.30.
Get in the game with our Prep Sports Newsletter
Sent weekly directly to your inbox!