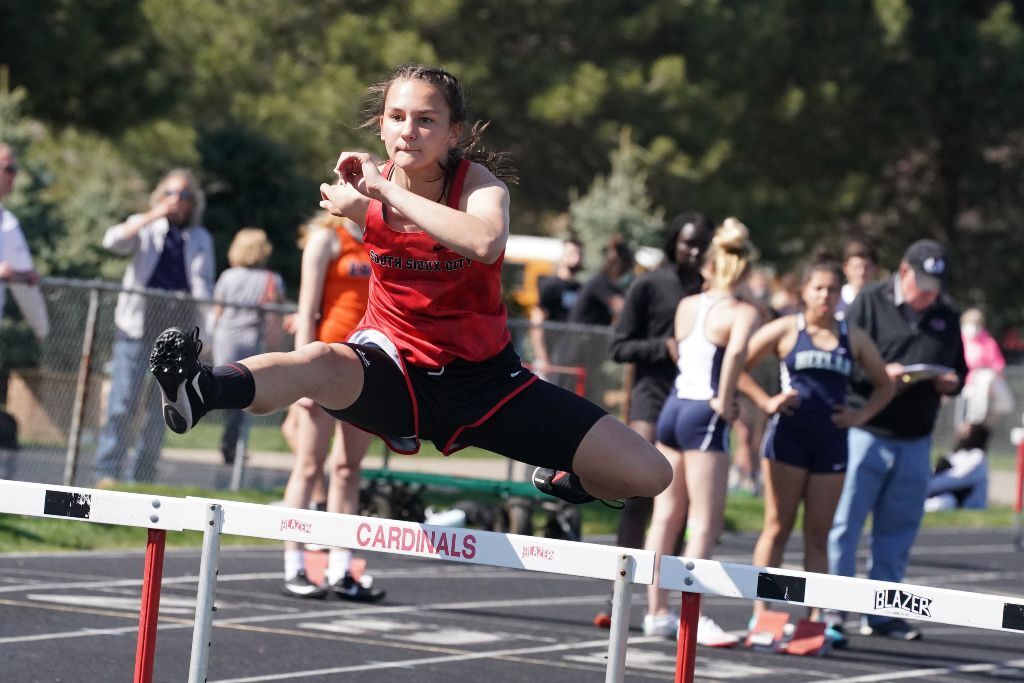 SOUTH SIOUX CITY — Natasha Freiberg never stopped believing that she could make the 5-foot, 5-inch mark on the high jump pit.
She made that mark Thursday at her home track and field meet in South Sioux City.
The South Sioux City High School senior tied the school record last week with that mark, and it marked the first time she had done so since her eighth-grade year.
After Freiberg cleared the bar, she tried to find her father, Dwight Freiberg, so that she could celebrate with him.
Natasha Freiberg leapt in her dad's arms, and while they were hugging outside the apron, Dwight told Natasha that he believed she could do it all along. Natasha heard the same words that she had been hearing ever since Natasha Freiberg started jumping on the high-jump apron.
"He said that it should not have come as a surprise," Natasha Freiberg said. "For as much effort as I have given in the last six years, it should not have come as a surprise."
Dwight and Natasha have been two peas in a pod on that apron.
"I have always thought about what it would be like if I had a different coach from growing up," Natasha Freiberg said. "My dad has been my rock through it all. He has spent countless hours finding videos and other high jumpers who I can look up to. He has just been a great example of what a coach should be."
He also gave her an important message after the 2019 district meet, where Freiberg came up short from qualifying at the state meet.
Freiberg simply had a bad day and didn't jump as high as she needed to to make it to state. Natasha Freiberg admitted that she was down in the dumps about it, but her father was right there to remind her that she could use it as motivation.
So, she's been working for that goal over the last two years.
"I am determined to make it to state and bring my dad with me," Natasha Freiberg said. "Throughout my junior year, I worked hard with him, and we spent a lot of time looking back at video from freshman and sophomore year.
They've been working on and off the apron, making sure Natasha develops into one of the top high-jumpers among Class B in Nebraska.
Take last season, for example.
There wasn't a track and field season in 2020 because of the COVID-19 pandemic, but the two made the best of a bad situation.
The two Freibergs made a high-jump bar into a bungee bar in her bedroom. Of course, they couldn't work on drills like they could have outside, and the school was off-limits because of the pandemic.
They hung the bar above her bed, and Dwight Freiberg sat in a chair while Natasha went through several reps, working on her final approach to the bar.
Natasha and Dwight saw on those films that she was lifting her lead knee up, which forced her butt to hit the bar. When her butt hit the bar, that forced the bar to fall and it was scored as a scratch.
So, the two have been "nailing" that part of Freiberg's high-jump game over the last two years, and it's seemed to work out pretty well.
"It was a lot of fun, because we could have that quality time together, doing what we loved," Natasha Freiberg said. "It was definitely different having a bungee. It was very beneficial for me to do that."
So, the two worked on Natasha's last four steps before approaching the bar.
Freiberg's future
Natasha Freiberg's family knew she was going to be the one entering the military, and that's what she is going to do for her future plans, while also attending college.
Freiberg saw her aunt and uncle go into the Marines, and after taking in some tours and activities, she knew that that was the route she wanted to take.
She'll enter the 186th Air Refueling Wing in Sergeant Bluff. Freiberg wants to go into military police.
Freiberg will leave for basic training June 8 in San Antonio, Texas.
While she'll be with the Air National Guard, she'll also have the chance to be a track and field student-athlete at the University of South Dakota.