North's E.J. McElmeel had one last chance to qualify for the Class 3A state wrestling tournament. McElmeel went into the district tournament in Fort Dodge as the No. 2 seed at 160 pounds.
With the top two wrestlers advancing from each weight class, all McElmeel had to do was finish at his seed and he would qualify for state for the first time.
McElmeel did one better. He won all three of his matches, including a 12-4 major decision, in the district title match to earn his first-ever trip to the Wells Fargo Arena in Des Moines on Thursday.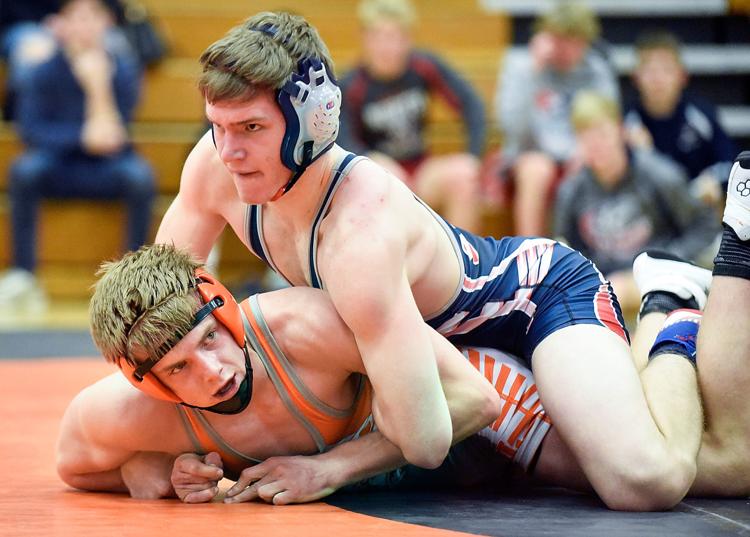 "He's been hungry to get to the state meet," North coach John Torno said. "We were seeded second and his goal was to win districts and he had the opportunity to make that come true. He's been working to get that opportunity and see what he can do."
While the state tournament is the pinnacle of excellence for any wrestler in the state, McElmeel may be more relaxed going to Des Moines than he was in Fort Dodge since he's been waiting for this moment for so long.
"For the past four years, it's been a big deal trying to get there," McElmeel said. "I was hoping to make it sooner but better now than never. I think it was definitely a relief."
Qualifying for state is a symbol of the kind of season McElmeel has had. He's been in and out of the 160-pound rankings by the Predicament this season and he picked up his 100th career victory earlier in the season. McElmeel goes into the state tournament with a 43-5 record.
The 43 wins are the second-most at 160 pounds in 3A this season, second only to Waverly-Shell Rock's Jacob Herrmann, who has 45 wins.
"You look at the kids he's beaten, he's beaten some quality kids and some of the guys he's lost to are state guys or state final guys," Torno said. "He's having a heck of a season. He's had matches where he's had to come back and win. We are just looking for him to stay in his game and do good things."
McElmeel's record is a product of his mindset of how he wants to wrestle.
"What really motivates me is just going out there and doing my best. Not every move is going to work out but my goal is to work what I can," McElmeel said. "Usually it's trying to win for the team and score as many points to help the team."
McElmeel is able to score most of his points while he's on top. He admitted that he needs to be better with his takedowns but once he's on top, he's able to ride his opponent out.
He also knows he can't just rely on riding out opponents at state.
"I think top is my strongest position but there are people out there that are quick off the bottom and tough to hold down," McElmeel said. "I can't hold down everyone so I need to practice my shots."
McElmeel also succeeds in the classroom. He's a member of the National Honor Society and Torno said McElmeel is a leader by example.
"He does things the right way and leads by example. The other kids see that and fall in line," Torno said.
Now that McElmeel has qualified for the state tournament, Torno has started to break down his bracket. Being the district champion gave McElmeel a bit of a favorable draw in the first round against North Scott's Zachary Campbell, who is 27-19 on the season.
However, his next match would be against Herrmann, who is ranked No. 2 at 160.
"His first round draw helps with the jitters and then it is what it is. Anything can happen. If he can get that first win, that gets the wind in his sails. The strategy is to control those matches," Torno said. "If for some reason we were to take the loss, his matches the other way are very winnable. Anything can happen. Take it one match at the time. Our philosophy is to do what you do and work your game and hopefully, good things will come."
McElmeel isn't satisfied with just qualifying, either. He wants to end his high school career on the podium.
"Through all of middle school and high school or any national tournament like AAU state, I've never placed at the big tournament," McElmeel said. "This is my last shot to place at one of those."
Jaleque Dunson, East ... Dunson scored 33 points, one off the single-season record for East, and hit seven three-pointers in East's 88-73 win over North on Friday. Dunson also had 19 points and five rebounds in a 75-29 win over Council Bluffs Abraham Lincoln last Wednesday.
Marybeth Rasmussen, South Sioux ... Rasmussen scored 18 points as the Cardinals beat Bishop Heelan 80-75 on Monday, Feb. 4. Then in a 90-58 win over Sergeant Bluff-Luton on Thursday, Rasmussen scored 20 points.