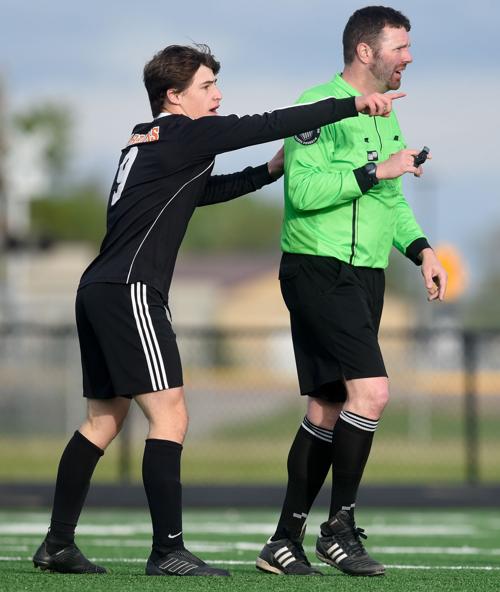 SERGEANT BLUFF — David Clausen hopes to be a major piece of the puzzle for the Sergeant Bluff-Luton High School boys soccer team this spring.
Clausen knows where he fits on the proverbial puzzle board.
Clausen, the Warriors' right-side forward, opened the season by having a role in all three of SB-L's goals Thursday in a 3-2 win over Glenwood. Clausen had two assists and a goal in the match, and because of that, the Warriors senior is this week's Metro Athlete of the Week.
Clausen got those points all in the first half.
"That was a really good season opener," Clausen said. "I know that stepping onto the field in the first half, I felt a little bit nervous, but it was more of being ready to take what's ours. We wanted to start it off strong.
Clausen helped out with his assists before he got to the goal on Thursday.
The first assist went to Henry Eckhoff, and that came in the 25th minute of the match.
Five minutes later, Clausen found Blaise Schmidt for the Warriors' second goal of the match.
Clausen's goal came by instinct.
After the Warriors had a shot saved by Glenwood goalkeeper Casey Godbout, Godbout had a bad outlet pass to one of his teammates in the left backfield of the pitch.
The receiver of the pass took too big of a first touch, according to Clausen, and the Warriors senior saw the opportunity for a steal.
"It clicked in my head right away as soon as the goalie passed to step on the ball," Clausen said. "He had a bad first touch, I grabbed it. I turned around and whipped the ball into the far post. My head was going crazy. I pretty much wanted to punish them for that first bad touch."
Speaking of first touch, that's what Clausen worked on during the offseason.
Warriors coach Aaron Witmer thought Clausen's touch was good during his freshman season, and may have tampered off a bit in 2019.
Clausen seemed to find it in the offseason and wanted to make sure it was in better shape once the season started.
"I'm not really sure what happened to him," Witmer said. "I mean, he still had a great season two years ago, don't get me wrong. He still was a big part of our season back then, all the success we had. But there was just a level to his game that I knew he could be at, that I don't think he was at two years ago as a sophomore.
"He's grown up and now he brought that next level play that I always knew he was capable of, but that's just something we worked on in the off-season," Witmer added.
When halftime came around on Thursday, Clausen approached Witmer as a favor to move to the middle part of the pitch.
Clausen has played midfielder before, but Witmer thought Clausen fit best at the right-wing spot, and that's where he fits best in SB-L's puzzle.
"He knows he's dominant in that position," Witmer said. "And it's really good to see him out there and all the success he's had in those two games."
Clausen has moved to the right side of the field, after serving as a striker during the 2019 and 2018 seasons.
The reason why Clausen moved positions is based on the formation that Witmer has put his team in. He places formations based on the strengths of the Warriors, and it always has changed from year-to-year under Witmer.
"We have a lot of good players," Witmer said. "I think we have Dave in the perfect spot. But where do we put Ty Shoulders and Brady Schaap and Carlos Rodriguez? Because they can all play in multiple positions."
Clausen feels comfortable playing on that right side, as he's played there during club ball.
"It feels good when the offense does go through my side," Clausen said. "It's about supporting my teammates. People may anticipate that I may have the ball, so when I switch it to the other side of the field, we'll run through it on that side. I don't feel like the offense has to run through me."
The Warriors have 11 seniors on this year's team, and they're eager to meet some high expectations that they have for themselves.
The Warriors (11-5 in 2019) fell short of the 2019 state soccer tournament after losing to Storm Lake in the state qualifying game.
Witmer and his team thought it was good enough to qualify for state last year, but because of the pandemic, they didn't get that chance.
The Warriors are eager to have that opportunity this spring to be good, or as Clausen put it: "if not better."