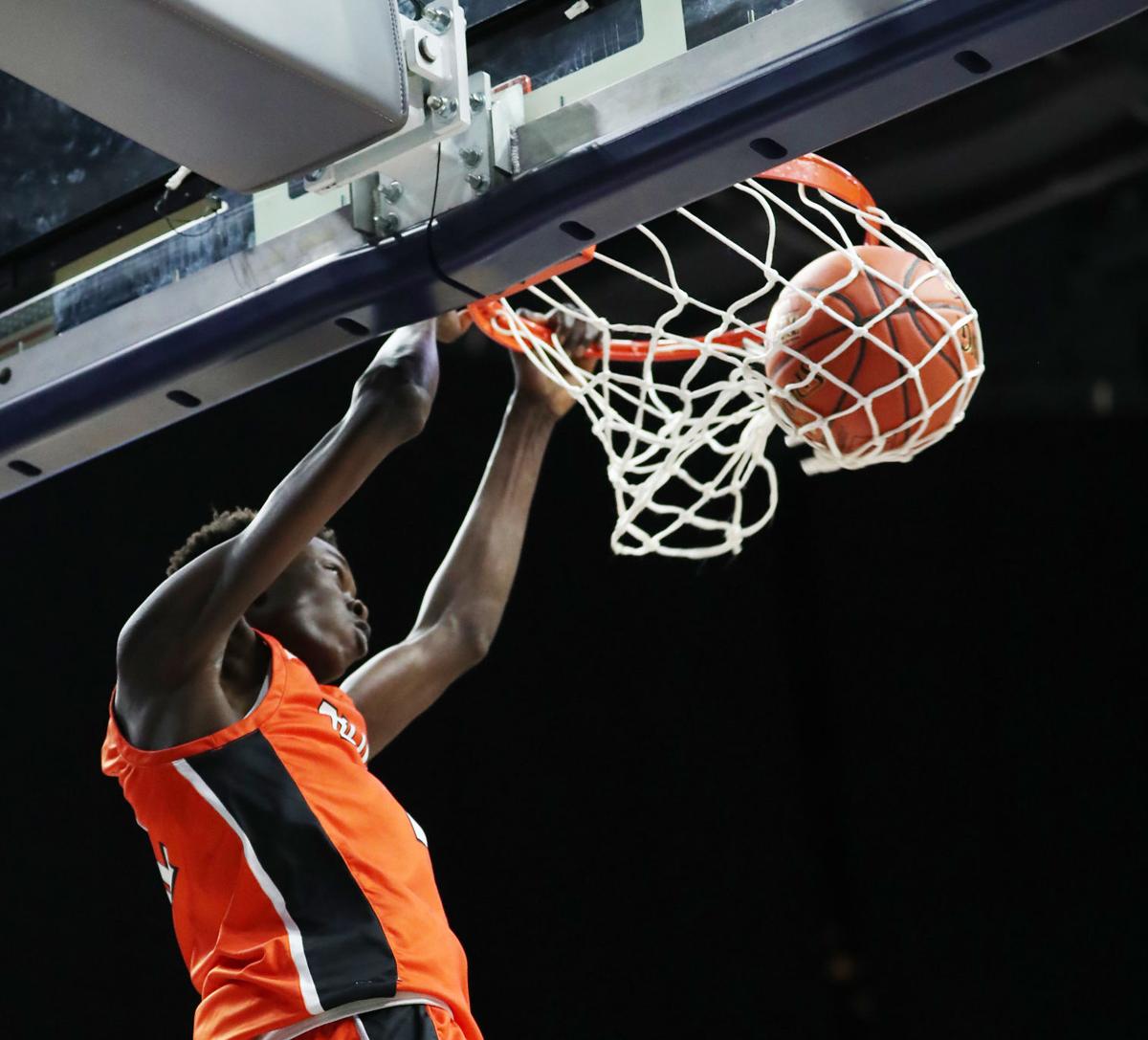 SERGEANT BLUFF — Jake Layman and Majok Majouk have had several memories growing up together.
Not only are the two Sergeant Bluff-Luton High School seniors best friends, they are also brothers. They may not look like it, but the two Warrior senior forwards
They are also hoping to take the Warriors to another state basketball tournament in a couple weeks in Des Moines.
The two met playing club basketball in Ankeny when Layman and Majouk were on the same team in middle school.
Majouk and Layman — the final Metro Athletes of the Week for the winter season —instantly started to bond, and that bond lasted for two years.
Majouk wanted to have a future in basketball. By the time Majouk was an eighth grader, he decided that he should go live with Layman and his family.
At first, Majouk admitted that it was a little weird. Majouk appreciated how much the Laymans made him feel right at home, and since then, it's been a natural transition.
"Ever since then, it just came natural," Majouk said. "Having that bond together, it felt a lot easier also. It feels very natural now. We do most things together now, which brings it all together."
Layman admitted that it wasn't the easiest thing for him to gain a brother in middle school, and he had to work through a learning curve.
"We made adjustments and 2021, we're living together and everything is perfect now," Layman said.
The play occurred in the fourth quarter, and the Warriors had a pretty comfortable lead.
The play started to unfold when Layman had the ball at the top of the key and Majouk was situated around the left-hand side of the wing.
Layman took a couple dribbles to his right, and while that was happening, Majouk set a screen for Nick Muller.
Muller flashed to the top of the key, but gave the ball right back to Layman.
Layman saw that the play had a chance of working, so he threw the ball up toward the rim, and Majouk grabbed it and flushed the ball down with two hands.
That sent the crowd to its feet, and the two seniors were happy to pull off that play during their final home basketball game.
"I don't think that play has ever worked in a game before this," Layman said. "So, I think it worked once or twice in practice, but it's really easy when (Majok) is on the court. You just throw it somewhere around the rim and he'll catch it. It means a lot to play in this gym, and there's no better way to cap it off with that play."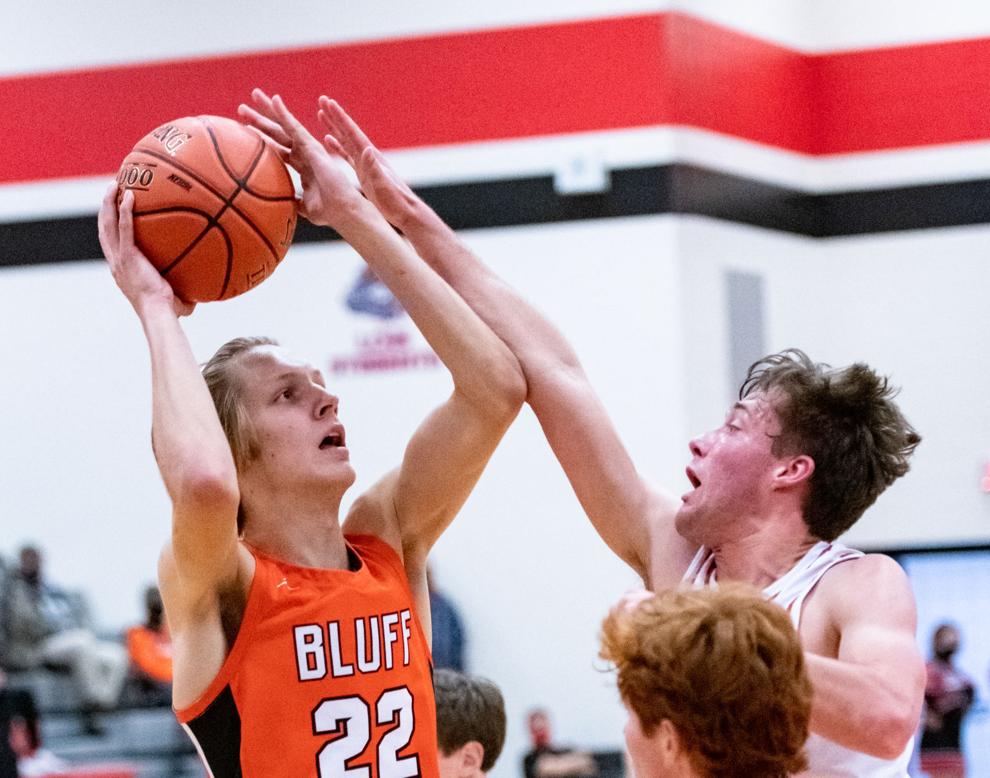 The two have been playing on the Warriors varsity level for four years. Layman played in 25 games during his freshman year, while Majouk played in one varsity game his freshman year.
Both have improved throughout the years, but perhaps none so more than in the past year.
Vander Schaaf told Layman when he was younger than he had to get stronger, so he could be more physical on both ends of the floor.
At the time, Layman was very slender and hadn't developed yet.
Layman took that advice to heart, and he has been listed at 6-8 with much more strength as he did as a freshman.
"Each year, he's just gotten stronger with the basketball," Vander Schaaf said. "He can take the bumps and the hits as a varsity player."
Layman has also been more productive putting his game together in one solid package throughout his varsity days.
Vander Schaaf could remember a time where Layman was just focused on one part of his game, instead of putting it all together.
For example, when the Warriors were playing in the 2019 substate final against Spirit Lake, the Warriors put Layman on the Indians' top scorer.
He put so much energy on the defensive end that Layman didn't score that night against the Indians.
Layman has learned to be more versatile, like bring the ball up the floor, defend all around the floor in the paint and on the perimeter as well as score in multiple ways.
"I'm just trying to affect the game in as many ways possible," Layman said. "Even if shots aren't falling, I want to affect the game as much as possible and I thought defense was the best way of doing that."
Layman leads the Warriors with 11.9 points per game, and he's made 44 percent of his shots on the season.
Majouk, meanwhile, was a mid-level player at the junior varsity level as a sophomore. He was tall, but he was also lanky. Majouk played in games, but Vander Schaaf and the other SB-L coaches needed to see more progress.
Majouk spent countless hours in the gym in the summer of 2019, knowing that if he could get better, he'd play a valuable role for his teams.
"Sure enough, toward the end of last season, especially in the tournament run, he really turned it on," Vander Schaaf said. "He had that big dunk against Pella that was a huge momentum play, and he was really important to our run."
Majouk's average entering Monday's win over the Monarchs was 10.1 ppg.
Majouk and Layman will be key pieces if the Warriors wanted to make another deep run to state, which continues Thursday against Le Mars.
Majouk and Layman's journey won't be done when the Warriors' season ends.
Both committed over the summer to play at Southwest Minnesota State, but Layman chose to commit first.
Of course, Layman put in a pitch to Majouk after he committed, but he wanted to respect Majouk's process.
Majouk wanted to make his own decision, and that decision was to go play with his brother for four more years.
"I'm glad we can do it together," Layman said.
Honorable mentions
Ethan Emmick, West wrestling: Emmick became the first Wolverines wrestler last week to make the state tournament podium since 2006. Emmick placed eighth.