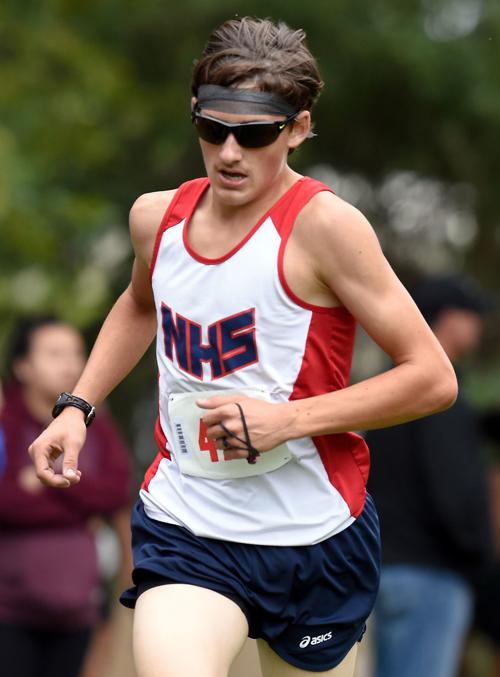 SIOUX CITY — The biggest lesson that North High School sophomore Jaysen Bouwers has learned this season is how fast he can run the 3,200-meter race.
He had to learn how to set a proper pace in the two-mile run, and that has earned him a spot in the Class 4A 3,200-meter run at 4:05 p.m. Thursday as part of the Iowa high school state meet in Des Moines.
Bouwers is the No. 5 seed in the race, as his qualifying time Friday in the district meet was 9 minutes, 39.36 seconds.
Earlier in the season, North distance coach Abdier Marrero asked Bouwers to take a couple spots back in the pecking order for the first couple of laps.
That forced Bouwers to run at a more controlled pace for the first mile, and for the second mile, to run a faster split time.
"He's growing in confidence and he understands that he's strong enough to finish with best runners," Marrero said.
It also allows Bouwers to focus on following a runner. It gives him a visual on something to focus on during the race.
"If you can follow somebody, I don't have to worry about pace," Bouwers said. "I just keep on running with good form."
When distance runners start out too fast, they normally lose that pace midway through the race and can't keep that pace. Marrero doesn't want Bouwers to be in that group.
You have free articles remaining.
"We work hard on attacking the whole race with a purpose," Marrero said. "That's to his advantage. He's physically strong and very mentally strong."
Bouwers tried to control his pace during the two-mile at the MRAC meet earlier this month at Sergeant Bluff-Luton High School. He ended the race with a 4:58 split and won the conference race in 9:55.
That race made Bouwers realize that he likes running at a controlled pace.
"It helped a lot mentally," Bouwers said. "I know I can run faster in my second mile. It makes it easier to run the race. It works better for my body, and helps me relax a little bit more."
When Bouwers hits the blue oval on Thursday, he'll run for experience, but he's also going to focus on running for time.
Bouwers learned from North graduate and current University of South Dakota cross country freshman Merga Gemeda that place doesn't matter more than time.
"One of the things that Jaysen picked up from Merga was that he was never concerned with winning a race," Marrero said. "He cared about what the clock said. And, to me, that's a lot of fun to coach."
Marrero thinks he'll enjoy the experience of running against some of the best distance athletes in the state on Thursday.
"He loves these types of races," Marrero said. "He gets excited because he knows it's going to be fast. He looks at it as, 'I can come out here and run another personal best. Let's see how fast we can get.'"