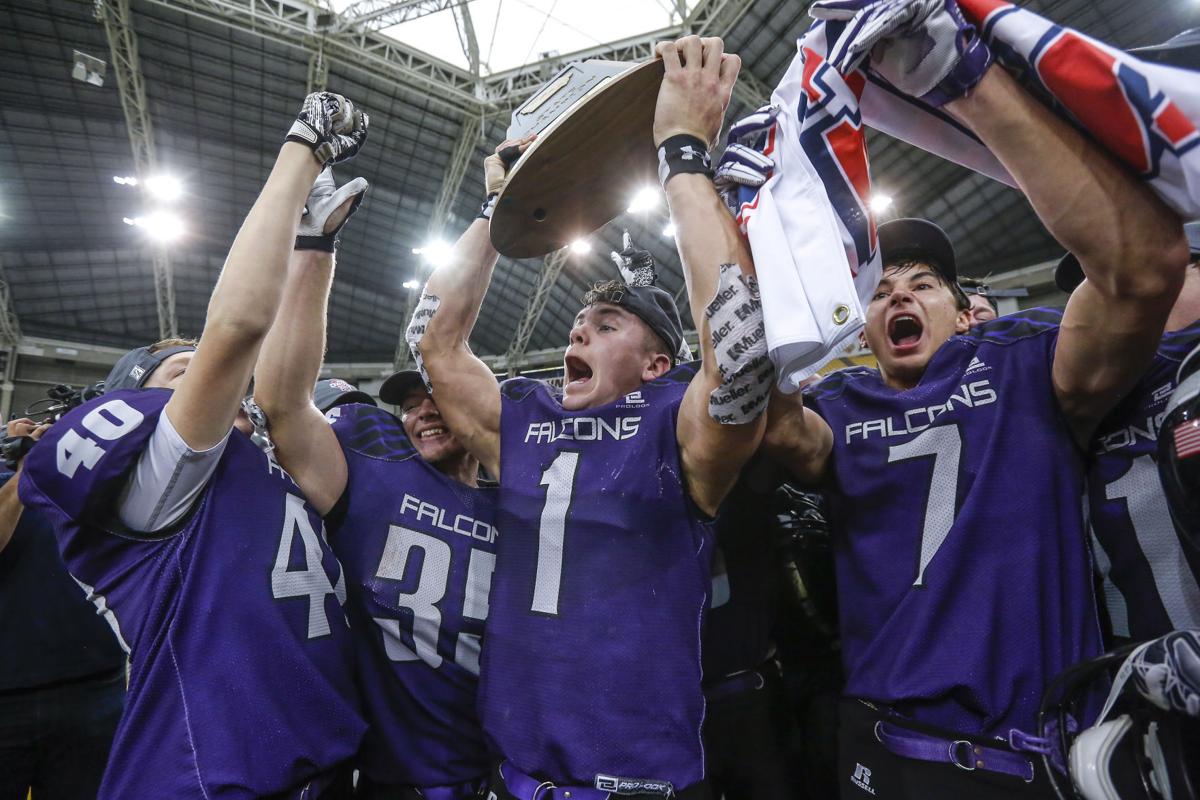 A pass interference call led to a Van Meter touchdown. A holding call wiped out an OABCIG touchdown later and down eight points with 2 minutes, 56 seconds left, the Falcons needed a stop against a Van Meter team that rushed for 343 yards on the day.
The Falcons got that stop and got the ball back with 2:36 left. That set in motion a series of events which led to a comeback Cooper DeJean and OABCIG will never forget.
After DeJean ran in a score and a two-point conversion to tie it, the Falcons recovered a fumble on the kickoff and DeJean scored on an unfathomable run.
OABCIG's defense didn't allow Van Meter to pull off the same magic and the Falcons pulled off the unlikely comeback, beating Van Meter 33-26 for the Class 1A state title at the UNI-Dome.
"We just had to have the will to win. We knew we were going to have a chance coming into this game, they were a great team. We just had to keep fighting," DeJean said. "It's been crazy. I can't thank these seniors enough. We've had a great ride. All of these coaches, it's just a great group of coaches to play for."
As Easton Harms described it, the Falcons 1A championship victory was a "roller-coaster ride."
"I was bummed out, kind of sad. We got the ball back, scored and then emotions come up again," Harms said. "We just knew weren't gone in the game. We still had time, knew we could make plays yet and we did."
It's the second straight title for Odebolt-Arthur-Battle Creek-Ida Grove, which had never been to the UNI-Dome until last season.
"You dream of getting there. That first year was a Cinderella story and whatever," OABCIG coach Larry Allen said. "These kids fully expected to be back here. Right or wrong, they felt like they belonged here for an opportunity to get another one."
DeJean's go-ahead touchdown run was one that can't be drawn up.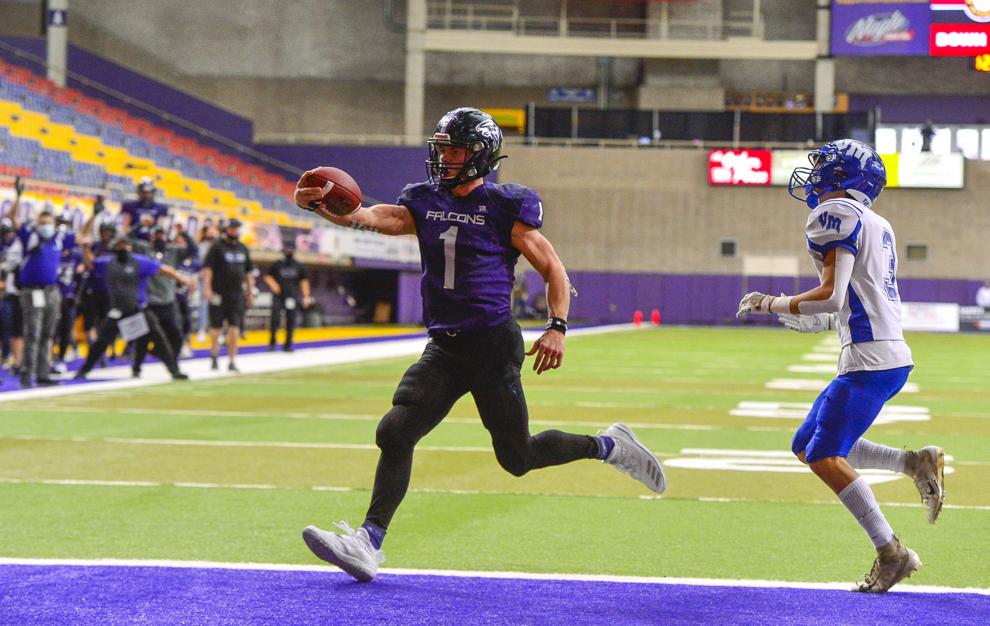 With the Falcons at the Van Meter 19-yard line, DeJean rolled to his left and Van Meter had it covered. DeJean broke a tackle at the line of scrimmage and then reversed course to his right. OABCIG's line stayed with its blocks and DeJean got to the outside. Kolton Koop and Griffin Diersen stayed with their blocks down the field, allowing DeJean to find the end zone on a 19-yard touchdown run in which he probably covered 50 yards.
"I just had to make a play. I knew we needed a big play there and I just got the ball, took it, ran left. There wasn't anything open so I took it right. They made some great blocks and I just got in the end zone," DeJean said. "Once I got away from everybody on the left, I knew there was a bunch of room on the right side and I just had to do what I could to get in the end zone."
The comeback seemed to start when Van Meter scored with 4:23 left to go up by eight.
The Bulldogs were called for a false start on the extra point and on the next attempt, DeJean came through and blocked it to keep it a one-score game at eight points.
"I didn't realize how big that was. I thought we were down by more," DeJean said. "Once I found out, we just had to keep going, keep fighting, keep trying to win this thing. There was a penalty on the first one and about got that one. There was a guy on my inside and I knew I had the wing. I just went around the edge and just tried to do my best to try and block it."
The Falcons quickly got to Van Meter's 11-yard line. DeJean tried to hit Harms but the pass went through his hands.
On fourth down, DeJean scrambled and got into the end zone but the score was wiped out by a holding call and the Falcons couldn't convert on the next play, giving the ball back to Van Meter, down eight with 2:56 remaining.
Van Meter tried to catch OABCIG off-guard with a pass play on third-and-3. DeJean was looking for a run but recovered and tipped the pass to Calvin Sieck as the pass fell incomplete and Van Meter had to punt.
"We knew they were a run-heavy team and didn't really want to throw it. I kind of got caught up there," said DeJean, who had seven tackles. "I was playing the run, (Sieck) snuck out and I had to try and do my best I could to make sure he couldn't catch it. He got me there, but I recovered to get that ball."
The Bulldogs punted and DeJean returned it to the OABCIG 45.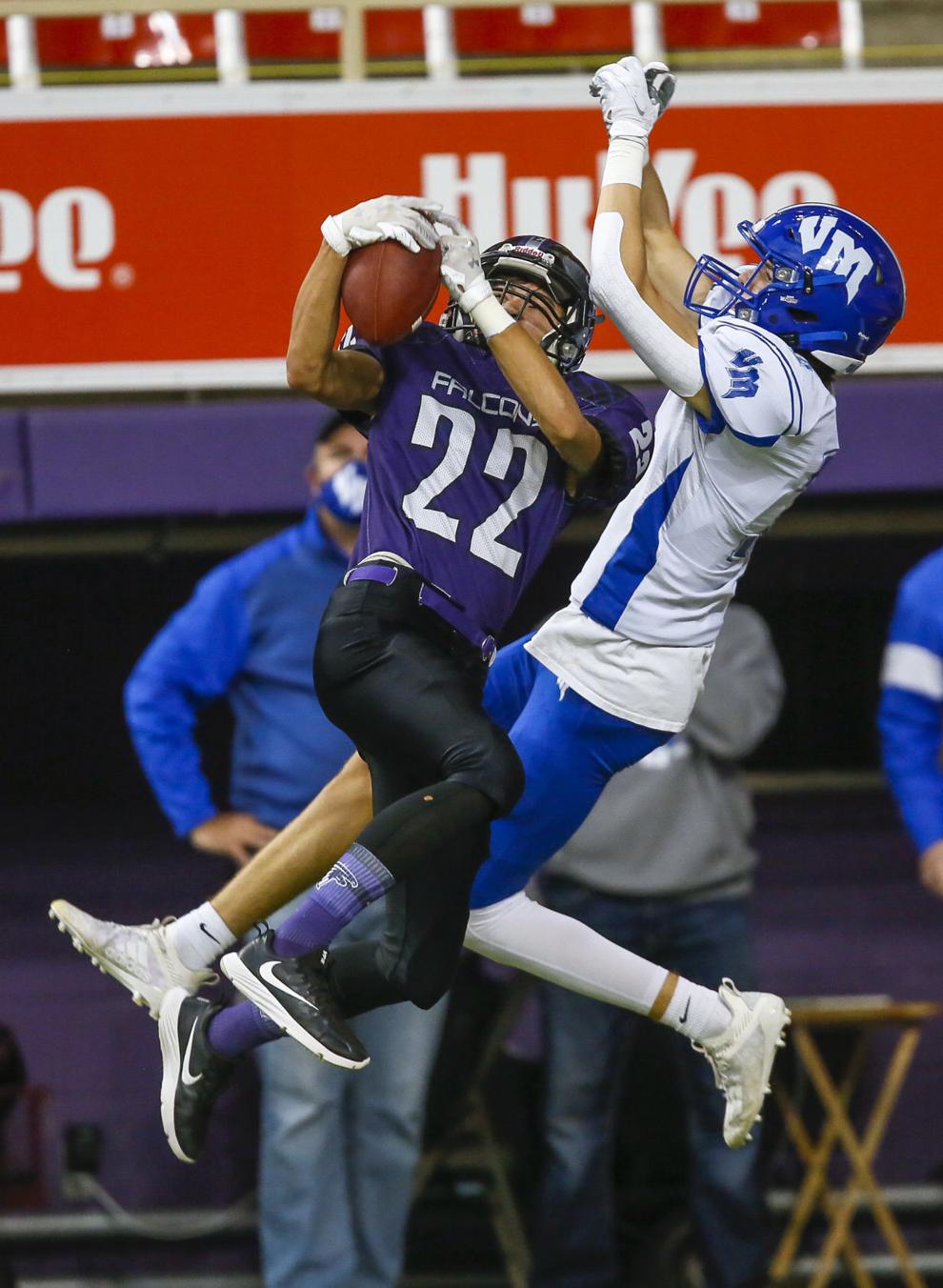 On the first play, DeJean went deep to Harms, who hauled it in with a Bulldog defender on him. He took the ball all the way to the Van Meter 20-yard line. 
Harms finished with eight receptions for 160 yards and three touchdowns in the game.
"He's a great player and always a player I can rely on," said DeJean, who passed for 318 yards. "I know he will make a play for me. It was a great catch. I can't ask for much more from him. He played a great game."
A pass to Griffin Diersen, who had 108 yards receiving, put the ball at the 3-yard line and then DeJean dropped back and took off, scoring easily to make it a two-point game.
Van Meter had two linebackers spying DeJean for much of the game as he had 73 yards rushing but only 4.9 yards per carry.
But on the two-point conversion, DeJean found an opening to his right and right before the goal line, he was hit by two Van Meter players. He was left standing in the end zone as DeJean tied the game at 26 with 1:30 left.
"I just had to do what I could. It was actually a pass play. I rolled out and found my way into the end zone," DeJean said. "I had to do what I could to try and get this win. I was a little banged up this week. I sprained something in my shoulder. That run was all worth it."
The Falcons covered the kickoff well as Cameron Sharkey wrapped up the returner and then Zach Hemer knocked the ball loose. Beckett DeJean recovered it at the 19-yard line.
That led to Cooper DeJean's 19-yard touchdown and Caden Wareham made the extra point for the 33-26 lead with 1:11 left.
Van Meter, which had 397 yards of total offense, did have a chance and drove to its own 43. On fourth-and-7, OABCIG's rush got to Jack Pettit, who tried to get the ball off.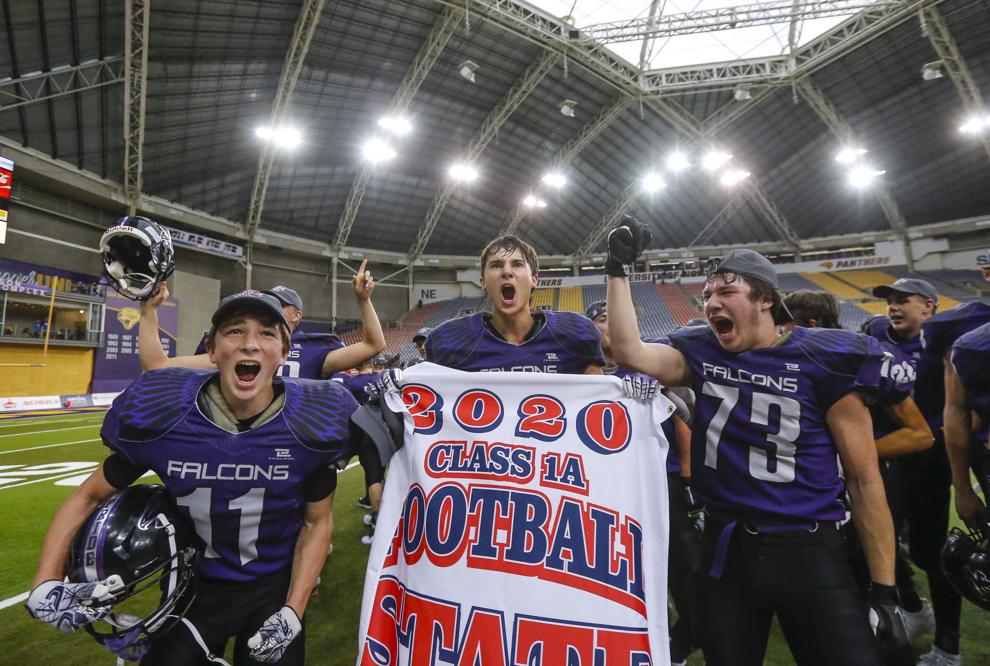 Treyton Kolar jumped and batted it away to seal the win for the Falcons. It was one of a couple of key stops late for the Falcons to help complete the comeback.
Geo Ehrig had 12.5 tackles for the Falcons, Hemer had nine and Ethan Shever had eight.
"All year, we have given up some yards but we haven't given up points," Allen said. "It's just kids making plays. (Van Meter) has an outstanding offense, a real powerful upfront, so for us to step up when we needed to at the end, that was great to see."
OABCIG capped off an improbable comeback by taking a knee with 39 seconds left.
"They believe in each other. We didn't have the same energy or emotion in the first half that we have had in the past and that has a lot to do with Van Meter and how they play. They took it to us and credit to them," Allen said. "There is just the belief that we have in each other. We get a big play and get jacked up and keep playing with that emotion.
"The closer we got to scoring and getting the lead, it just feeds off each other and that's a credit to the seniors and juniors that have really done a nice job for us."