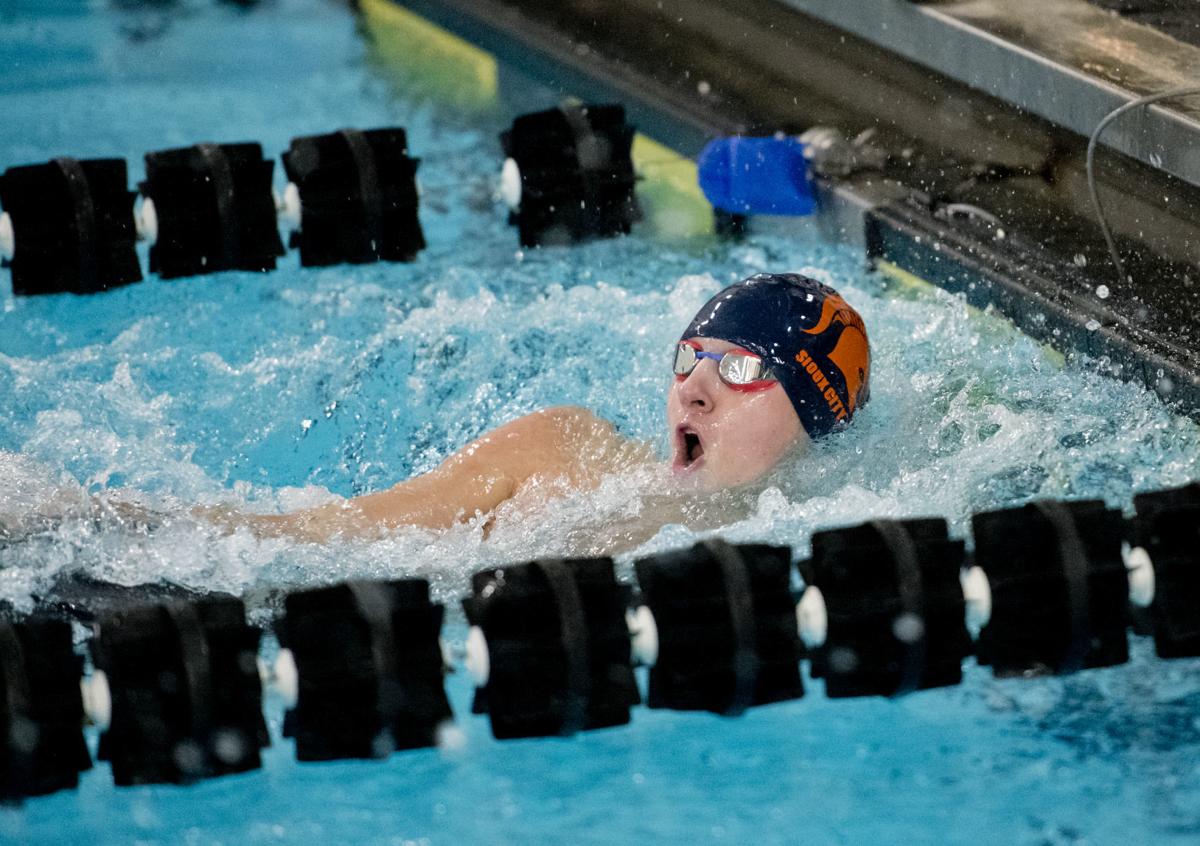 SIOUX CITY — Sioux City Spartans coach Eric Hoak watched his son, Owen, swim fast in a 50-yard split in a 200-yard freestyle relay race a few weeks ago, and both of their plans changed slightly.
Owen Hoak, an East High School junior, was about to swim in some open 50-yard dashes, which Eric Hoak coins as "splash-and-dash" races.
Owen Hoak will compete in the 50-yard individual race on Saturday at the Iowa boys swimming state meet in Iowa City. He is one of seven Spartans swimmers who earned a spot at the state meet this weekend.
The plan for Owen Hoak all along was to qualify for state in the 200 freestyle, even as a freshman and a sophomore. He made it to past state meets in relays, but Owen Hoak wanted to prove to himself that he was good enough to make it individually.
When Eric Hoak saw Owen swim a fast split as a member of the 200 free relay, the Spartans coach experimented with Owen in the 50 individual race.
"It was an eye-opener," Owen Hoak said. "The seniors last year had the same times I had this year. Being at that same level is amazing."
So, the two had a conversation about it at home in the last week of January.
"Maybe he should be swimming this race," Eric Hoak said. "As I started to look at it, his opportunity … the freestyle races are difficult because so many kids can do it. I was somewhat reluctant to put him in the 50. I don't want him to not reach his goals … but this was the right event for him. His speed in the 50 has turned the corner.
"21-(second) anything puts you on the podium at state," Eric Hoak added. "He keeps putting up those times, and that's where we needed to be."
You have free articles remaining.
Owen Hoak's qualifying time at districts was 22.05, and while that hasn't been the fastest Owen Hoak has swam in that race, it was the fourth-best time last Saturday at the district swim meet in Fort Dodge.
There was no option to swim both races, as there is one race between the 50 individual free and the 200 free.
The two Hoaks mutually agreed to pick the 50 free.
Owen was hesitant at first, and Eric Hoak admitted he wasn't sure what to do at first.
"It was the Wednesday before districts," Eric Hoak said. "... I knew what his goals were. As his coach and as his father, I want him to reach those. His conditioning is there, and we want him to hang on to it at this point."
Owen Hoak knows he's capable of getting into the range of 21.7 to 21.8 seconds, and if he can do that, according to the state seeding times, that between 12th and 15th. The top-12 splashers-and-dashers get medals.
Hoak is seeded 18th in the 50 free.
"If I can get on the podium, that would be a dream come true," Owen Hoak said.
This is Owen Hoak's third time competing at the state meet. He's also in the 100 individual freestyle as well as the 200 free relay and 400 free relay. 
Sure, he's attended several more meets with his dad when he was younger, but competing is a whole different story.
"I think it'll be a great time," Owen Hoak said. "State is a whole different atmosphere. Everyone is loud, everyone comes to race. I just have to keep my nerves under control. I've been here before."