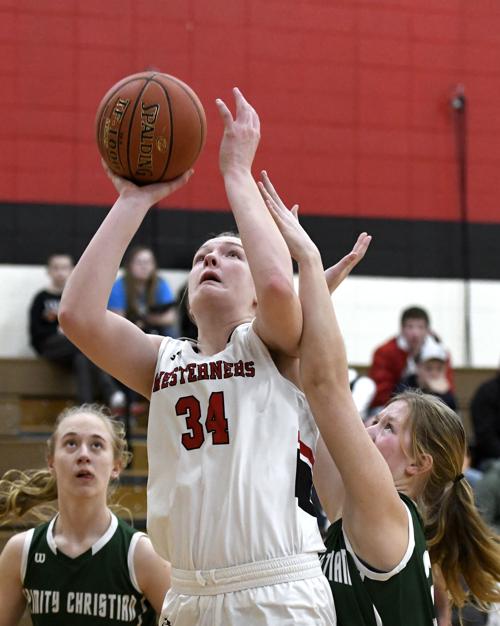 SIOUX CITY — The Siouxland Christian High School girls basketball team opened up Class 1A regional play on Thursday night with a 50-46 win at home over River Valley.
Daisy Hiserote and Cassie Jones both led the Eagles with 17 points in the win. 
The Eagles jumped out to a 20-8 lead in the first quarter. 
"They played together and backed each other up," Eagles coach Scott Aldrich said. "It's all about family. This is a good win." 
WOODBURY CENTRAL 86, WHITING 34: Maddie Paulsen scored 25 points to lead the Wildcats to a first round Class 1A regional girls basketball win in Moville Thursday.
Camrin Baird also had 18 points and Lindsie Graff 12 for Woodbury Central (16-5). The Wildcats will host Woodbine Tuesday in a second-round game.
Whiting ends its season with a 8-15 mark.
KINGSLEY-PIERSON 66, REMSEN ST. MARY'S 31: The No. 9 Panthers used a balanced scoring attack to defeat the Hawks in a Class 1A regional girls basketball tournament opener in Kingsley Thursday.
McKenzie Goodwin had 13 points to lead K-P with Delaney Iseminger (12) and Jayde Barto (11) close behind. The Panthers (18-4) will host Siouxland Christian in a second-round game Tuesday.
The Panthers bounced back from a 68-47 loss earlier this week against Elk-Point Jefferson, but K-P coach Nicole Goodwin was pleased at how the team turned things around. 
St. Mary's ends its season with a 4-18 record. Sydney Schroeder led the Hawks with 12 points. 
WESTWOOD 93, WEST HARRISON 37: The Rebels got 26 points from Briley Pike and cruised to a first-round Class 1A regional girls basketball tournament win over the Hawkeyes in Sloan Thursday.
Josie McCluskey also scord 20 points, Sam Thompson 13 and Jaeden Ferris 10 for Westwood (14-8). The Rebels will travel to face No. 1 ranked Newell-Fonda in the second round Tuesday.
Haley Koch had 14 points and Emily McIntosh 10 for West Harrison (1-21).
You have free articles remaining.
WEST 59, WORTHINGTON (MINN). 41: Braedyn Downs scored 15 points and Hope Wagner 14 to lead the Wolverines to a non-conference girls basketball in Sioux City Thursday.
Gabby Wagner also had 10 for West, which led 36-19 at the half. Now 11-9, the Wolverines will host North Saturday. Madisyn Huisman led Worthington with nine points.
O'GORMAN 68, EAST 45: The South Dakota No. 1 ranked Knights (Class AA) stayed unbeaten with their 16th straight win to start the season after downing the Black Raiders girls basketball squad Thursday in Sioux City.
Emma Ronsiek had 20 points to lead O'Gorman, which is four wins away from an unbeaten regular season.
Kennedy McCloy had 15 points and Nyamer Diew 12 for the Black Raiders, who completed their regular season with a 14-7 record. East is idle until, Saturday, Feb. 22 when they open Class 5A regional play.
AKRON-WESTFIELD 59, TRINITY CHRSTIAN 35: Natalie Nielsen had 27 points to lead all scorers as the Westerners rolled to a first-round Class 1A girls basketball win in Akron Thursday.
Jaden Harris also had 10 points for Akron-Westfield, which hosts Hartley-Melvin-Sanborn in the second round of regional play Tuesday. Alyssa Maassen had nine points to lead Trinity Christian.
UNITY CHRISTIAN 58, BISHOP HEELAN 52: The Crusaders had four players who scored in double figures. 
Jared Sitzmann led Heelan with 13 points, as he made three 3s. Then, Kevin Candia scored 12. 
Koby Bork and Cade Block both scored 11. 
The Knights were 15-for-25 from the free-throw line. 
HINTON 70, SIOUX CENTRAL 68: Caleb Holmes led the Blackhawks with 26 points over the Rebels. Desi Riley scored 14, and Jake Koons had 12. 
Jacob Hargens and Connor Christian led the Rebels with 16 apiece. 
SIOUX FALLS CHRISTIAN 78, WESTERN CHRISTIAN 70: Zach Witte had 14 ponts to lead the Chargers to a non-conference boys basketball win over the Wolfpack in Sioux Falls Thursday.
Tyler Prins also had 19 points for Sioux Falls Christian, now 13-3. Ty Van Essen had 23 points and Dawon Feenstra 20 for Western Christian, which completed its regular season with a 16-5 record. Tyson De Boer also had 10 for the Wolfpack.