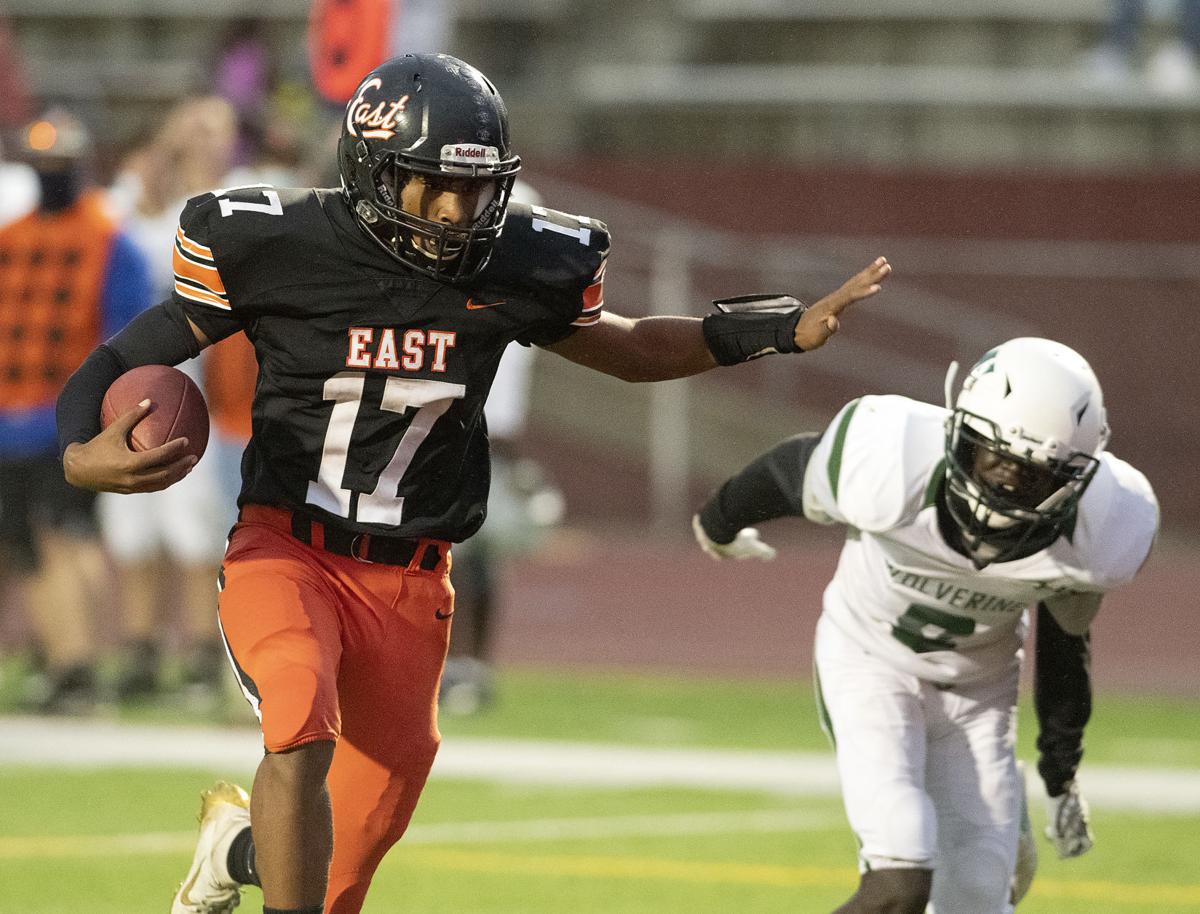 COUNCIL BLUFFS, Iowa -- North dominated on both sides of the ball as the Stars bounced back from a lopsided loss to Bishop Heelan to win by a lopsided score over Council Bluffs Thomas Jefferson on Friday. North beat the Yellow Jackets 55-7 in Council Bluffs.
The Stars are now 2-1 going into its rivalry game against 2-1 East next week.
The Stars scored on their opening drive as they got an 8-yard touchdown from Brady Wavrunek for a 7-0 lead.
Then on the Yellow Jackets ensuing possession, Dante Hansen picked off a pass and went 41 yards for the touchdown.
Austin McClain then recovered a fumble on the Yellow Jackets next possession. The Stars took advantage again as Gavin Hauge hit Hansen for a 47-yard touchdown pass for 21-0 lead with 6:07 left in the first quarter.
Jack Lloyd added a 24-yard field goal toward the end of the first quarter for a 24-0 lead.
Early in the second, Hauge threw for another long touchdown, this time to Evan Helvig for a 62-yard scoring strike and a 31-0 lead.
Then Hauge found Hansen for another touchdown, this time a 43-yard touchdown pass.
Hauge evened out his touchdown passes to receivers as he hit Helvig for a 14-yard score for a 45-0 lead, which was the halftime score.
Hauge and Hansen connected for their third touchdown of the game when Hansen hauled in the 33-yard pass for a 52-0 lead.
The Yellow Jackets scored on a 4-yard touchdown run in the third quarter for their only score of the game.
Lloyd added another field goal to cap the 55-7 win for the Stars.
DAKOTA VALLEY 48, MILBANK 14: Dakota Valley picked up its first win of the season as the Panthers dominated Milbank for a 48-14 victory.
STORM LAKE 34, BISHOP HEELAN 24: Bishop Heelan had a 10-7 lead over Storm Lake going into halftime but the Tornadoes scored 27 points in the second half and beat Heelan 34-24 on Friday in Storm Lake.
Heelan falls to 1-2 on the season and was coming off a lopsided win over North. Storm Lake picks up its first win of the season and is 1-2.
Storm Lake had the first score of the game but Heelan held the Tornadoes scoreless for the rest of the half and got a safety and a touchdowns for a 10-7 halftime lead.
Storm Lake put together a long drive in the third quarter and scored to go up 14-10. Both teams added a touchdown each before the end of the third quarter as the Tornadoes went into the fourth up 21-17.
Storm Lake got two touchdowns before the six-minute mark to take a 34-17 lead.
Heelan put together a nice drive and Devionne West scored from 10 yards out to make it 34-24 with 3:55 remaining.
But the Tornadoes had a big enough lead and held on for the win.
OABCIG 54, MISSOURI VALLEY 0: Griffin Diersen rushed for three scores and Cooper DeJean had four total touchdowns as the Falcons dominated on both ends of the ball in a 54-0 win over Missouri Valley.
The Class 1A top-ranked Falcons improve to 3-0 with the win.
Diersen rushed for 121 yards and three scored on six carries and he had catches for 53 yards.
DeJean was 10-of-17 passing for 274 yards and three scores. He ran five times for 74 yards and a score.
Easton Harms caught two passes for 97 yards and a touchdown and Trust Wells had two receptions for 40 yards and a a score. Kolton Knop caught two passes for 36 yards and a score.
Knop also had a 25-yard interception return for a touchdown and he had four tackles. Ethan Shever had eight solo tackles and Karson Quirk had five tackles. Beau Nieman added four solo stops.
WESTERN CHRISTIAN 27, SIBLEY-OCHEYEDAN 7: Tyson Boer passed for three touchdowns to lead to Wolfpack to a win over the Generals in Hull Friday.
Boer found Shawn DeWit for a 31-yard TD pass with 7:03 left in the first quarter to give Western Christian a 7-0 lead but the Generals scored to tie the game with 2:14 left in the opening period on a one-yard run by Dylan Platt.
Boer fired touchdown passes to Ty Van Essen and Ethan Spronk in the second quarter to give the Wolfpack a 20-7 lead at the half.
Western Christian's Carson Elbers scored on a two-yard run with 6:48 left in the game for the only score of the second half.
The Wolfpack improves to 3-0 while Sibley-Ocheyedan is 0-3.
SIOUX CENTER 41, SHELDON 12: Sioux Center was in a tight game with Sheldon as the Warriors held a 14-12 lead but then Sioux Center took over in the second half, outscoring Sheldon 27-6 ito go on to win 41-18.
Sioux Center improves to 3-0 on the season and Sheldon falls to 1-2 on the year.
Zach Rozeboom rushed for 117 yards and two touchdows for the Warriors and he was 3-for-4 passing for 97 yards and two scores. Matthew Bomgaars rushed for 160 yards on 14 carries and he scored twice.
Dao Koekhamthong hauled in a 24-yard touchdown pass and Brett Schouten caught a 43-yard touchdown pass.
Zech Koekhamthong had two sacks and 11.5 total tackles.
For Sheldon, Kaleb Ackerman rushed for 58 yards and a score and Brian Bernal and Tyrel Lindemann each rushed for a score. Bernal had 55 yards on the ground.
SOUTH O'BRIEN 20, HARTLEY-MELVIN-SANBORN 12: Jett Keith burst through the line for a 38-yard touchdown run midway through the fourth quarter to score the go-ahead points in the Wolverines' win over the Hawks in Hartley Friday.
H-M-S had led most of the game, scoring with 10:02 left in the first quarter to take a 6-0 lead on a three-yard run by Keaton Graves. The Hawks went up 12-0 with eight seconds left in the opening stanza when D.J. Doyle intercepted a pass and returned it for a score.
THE H-M-S lead held until the fourth quarter when South O'Brien scored on a five yard run by Mason Warnke. The two point conversion run cut the Hawk lead to 12-8.
Kieth added an insurance touchdown late on a run in the final two minutes as South O'Brien won for the first time after dropping their first two games.
GEHLEN CATHOLIC 53, AKRON-WESTFIELD 8: Dylan Lehman scored five touchdowns and rushed for over 297 yards to lead the Jays to a win over the Westerners in Akron Friday.
Lehman scored four times on the ground and added a fifth TD on a 56-yard pass from Ryan Livermore.
Lehman scored on a four-yard run 97 seconds into the game to put Gehlen up 7-0 then added runs of 12 and 79 yards in the second quarter for TD's. Derek Von Arb also scored twice on runs in the second to give the Jays a 33-0 lead at the break.
Akron-Westfield (1-2) scored on a 24-yard pass from Cade Walkingstick to Derek Vanderlinden in the third quarter.
CENTRAL LYON-GEORGE-LITTLE ROCK 21, UNITY CHRISTIAN 0: Zach Lutmer ran for one touchdown and passed for another to lead the Lions to a win in Orange City Friday.
Central Lyon/G-LR held the Knights to 131 yards total offense in earning the shut out. Lutmer found Luke Rasmussen for a 21-yard touchdown pass with 7:29 left in the second quarter to break a scoreless tie and added a nine-yard scoring run 1:36 before the break to put the guests up 14-0 at the half.
Cooper Spiess scored on an eight-yard run with 9:41 left in the game to ice the win for the Lions (3-0). The Knights are 2-1.
ALLEN 34, BLOOMFIELD 16: Allen fell behind 8-6 in the first quarter but Allen controlled the game from there, scoring 28-straight points to beat the Bees 34-16 on Thursday.
Kobe Kumm passed for 64 yards and two touchdowns and rushed for 103 yards and one touchdown for Allen.
Ryan Anderson added 42 yards on 11 carries and a score and Anthony Isom scored on a 1-yard run.
Reed Hingst caught two passes for 44 yards and two scores.
Nathan Oswald had an interception for Allen.
Allen took the early lead when Kumm hit Hingst for a 14-yard score but Bloomfield had an answer in the first quarter.
In the second quarter, Kumm hit Hingst for a 30-yard score and added a 21-yard run for the 20-8 lead.
Then in the third, Anderson scored on a 9-yard run and Isom had his 1-yard run for the 34-8 lead as Allen went on to win 34-16.
NEWELL-FONDA 55, WEST BEND-MALLARD 0: Gabe Sievers passed for two touchdowns and ran for another to lead the the Mustangs to a win in Fonda Friday.
Sievers scored on a 45-yard run and connected with Jake De May for scores of 39 and 26 yards.
Trey Jungers also had a 17-yard interception return for a score and caught a 36-yard pass from Mason Dicks.
UNDERWOOD 51, MVAOCOU 6: Alex Ravlin passed for a touchdowna dn ran for another and the Eagles scored on a punt return and a blocked punt in a game played in Underwood Friday.
Brady Seuntjens scored on a 95-yard run in the fourth quarter for the Rams (0-3).
ALTA-AURELIA 13, SHENANDOAH 7: Cade Rohwer scored on a pair of runs in the first quarter to give the Alta-Aurelia the lead and the Warriors held on through three scoreless quarter to edge the Mustangs in Alta Friday.
Rohwer ran for 137 yards on 35 carries to give Alta-Aurelia its first win.
WEST SIOUX 49, SIOUX CENTRAL 16: West Sioux built a 21-0 first half lead and cruised to a 49-16 victory over Sioux Central, handing the Rebels their first loss of the season.
West Sioux improved to 2-1 on the season and Sioux Central is now 2-1.
The Falcons had five passing touchdowns. Dylan Wiggins was 9-of-15 passing for 180 yards and three scores. Carter Van Whye threw for a touchdown. Levi Koopmans threw a one-yard touchdown.
Koopsman led the Falcons rushing attack with 100 yards and two scores on 13 carries. The Falcons rushed for 166 yards as a team.
Blake Van Ballegooyen caught four passes for 120 yards and two touchdowns and Aeden Schwiesow had two catches and both were for touchdowns. Avery Millikan caught a 15-yard touchdown passes.
Carter Bultman had two sacks and Koopmans and Jonny Ramirez each had a sack.
For Sioux Central, Jayden Harder had 163 yards and two touchdowns on 31 carries.
HARRIS-LAKE PARK 21, KINGSLEY-PIERSON 0: After a scoreless first quarter, Harris-Lake Park took the lead in the second when Tyce Gunderson hit Dylan Meyer for a 27-yard touchdown.
While the Wolves later added to the lead, that's all they needed in a 21-0 victory over Kingsley-Pierson on Friday. Harris-Lake Park picks up its first win over the season and is 1-2 overall. Kingsley-Pierson falls to 1-2.
Harris-Lake Park went into halftime with an 8-0 lead, which was also the score going into the fourth quarter.
Gunderson hit Meyer for another touchdown in the fourth quarter, this time on a 56-yard pass. 
Lucas Gunderson ran in a score with 1:44 reamining for the final score of the game for the 21-0 victory.
EMMETSBURG 41, HINTON 0: Emmetsburg scored 14 points in the first quarter for a two-score lead but the Blackhawks held the E-Hawks scoreless in the second quarter.
However, the Blackhawks couldn't muster enough offense and were down 14-0 at halftime. Emmetsburg scored 27 unanswered points in the second half for the 41-0 victory.
Hinton is 0-2 on the season and Emmetsburg is 3-0.
Get in the game with our Prep Sports Newsletter
Sent weekly directly to your inbox!