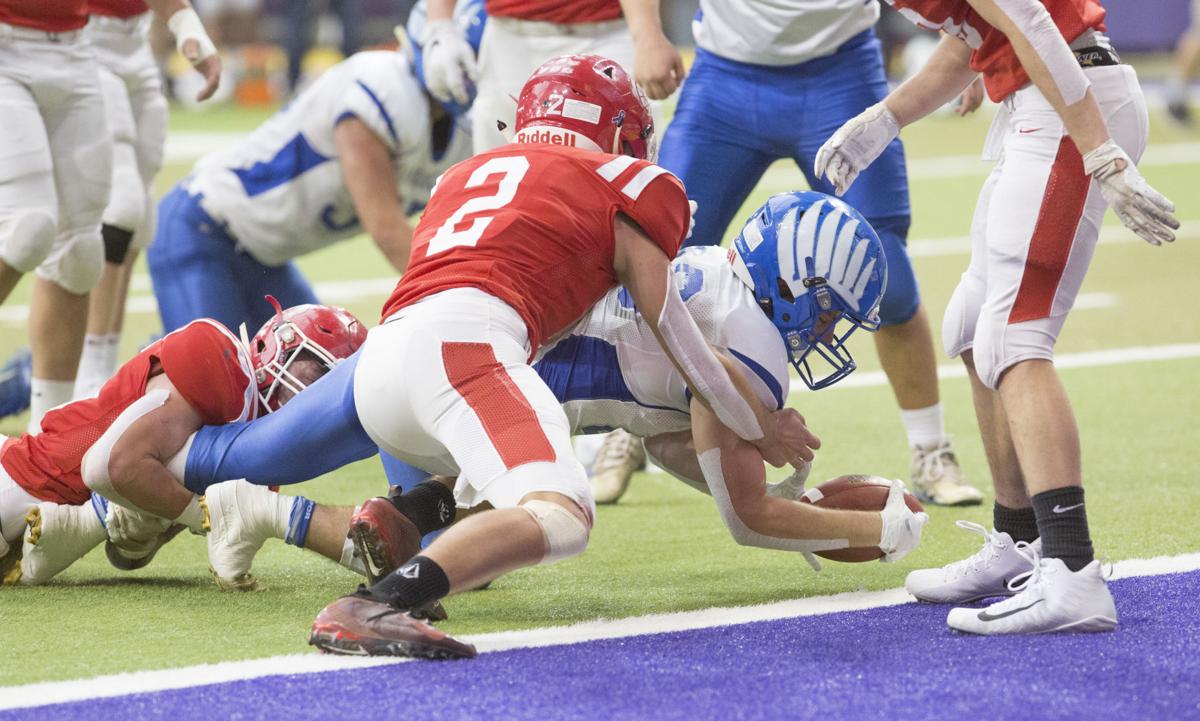 Well, as much as someone can hold him in check, Schultes ran for more than 1,500 yards coming into Thursday's 8-man semifinal. RSM held Schultes to 158 yards rushing in the Hawks season-opening win.
Remsen St. Mary's was unable to contain Schultes on Thursday, though.
While it took him 32 carries, Audubon's senior quarterback ran for 205 yards and three touchdowns, plus he passed for two more as the Wheelers ended RSM's season with a 39-28 semifinal win at the UNI-Dome.
"They are very athletic and get down the field and block well. If you get out of position on them, they are going to exploit it and they did that a couple of times," RSM coach Zach Arnold said. "We knew what they were going to do. We knew how to line up in those formations but sometimes we didn't line up right and gave them creases.
"Overall, we had a good season. We played tough and I am proud of the guys. (Audubon) is a really good team. I told the guys sometimes you don't win them all. That's the way it works."
Audubon finished with 272 yards rushing with only two people running the ball. Kaiden Smith had 67 yards on the ground.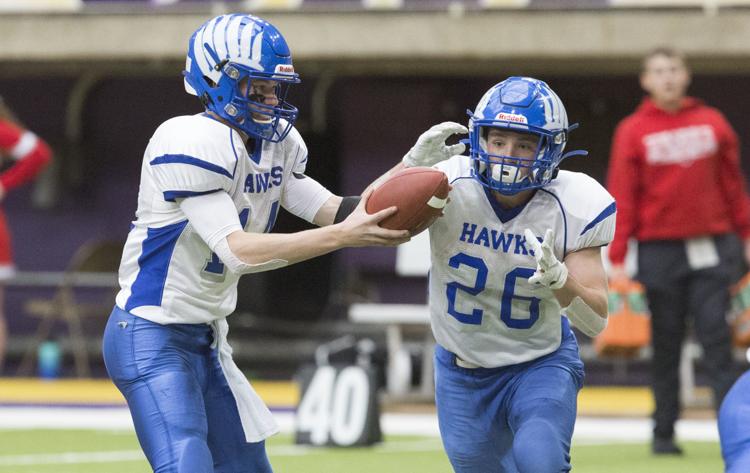 RSM senior linebacker Noah Schroeder thought the team was able to slow down Audubon's ground game at times but there were too many times that the Wheelers were able to break open a big run.
"There were a few times that we weren't lined up like we were supposed to be. I take the blame on that one," Schroeder said. "They were able to get outside on us on some of them and they had some key blocks and pushed the ball upfield. We had them stopped for the most part. There were big runs that they had which hurt a lot."
The Hawks offense was able to move the ball well in the first half and even took the lead, 22-20, at one point before Audubon went into halftime up 26-22.
But RSM only managed six points in the second half, getting outscored 17-6 after halftime.
RSM was held 122 yards rushing and Blaine Harpenau was limited to 19-of-32 passing for 161 yards. He threw two interceptions.
The Hawks also didn't have Skyler Waldschmitt, one of the team's leading receivers, play on offense because of an ankle injury. He was limited to defense only.
"We kind of got gassed a little bit it seemed like. We were moving kind of slow (in the second half)," Arnold said. "They are fast and athletic so if you are a little slow on offense, they are going to get you."
The two teams traded scores in the first quarter. Schultes hit Ethan Klocke on a shovel pass and he went 23 yards for the score. RSM answered with a one-yard run by Harpenau and then Rylan Hansen went 74 yards on the kickoff for the touchdown.
The Hawks got an interception later in the first quarter and that led to another Harpenau one-yard touchdown.
Audubon answered with a Schultes pass to Smith that went for 13 yards for the score. RSM came right back down the field and Harpenau scored his third one-yard touchdown of the game and the two-point conversion gave the Hawks their only lead of the game, 22-20 with 9:37 left in the first half.