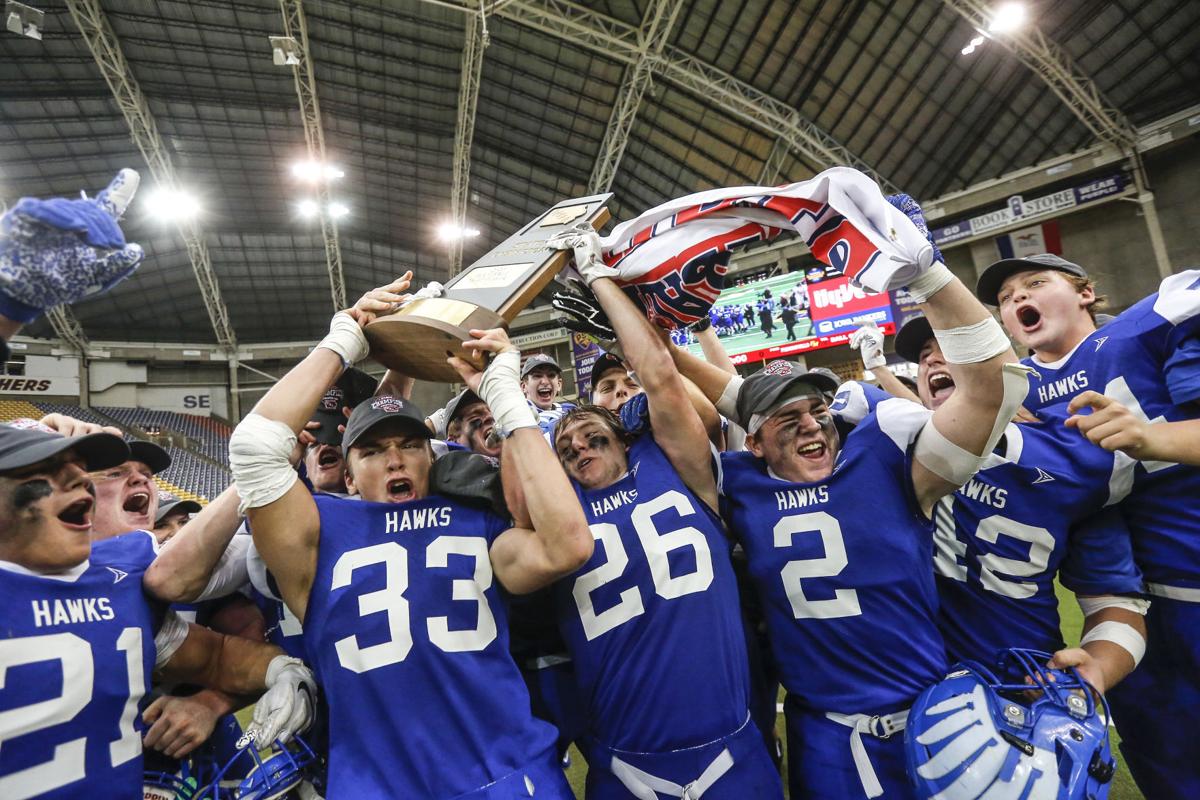 But Remsen St. Mary's High School coach Tim Osterman always felt his team's defense was better than last week's 94-point performance in the semifinals against Montezuma.
Not only did the Hawks prove their coach right, they made a statement in Thursday's 8-man IHSAA state championship game at the UNI-Dome by holding Fremont-Mills scoreless, as Remsen St. Mary's cruised to a 48-0 victory to claim the title.
"Everybody talking, 'They don't play defense. 8-man football is not real football. They can't stop the run, they can't do anything.' I think we showed them today," Koenck said. "Zero points. We can play defense."
This was the third trip to the UNI-Dome for the Hawks in the past four seasons with this one culminating in a title for Remsen St. Mary's.
It's the second football title in the program's history. RSM won the 2004 title, beating Adair-Casey 56-8.
"It's been crazy. Audubon to Montezuma to this game, they are all crazy good opponents and we knew it was going to be a tough road," RSM senior quarterback Blaine Harpenau said. "We were all determined to win a state championship, we haven't had one in a long time. All the boys knew we needed to play well and get this title."
The Hawks had to come back from 20 points down to Audubon in the quarterfinals, scoring 35 unanswered points to move on.
Then RSM was down by 24 in the third quarter to Montezuma last week before scoring 72 points from that point on to score a record 108 to move on to the title game.
Thursday's title game had little drama.
"We knew this week it had to be pedal to the medal and that's what we did," said RSM junior linebacker/running back Levi Waldschmitt, who ran for a 2-yard score and had five tackles. "We knew we could put points on the board, so our defense had to step up and that's what we did, we shut them out.
"Knowing that we finished out winning. It's a great feeling to get that last game."
It was the first shutout in the 8-man title game since 2011 when Fremont-Mills beat Murray 81-0.
Last week's win over Montezuma was the first time Remsen St. Mary's allowed more than 30 points in a game. This week, the Hawks returned to the form it showed for all of one week this season.
"Every other game, no more than 28 points. Last week, first game that is televised and it's the only thing people see of us," said Koenck, who had 6.5 tackles and ran for 78 yards. "We got to this game, we knew we had it. We just had to shut down their offense. We knew we could do it. This was our defense, this game."
Jaxon Bunkers led the RSM defense with 10 tackles and two sacks.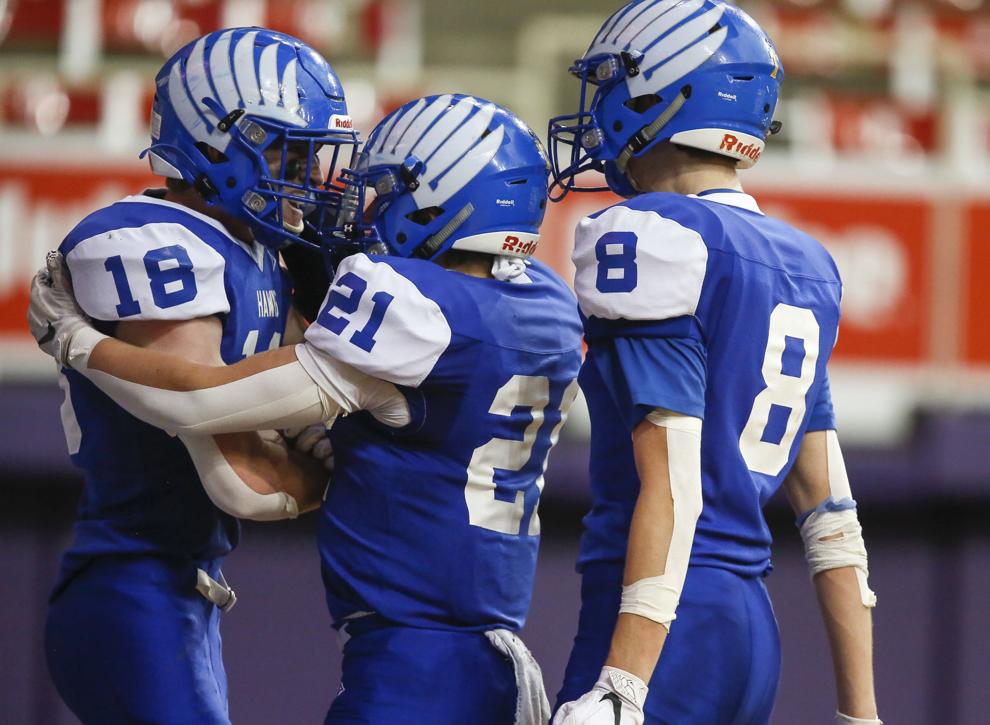 After allowing 744 yards last week, Remsen St. Mary's held Fremont-Mills' strong ground game, which rushed for 2,585 yards this season, to only 58 yards on 30 carries. Nebraska recruit Seth Malcolm was held to 57 yards on 18 carries.
The Hawks held the Knights to just 119 total yards on 45 plays.
"We like the matchup versus Fremont-Mills. A little familiarity, that helps, but we fit the run so much better than we fit the pass. It's a situation where we felt good about that," Osterman said. "We talked about it all week, finish the race, talked about 2 Timothy 4, everyone wants to do something different, we have to stay with what we do and finish the race.
"I give a lot of credit to Jerome Holmes, Jarrod Schutt and the rest of the coaches and the time they put into the film early on. I am really happy with the shutout because (Fremont-Mills) had a couple of opportunities but the kids stepped up, oddly enough in the passing game, to get the stops."
While the Hawks' defense came away with a shutout, Remsen St. Mary's offense kept the pace of last week's 108-point performance.
With 8 minutes, 44 seconds left in the third quarter, RSM built a 35-point lead, which started the continuous clock.
By the end of the game, RSM had 48 points on 336 yards of total offense, with 199 of those coming on the ground.
"We knew coming in, they were a great defense and (Seth) Malcolm is a heck of a linebacker," Harpenau said. "We knew that we needed to stick to our game plan. I feel like we have so many weapons. You can take one of us away but we still have another guy we can give it to.
"I feel like our linemen were amazing today. They are probably the best pulling linemen in the state and they showed it today. We came out and executed well."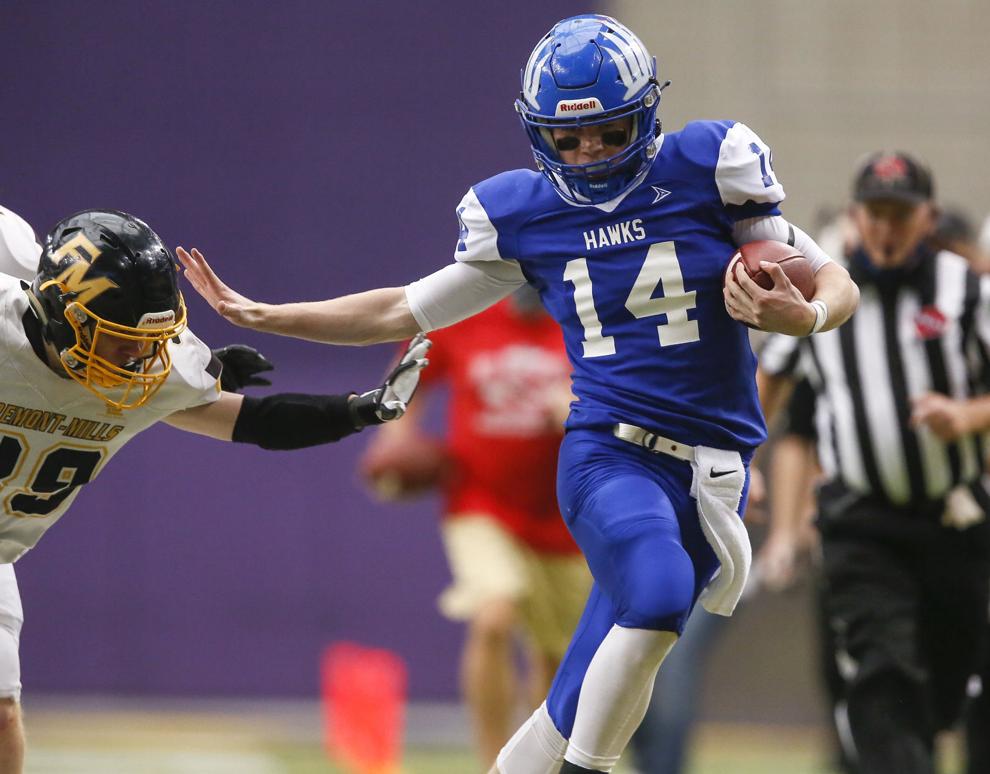 After forcing a three-and-out, the Hawks went 69 yards on seven plays. Harpenau scored on a 4-yard run for the early lead.
After a violation on the kickoff, the Hawks were forced to rekick and this time they tried an onside kick, which Brody Schorg recovered.
Nine plays later, the Hawks scored on Harpenau's 1-yard run for a 14-0 lead in the first.
Harpenau finished with 85 yards rushing and two touchdowns to go along with 137 yards passing and three touchdowns.
The state title now puts Harpenau at the "big boy" table with his father, Dean, and older brother, Brady. Dean Harpenau has won five state titles and Brady Harpenau has one title.
"I can't describe the feeling. I know all of the guys are so excited," Harpenau said. "I finally got a championship. This morning my brother texted me 'Good luck, we will see after today if you can eat at the big boy table with dad and I.' I am finally able to move over to that table and get a ring."
With 6:27 left in the second, Harpenau hit Ryan Willman for a 5-yard score. It was Willman's first varsity touchdown.
The Hawks went up 27-0 when Harpenau hit Brownmiller, who broke three tackles and ran down the sideline for a 54-yard score. Brownmiller finished with five receptions for 95 yards and two touchdowns.
RSM opened the second half with an 8-play, 65-yard drive that ended with a 2-yard run by Waldschmitt.
Brownmiller's second touchdown came on a 20-yard pass from Harpenau with 5:27 left in the third.
The final score came when Brenden Fisch, who ran for 61 yards and had a 21-yard reception, broke a tackle and then reversed field, going all the way to the right sideline as he scored on the 21-yard run to make it 48-0.