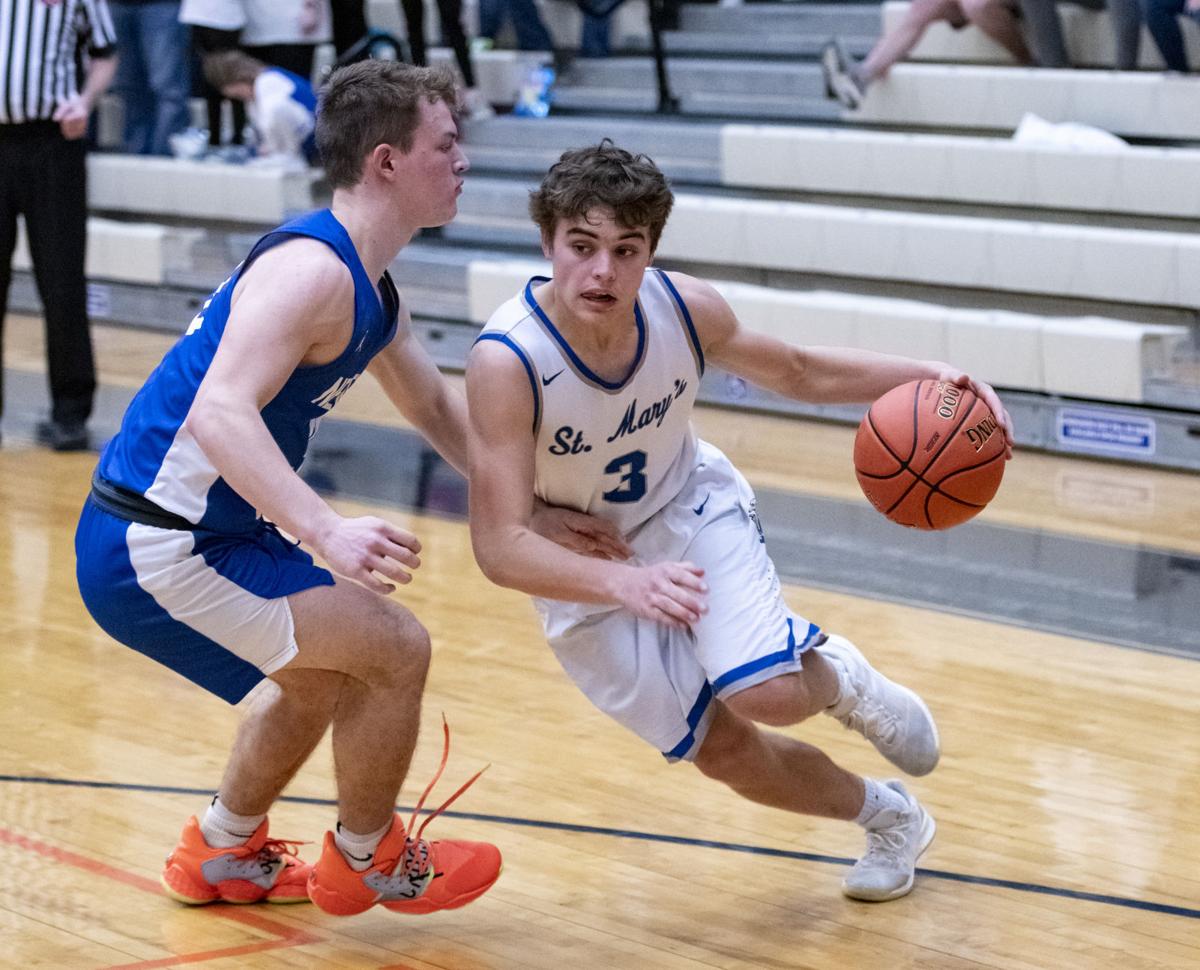 SIOUX CITY – The stage is set for a Plymouth County showdown with a trip to the Iowa boys basketball state tournament on the line.
Remsen St. Mary's did its part with a 61-41 triumph over Newell-Fonda in a 1A district final Tuesday at East High School.
Meanwhile, Le Mars Gehlen Catholic rolled past Woodbury Central in another district final at Heelan's O'Gorman Fieldhouse.
That produced a third meeting of the War Eagle Conference rivals in a substate final at 7 p.m. Saturday at Le Mars Community High School.
"We've always had a rivalry with them and they've beaten us twice and the second one left a sour taste in our mouths," St. Mary's senior Blaine Harpenau said. "It was a close game and we felt like we should have won. We've always said it's tough to beat a team three times. We're definitely excited for that game and we've been looking forward to it since the last time and we've had them circled on our calendar all year.
"We've been in big games before so this one will be no different."
Gehlen, 23-1 and ranked fourth in the Associated Press poll, beat 10th-ranked St. Mary's 68-60 in overtime in their last meeting Jan. 26 in Remsen.
The Hawks, now 21-3, trailed Newell-Fonda after a quarter, but got things rolling in the second quarter and never looked back.
Harpenau scored 18 points and grabbed eight rebounds, while Carter Schorg, Levi Waldschmitt and Austin Jensen added 11 points apiece.
Newell-Fonda scored the first six points of the game and led 10-7 at the break. The Hawks, though, made 10 of 13 shots in the second quarter, forging a 31-25 halftime lead.
The advantage grew to 45-33 after three quarters and St. Mary's limited the Mustangs to eight points in each of the last two quarters.
"I was proud of the boys, we came out cold and they hit a couple of threes and we knew it was going to be a game of runs," St. Mary's co-head coach Scott Ruden said. "They're really good defensively, they pressure you and I thought the boys kept their head. I told them they had to be smart all night and had to play smart basketball."
Along with their usual array of high-percentage shots, the Hawks committed just six turnovers while forcing 18 Newell-Fonda miscues.
"I might be a grumpy old coach, but the boys are really disciplined," Ruden said. "They know when to take a shot and when not to take a shot. When they take their shots and knock them down, this team is really tough."
Newell-Fonda made a brief run early in the fourth quarter, pulling within 47-40, but the Hawks switched to a zone defense and held N-F to one point in the last five minutes.
"They got up quick on us and I was proud of all of our young guys, they kept their cool," Harpenau said. "We just punched them right back in the face and kept on going. That's what you have to do against a relentless team like this. Their press tires you out, so you have to keep playing smart basketball and keep your cool. We did that tonight and it led us to a victory."
Harpenau and Waldschmitt are the only two senior starters for St. Mary's, which also lost to Gehlen 62-46 on Dec. 22 in Le Mars. The Hawks' third setback came to Orange City Unity Christian, which also handed Gehlen its lone loss.
St. Mary's wound up shooting 56.4 percent, making 22 of 39 shots.
Newell-Fonda, which tied for second in the Twin Lakes Conference, finished its season at 17-6. Tanner Gerke tallied 14 points in his final prep contest.