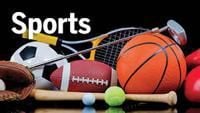 STORM LAKE, Iowa — The Sergeant Bluff-Luton High School softball team score four runs late Saturday in its 10-7 win over Ridge View during the Tornado Softball Classic in Storm Lake.
Brooklyn Ocker drove in the two go-ahead runs in the bottom of the fifth with a single, scoring Elise Evans-Murphy and Ella Skinner.
Evans-Murphy singled while Skinner doubled to set up the go-ahead scoring play.
Aussie Obbink dropped down a safety squeeze, then Chloe Buss had a sacrifice fly to close out the four-run inning.
Anya Kistenmacher recorded an RBI groundout in the sixth inning to score the seventh run.
Ocker was 1-for-4 with four RBIs. Kylie Kerr was 1-for-3, and she drove in three runs.
Emma Vohs and Addison Schmidt homered during the Raptors loss. Shae Dutler had two hits, both singles.
Abby Lewis picked up the win — she allowed six earned runs on eight hits. Lewis had four strikeouts.
Later Saturday afternoon, SB-L defeated Treynor 6-3. Kerr, Ocker, Evans-Murphy and Obbink each managed multiple hits.
Le Mars defeated the Warriors, 12-2, late Friday night. Libby Leraas had a three-hit game.
Friday's late softball games
Western Christian 9, Hinton 4: The Blackhawks were held to five hits. Bella Badar had a double while Madison Goosmann had an RBI.
Emily Small had six strikeouts for Hinton.
MOC-Floyd Valley 3, Okoboji 0: Dutch sophomore Carolynn Meines was 2-for-4 with an RBI and a double.
Carlin Smith recorded nine strikeouts.
South O'Brien 19, Unity Christian 3: The Wolverines recorded three triples in the blowout win on Friday.
Abby Schreck, Annika Jenness and Kaylee Jacobs — the Wolverines' Nos. 3 through 5 hitters — had those three-base hits.
Jenness and Schreck had three RBIs.
Friday's late baseball games
OABCIG 17, West Monona 0: The Falcons spoiled the Spartans' Senior Night by scoring 12 runs in the top of the fourth inning on Friday.
Easton Harms was 1-for-3 with three RBIs while Treyten Kolar had a three-hit night.
Ridge View 12, Westwood 1: The Raptors jumped back over .500 with the win.
Tyhler Kolpin knocked in five runs for Ridge View. The Raptors scored in all five innings.
Caleb Kistenmacher pitched in four innings, and he struck out three hitters.
Kingsley-Pierson 12, MVAOCOU 3: Malakie Christophersen knocked in three runs Friday night in the win over the Rams.
Christophersen, Damon Schmid and Evan Neumann had two hits.
Neumann got the win. He pitched 4 1/3 innings, allowing two earned runs on four hits. He had six strikeouts.
Kolby Scott knocked in two runs for the Rams.
Sioux Center 11, BHRV 1: Warriors senior Lane Kamerman was a home run shy of the cycle. He collected two RBIs.
Kamerman and Ethan Gesink combined to hold the Nighthawks to the one run, while having six strikeouts.