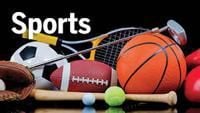 SIOUX CITY — The Bishop Heelan High School boys golf team took a triangular win on Monday at Whispering Creek Golf Course, winning the meet with 336 points.
Le Mars was second with 351 points and West was third with 493 points.
Brayden Michalak was the meet medalist, as he recorded an 18-hole score of 83 strokes. Michalak's front nine score was stronger by one stroke at a split of 41.
Mason Streeter and Collin Koob tied for second, both shooting an 84.
Jack White also shot an 85 for the Crusaders, while Shane Sanderson (87) and Pierce Conley rounded out the team scorecard.
Carter Baumgartner led the Bulldogs with 86 points. Dylan Susemihl and Cole Brownmiller both had scores of 88.
Christian Lane led West with a score of 104.
West Lyon XC Invite
The Western Christian High School boys cross country team won the West Lyon Invitational on Monday with 17 points, taking five of the Top 6 spots.
Wolfpack senior Tage Hulstein led the Wolfpack with a time on the Lake Pajoha 5,000-meter course with a time of 17 minutes, 40 seconds.
Hulstein won by a 63-second margin, beating sophomore teammate Caleb Douma. Douma was the meet runner-up in 18:43.
Kalen Hartbecke was third with a time of 19:07.
Boyden-Hull/Rock Valley junior Evan Janzen was the lone non-Wolfpack runner in the Top 6. Janzen was fourth in 19:09.
Western Christian junior Noah DeWeerd was fifth (19:30) and Zachary Minderhoud was sixth (19:32).
Lane Henrichs led George-Little Rock/Central Lyon's co-op squad with a seventh-place time of 19:36. Sam Meester led the Wildcats with an eighth-place time of 19:44.
GLR/CL was second with 64 points while the Nighthawks were third with 66 points.
Akron-Westfield was also there, led by Dexter Briggs' 23rd-place time of 21:33. Harris Lake-Park was led by Landon Greve, as he had a 25th-place time of 21:42.
Tyler Kennedy led West Sioux in 28th (21:56).
GLR/CL took the first- and second-place spots during the girls' race. Mary Schriever won the meet in 21:44, while Afton Schlumbolm was second in 22:23.
West Sioux's Meraya Barrera was third in 22:39.
Nighthawks freshman Elyse Zwart was fourth in 23:11, while CL/GLR's Kadence Boender was fifth in 23:28.
Wildcats junior Geena Snyders was ninth in 24:03, while Maeva Haveman was 10th, leading the Wolfpack in 24:24.