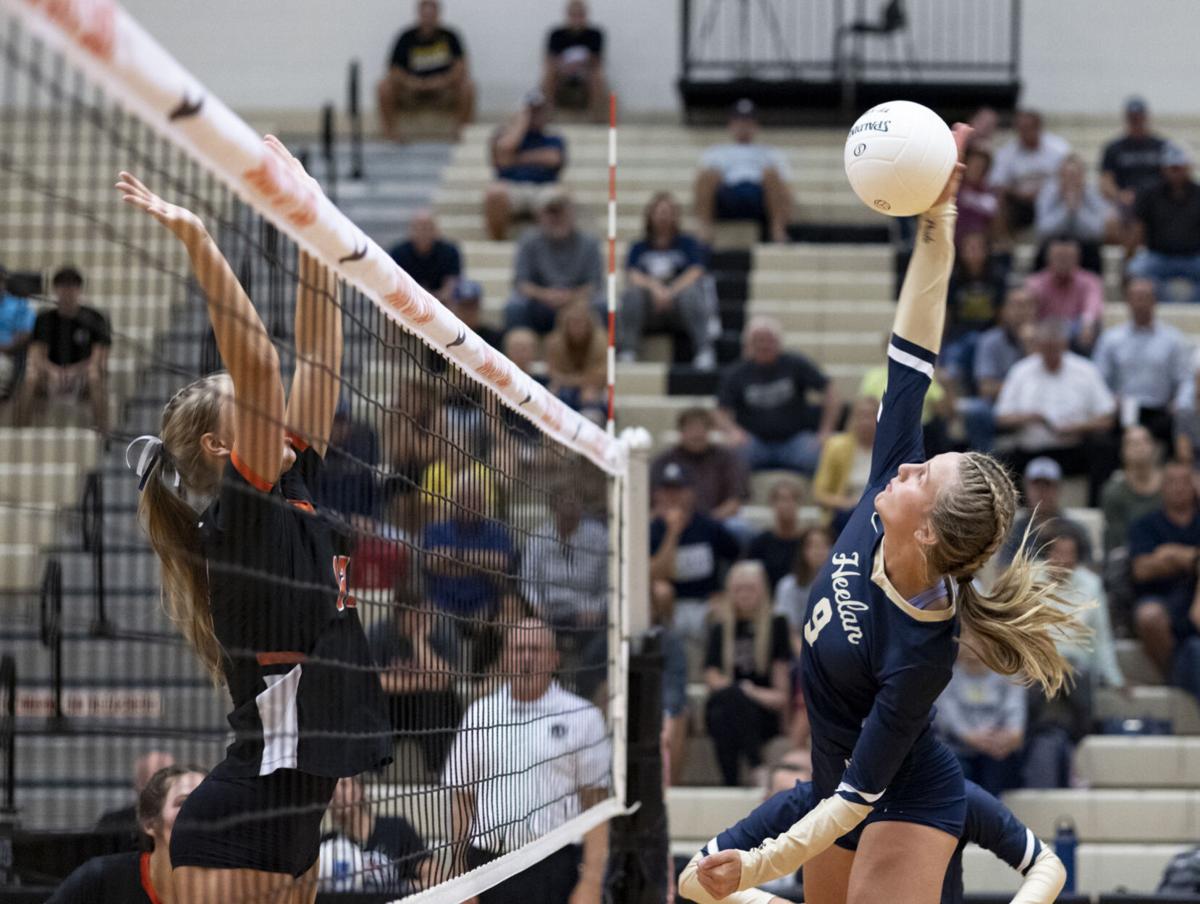 COUNCIL BLUFFS, Iowa — The Bishop Heelan High School volleyball team was one of three metro teams to sweep its opponent on Tuesday.
The Crusaders swept Council Bluffs Jefferson by set scores of 25-8, 25-5 and 25-12.
Lauren LaFleur led the Crusaders with seven kills, while Kenley Meis and Grace Nelson both had six kills.
Maddie Gengler had 14 assists and Maddie LaFleur had 13 assists.
Ava Higman had seven digs and she had eight ace serves.
Sergeant Bluff-Luton 3, West 0: The Class 3A top-ranked Warriors swept the Wolverines 25-11, 25-16 and 25-8 in Sioux City on Tuesday night.
Emma Salker led the Warriors with 12 kills while this week's Athlete of the Week Maddie Hinkel had seven kills and 28 assists.
Alivia Wolf led the Warriors with nine digs.
Aussie Obbink had five aces.
North 3, Le Mars 0: The Stars swept the Bulldogs on Tuesday night by set scores of 25-22, 25-21 and 25-9.
Maddie Craighead led the Stars with 11 kills and three aces.
Ashlyn Strohbeen and Sidney Chamberlain both had 10 kills. Chamberlain had nine digs.
Madalyn Welp had 24 assists. Avery Beller had 16 digs.
Harrisburg 3, Dakota Valley 0: The Panthers lost at home on Tuesday night, falling in 26-24, 25-14, 25-9 straight sets. 
Abby Meister led Harrisburg with 13 kills while Morrissen Samuels had 12 kills. 
Jorja VanDenHul led the Panthers with six kills, while Madeline Stout had five. 
Logan Miller had 19 assists. Kate Van Rooyan lad 15 digs. 
East 3, CB Lincoln 1: The Black Raiders dropped the first set 26-24, but they woke up to win the match by winning 25-14, 26-24 and 27-25. 
East held the Lynx to .177 hitting. 
Unity Christian 3, West Sioux 0: The Knights swept the Falcons on Tuesday night by set scores of 25-4, 25-14, and 25-11.
Jenna Bouma led the Knights with 11 kills while Gracie Schoonhoven had 10. Schoonhoven had four digs.
Emma Byker, who recorded the 1,500-assist milestone last week, added 27 to her total.
Dacey Driesen had six aces.
Jenna Bouma had four total blocks; Schoonhoven had three.
Gehlen Catholic 3, Akron-Westfield 1: The Jays dropped the first set 25-20 to the Westerners, but the fourth-ranked team in Class 1A went on to win the next three sets (25-23, 25-14, 25-16).
Gehlen had three hitters who had double-digit kills. Larissa Sitzmann led with 15, Lauren Heying had 11 and Rylee Schnepf had 10 kills.
Cadence Goebel led with 45 assists.
Natalie Nielsen led A-W with 14 kills, and Aubie Hartman had nine.
Josie Jacobs had 27 assists.
MMCRU 3, Harris-Lake Park 0: Royals senior Ellie Hilbrands had a team-high 12 kills and 11 digs.
Emily Dreckman also had 10 kills.
Taylor Harpenau had 15 assists.
MMCRU swept the Wolves by set scores of 25-19, 25-12 and 25-10.
Zella Ingham led the Wolves with six kills.
Cherokee 3, E-LC 0: The Braves won their 11th straight match against the Midgets by set scores of 25-18, 25-15, 25-13.
Cherokee sophomore Harper Benson had 10 kills while Jada Timmerman had nine kills.
Camille Zwieflel led with 28 assists.
West Monona 3, Woodbury Central 0: The Spartans swept the Wildcats on Tuesday by set scores of 25-13, 25-14, 25-13.
Sierra Siebersma led the Spartans with 15 kills.
Carly Miller had 25 assists. Kacy Miller had 10 digs.
Ridge View 3, OABCIG 0: The Raptors got seven kills during the Western Valley tournament win against the Falcons. The Raptors won by set scores of 25-15, 25-17, 25-17.
Emma Vohs and Rowan Jensen had seven kills. Taya Phillips had 16 assists.
Wynot 3, Bloomfield 1: Wynot won by set scores of 25-15, 25-15, 24-26, 25-18.
Karley Heimes led Wynot with 21 kills. Mariah Sudbeck had 23 assists.