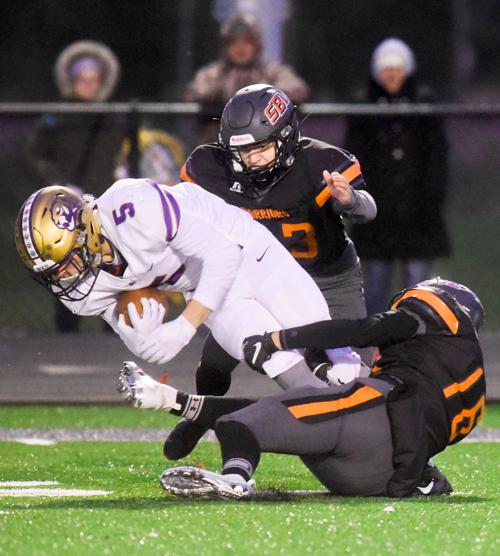 SERGEANT BLUFF -- The Sergeant Bluff-Luton football team has seen a good amount of contrasting styles this season.
On Friday in the quarterfinals of the Class 3A playoffs, the Warriors will see something familiar against Norwalk. Not only is Norwalk also called the Warriors, they have a potent offense like SB-L's and both defenses have done a good job of limiting opponents throughout the season.
"They are probably the only team we've played this year that has as much speed and skill that we have," SB-L coach Justin Smith said. "It's our biggest challenge this year and the most talented team we've played. That makes it fun. Last week was a strength on weakness. This week is strength on strength."
SB-L comes into Friday's quarterfinal after playing probably its best game of the season. Carlisle put together a good opening drive against SB-L but the Warriors forced a turnover and controlled the rest of the game en route to a 48-15 first-round victory.
"We started out a little shaky on defense because we couldn't simulate the power run game and it took a bit to adjust and we were fortunate to get that turnover," Smith said. "From that point, the offense was clicking and the defense was making plays and that was our best performance."
SB-L (9-1) hasn't lost since a week one setback, 35-7, to Lewis Central and has only allowed one team within 20 points (29-16 win over Bishop Heelan) of them.
"Now the opponent gets better. You are in the top eight now and all of the teams are going to be good," Smith said. "Just have to make sure we put together our best game again."
Norwalk is also 9-1 and its only loss was 27-21 to Dallas Center-Grimes in week two of the season.
Norwalk has been able to mix it up offensive and it has led to a number of good-scoring games for the Warriors. They have scored more than 30 points five times and haven't been held under 21 points yet this season.
Quarterback Zach Marker leads the offense with 1,600 passing yards and has 21 touchdowns. He also leads the team in rushing with 951 yards and 15 touchdowns. Dante Manuel rushed for 726 yards on 110 attempts - a 6.6 yards per carry. Ethan Carlson has 524 yards receiving and 10 touchdowns, Chase McKinney has 405 yards receiving and six touchdowns and Nick Marker has 367 yards receiving.
Defensively, SB-L hasn't allowed an opponent to score more than 18 points in a game since the first two weeks of the season. Cory Bates leads the defense with 56.5 tackles and Spencer Kleene has 48.5 tackles, including 10 for a loss and four sacks. Blake Liebe has five sacks and Wade Phair has four sacks. Jacob Imming has 37 tackles.
Norwalk's defense has allowed more than 20 points three times this season, including last week's 42-28 first-round win over Glenwood, but those were the only three times the Warriors allowed more than 10 points in a game.
It starts with the front seven for Norwalk. Ben Clark has 58.5 tackles on the season and 22 of those have been for a loss, tied for the fifth-most in the state. He also has seven sacks. Ethan Stockwell has 10 tackles for a loss and four sacks. Gavin King and Tyler Gearhart each have four sacks and Ethan Vetterick leads the team with 60.7 tackles and four fumble recoveries. Grant Larson has three interceptions.
"They blitz and they pressure a ton. They are usually sending six or seven guys," Smith said. "They are afforded that ability to be aggressive because they can cover well."
SB-L's offense has been clicking since being held to seven points in the first week of the season. The fewest points the Warriors have scored since then is 29 in the win over Bishop Heelan.
Quarterback Daniel Wright is ninth in the state with 2,437 yards passing. He's completed 69.1 percent of his passes for 26 touchdowns and only has four interceptions on the season.
While Norwalk presents a touch challenge for SB-L's offense, Smith said the team has adjusted to each defense every week.
"You have a gameplan every week and that's take what they give us and take what's there," Smith said. "We have a lot in our offense that we can do and a lot of that is because of Daniel. We run different styles Friday to Friday, so we will see what they give up."
Deric Fitzgerald has 64 receptions for 803 yards and nine touchdowns, Carter Schumacher has 44 receptions for 722 yards and seven touchdowns and Imming has 35 receptions for 426 yards and seven scores. Ben Freiberg has caught three touchdowns.
Jorma Schwedler leads SB-L in rushing but he only played defense last week because of an injury he suffered a few weeks ago. Plus Kaden Helt was unstoppable last week. Held, who had 169 yards coming into last week's game, rushed for 246 yards and four touchdowns last week.
The winner of Friday's game advances to the semifinals in Cedar Falls.
Get in the game with our Prep Sports Newsletter
Sent weekly directly to your inbox!