DES MOINES -- Simply put, the Sergeant Bluff-Luton High School baseball team didn't take advantage of its scoring opportunities on Tuesday.
The Warriors had runners in scoring position in five of the seven innings at Principal Park in the Class 3A baseball quarterfinals. The Marion Indians denied the Warriors those chances multiple times, and the eighth-seeded Indians upset the No. 1 Warriors 3-1.
After the game, the Warriors knew they had chances. They were frustrated, dismayed and stunned, but the silver lining is that the Warriors' seniors -- all 11 of them -- got to play in a state tournament game.
"We definitely didn't play our best baseball," Warriors coach Matt Nelson said. "We just had a few times where it just didn't happen. They're a very good team. These kids mean so much to me. They've had so much success in a lot of different things, and I know that's been eating at them. We've fallen short at the state tournament (in other sports) the last couple of years."
The Warriors' best chance to score came in a tense seventh inning.
With two outs, Ben Freiberg came up to the plate, and hit a groundball to third base. Jake Trca fielded the ball and threw it over to first base.
First-base umpire Pat McIlhon of Elkhart called Freiberg safe, as he believed first baseman Dane Carstensen -- who pitched the first six innings -- to come off the bag early. After discussing the play with the other three umpires, the crew called Freiberg safe.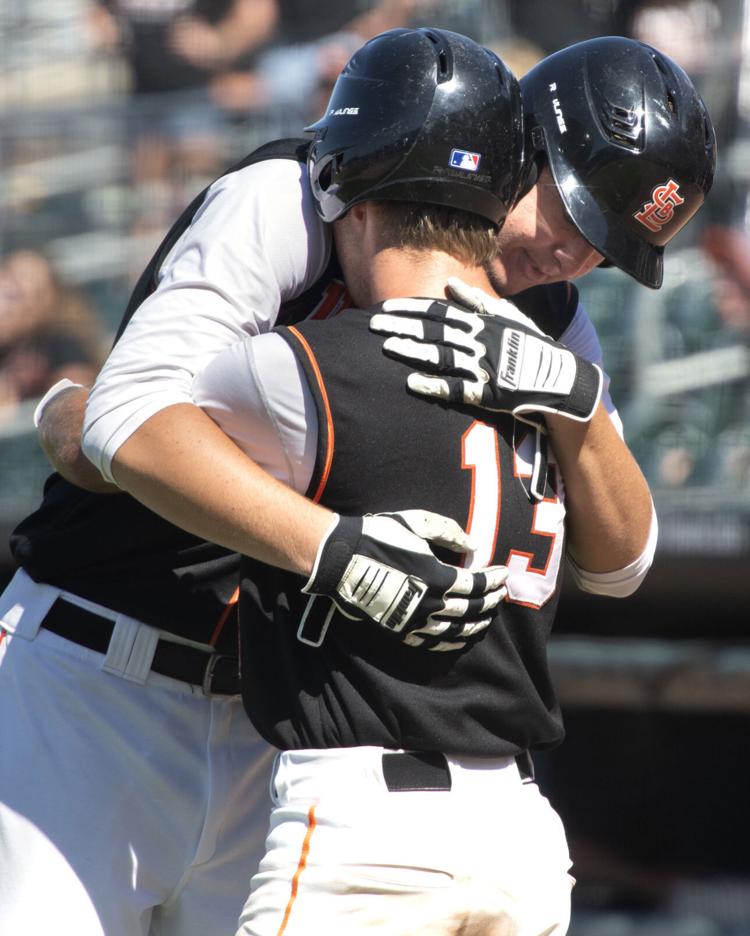 The crowd hung on every pitch, and after each close pitch, the Marion crowd groaned, wanting that third strike to be called.
Kleene got Puk, brother of Oakland Athletics pitcher A.J. Puk, to throw a couple of close balls. However, Puk struck out Kleene to end the ball game and the Warriors' season.
"It was crazy," Nelson said. "I just kept thinking, 'This is the year. There's going to be a weird way for us to win.' We just ran out of steam. It was a great game. I knew Marion would be a great team. We had our No. 3 hitter and you wanted to let him do his thing, and 10 at-bats, maybe Spencer gets (Puk), but he didn't that time."
SB-L had two runners in scoring position in the sixth inning.
Fitzgerald led off the inning with a single to left field, and later on, Daniel Wright patiently got a walk off Carstensen.
Fitzgerald stole second base, then not long after that, Carstensen threw a wild pitch. That allowed Fitzgerald to advance to third, and courtesy runner Nick Muller moved up to second base.
However, Carstensen ended his outing by retiring Sean Owens and Wade Phair.
Baserunning also became an issue for the Warriors.
The Warriors were caught stealing or picked off once in each of the first three innings, and that didn't help the cause for a rally.
Nelson however, doesn't regret being aggressive.
"We had some specific situations that we were planning for," Nelson said. "
There was one instance where that aggressive baserunning was effective.
It came in the fourth inning with Kleene at second base. Kleene reached base on a walk, then stole second base.
Kleene noticed that Carstensen wasn't paying attention to him, so he took off for third base. The throw from Kaden Frommelt was wide of the bag, and it went into left field.
The Indians had no chance to throw Kleene out at the plate, and when he crossed the dish, the senior pumped his fists in excitement.
"Coach said earlier in the week that he wanted us to be aggressive," Kleene said. "If you keep trying, things will go your way. He gives the green light to all of us."
Frustrating defense and pitching
The frustration wasn't exclusive at the plate. SB-L had some issues defensively and on the mound.
Wright didn't like what was going on early. He allowed six baserunners in the first three innings, and he was trying to get a feel of the strike zone.
Home plate umpire Nick Willenborg wasn't calling strikes on the corners, especially on the outside.
Wright likes to work on the outside corner, but those weren't getting called his way.
"I'm thankful that we got this opportunity, but I am a little frustrated," Wright said. "It's just a different ball game here. Umpires are different. I just had to pitch in a completely different way. I had to throw it right down the middle. And, they hit the ball down the middle. I didn't really have any other choice."
When Wright got out of the inning, Nelson offered some solace in the dugout.
"A lot people, no pun intended, look up to him," Nelson said. "He is the guy if he's okay, everyone else is okay. You're in a big environment, and he knows every pitch is important. He gets down 2-0, 3-1, it's not even about him, it's about putting his team in a bad position."
Wright closed out his SB-L career by throwing 6 2/3 innings. He allowed three runs on eight hits. Wright had nine strikeouts.
"Dan is an ultimate competitor," Nelson said. "There were some tough calls. When you go one more pitch, sometimes that's tough."
Marion scored its first run in the second inning. With a runner on third and two outs, Lucas Unsen hit a high pop fly to shallow center field.
Fitzgerald went back on the ball, and centerfielder Carter Schumacher raced in to help out, but both lost sight of the ball and it fell for an RBI single.
Cael Hodges scored on an error in the fourth inning, then Trca then had an RBI single in the fifth inning.
Get in the game with our Prep Sports Newsletter
Sent weekly directly to your inbox!