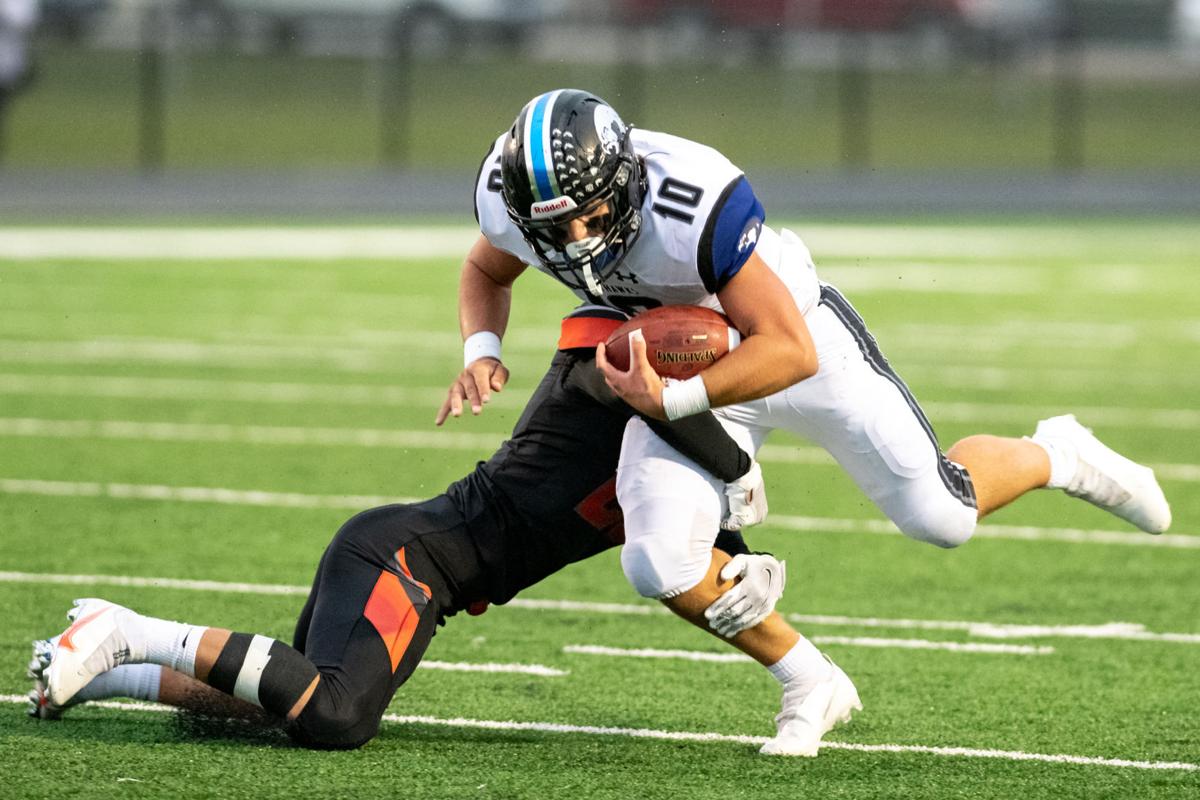 SERGEANT BLUFF — Tyler Smith had little doubt when he walked to the line of scrimmage on Friday with 11 seconds left against Boyden-Hull/Rock Valley in a 42-35 last-second win at home.
Down 35-34, the Warriors needed a score to win down and were facing a second down with seven yards to go from the 10-yard-line.
When SB-L came up to the line of scrimmage, the Warriors wanted to pass the ball and the Warriors wanted to run a 10-yard out route for the tight end.
Smith noticed that the cornerback was going to cover that route well, and noticed there was going to be a big enough hole to make a last-second dash for the end zone.
So Smith called an audible.
The Warriors sophomore quarterback took off for the end zone, and even though two B-H/RV defenders had chances to tackle Smith, but they missed him, allowing Smith to score with 3 seconds to spare and help give the Warriors their second win of the season.
"I knew we were going to win the game," Smith said. "Once I was in the end zone, I was like, 'No way I just did that.' It was a really good feeling. I knew we had the team to do it. Our two-minute drill has been awesome over the last couple of years."
The Warriors had 1:43 to pull off a score down one to the Nighthawks.
SB-L's final drive started on its own 27-yard-line. The Warriors gave the ball to Kaden Helt, who had 265 rushing yards and five total touchdowns, but the Nighthawks stopped Helt for minus-2 yards.
With the clock ticking, Smith chose to pass the ball on second down. He found Ty Schenkelberg for 10 yards to keep the play alive.
The next three plays were pass attempts, but all three were incompletions, leading to fourth down.
That's when Smith found Vince Lally down the middle on a deep ball, and that play resulted in a 44-yard gain.
SB-L coach Justin Smith credited Lally for getting open in a high-pressure situation.
"That was a really good route," Justin Smith said. "We crossed up the safety a bit there, and after that, it was about momentum and valuing the clock. Vince is getting better every game. That was a big-time play and he made a few."
Tyler Smith's 10-yard rushing touchdown happened two plays later.
"The leaders on the team, we just told everyone to keep it up," Tyler Smith said. "We knew we were still in this game."
The final drive for the Warriors lasted eight plays for 74 yards, and needed 1:40. In terms of plays, it tied for the second-longest drive for the Warriors in the game.
The Warriors also needed eight plays to take the lead with 2:32 left in the game, and that drive ended on a Smith 4-yard pass to Helt.
"We proved that we are never out of any game," Tyler Smith said. "We know we have talent. We believe we are the hardest-working team in the state. We know we can come back from any situation."
The Warriors' offensive line proved their hard work on Friday night. The offensive line group of Zach Morrison, Jonas Denman, Niko Karras, Malik Cook and Jack Gaukel helped the Warriors run for 315 yards.
The offensive line also gave Tyler Smith time to throw. He was 19-for-29 for 220 yards and a touchdown. He also threw an interception.
In the season-opener against West, SB-L rushed for 150 yards and last week against Lewis Central, the Warriors had 144.
"The O-Line gave him nice protection and they gave (Tyler) a nice lane to run," said Justin Smith of SB-L's final play. "They did a great job. Boyden-Hull throws a lot of different looks at you and you have to pick them up. They made some nice adjustments."
B-H/RV reflects on coming up short
At halftime, the Nighthawks coaching staff all had a similar message: Play with pride.
The B-H/RV players listened loud and clear.
"We showed we had fight," Nighthawks wide receiver and defensive back Landyn Van Kekerix said. "We can play against anybody. We weren't disciplined in the first half. We didn't do our jobs."
The Nighthawks scored 28 second-half points and scored two touchdowns in 3:06 to tie the game for the first time at 21-21 with 4:30 left in the third quarter.
B-H/RV didn't take its first lead until the latter moments of the fourth quarter, as Kody Noble scored on a seven-yard rushing touchdown with 1:43 to go.
The Nighthawks had 496 total yards of offense, most of those coming in the second half.
Noble had 159 net rushing yards out of 148 total.
Kats was 17-for-32 for 263 yards and three passing touchdowns.
Kats' top receiver was Van Kekerix, who had eight catches for 151 yards.
Van Kekerix was one of the many Nighthawks who had disappointed looks on their faces but admitted his team made one too many mistakes.
"There were a couple of plays where we just weren't disciplined," Van Kekerix said. "We messed up."
On the other sideline, Justin Smith complimented the Nighthawks for bringing their best effort on the road against the Warriors.
"What a class act group of kids and coaches," Justin Smith said. "It's just so fun playing those guys."
Get in the game with our Prep Sports Newsletter
Sent weekly directly to your inbox!