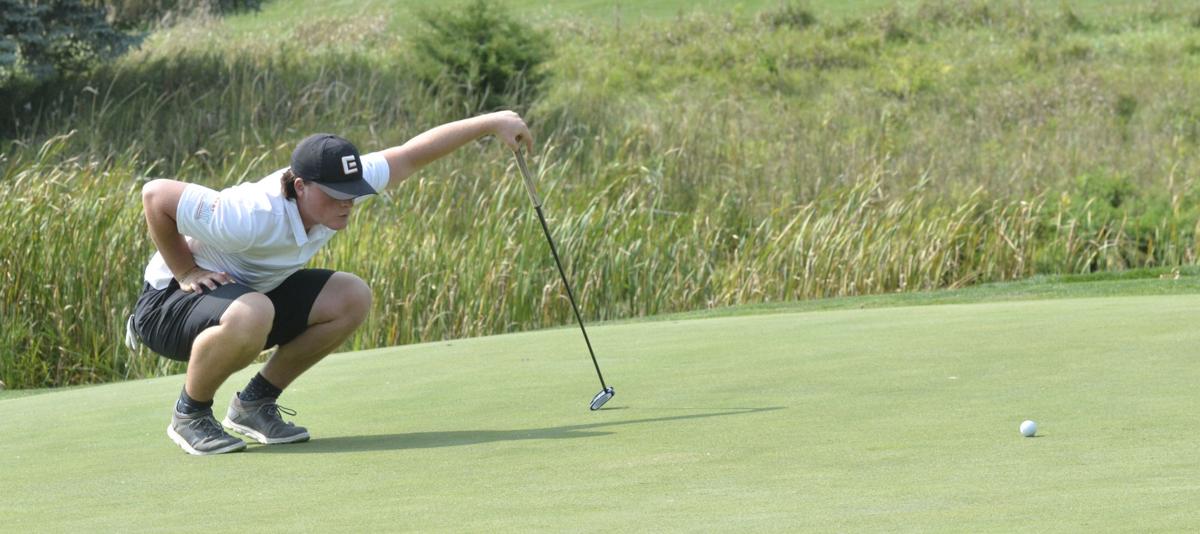 SIOUX CITY — Schuyler Warren smiled when asked how much improvement he and the rest of the Sergeant Bluff-Luton High School boys team has shown this season.
Warren shot an 18-hole score of 81 Tuesday at Whispering Creek Golf Course en route to being named the city boys golf champion. Warren edged East junior Ethan Spier in a cardback.
Spier also shot an 81, and the Black Raiders had four golfers in the top-6 en route to the team title with 329 strokes.
Heelan was second in the team standings with 336 in the six-team field that also included Le Mars, North and West.
The Crusaders had three guys in the top-10. Brett Sitzmann led the Crusaders with a tie for second place with an 82. Joe Adams stood alone in eighth place (84) and Brayden Michalak was tied for ninth with 85.
Warren won his third golf event of the season that includes a dual medalist win against the Bulldogs to start the season, then the Warriors junior won in an Aug. 26 triangular against West and Council Bluffs Jefferson.
Warren, meanwhile, was able to fight the wind to get to his 81.
He got one birdie on the day. That came on the par-4 No. 14 hole, which is 385 yards.
"There were a couple shots here and there where you hit it out of bounds, but you just have to keep your head up and go forward," Warren said. "There's stuff I still need to work on and I need to keep moving forward."
Warren said that putting is one of the foremost areas that needs improvement. He said there were also a lot of loose drives that didn't help him.
Warren has enjoyed putting time in on the driving range to improve on his long game, and admitted that he needs to spend more time on the range.
"I have to keep it in the fairway," Warren said. "If I give myself a good iron shot, I feel comfortable that I can put it on the green. It's just repetition."
The Warriors were third as a team, scoring 348. They were 12 shots behind Heelan. However, Warren has seen the Warriors progress since the beginning of the year.
The main difference has been a simple one: SB-L has had more focus. Practices have been more serious. There has been less horsing around on the golf course.
"We've devoted more time on our practice days instead of going out there and messing around," Warren said. "I think that having leaders like Henry Eckhoff and including me, I think we're much better practicing as a team."
Warren was pleased at the round Eckhoff had on Tuesday. Eckhoff, an SB-L junior, finished tied for fifth with Cole Johnson and Drake Anderson of East with an 83.
"That's a big improvement for him," Warren said. "If we can get more of our guys to start moving in that direction, we'll be fine."
Warren credited Eckhoff for being one of the Warriors who takes practice more seriously, and seeing his efforts pay off.
"We needed him to work more on the putting green and chipping green," Warren said. "I know it's easy for people to go out to driving range and practice the long game, but coaches have been good about picking up what people need to work on."
Warren also credited the SB-L golf coaches — led by head coach Troy Husen — for putting in more time and seriousness, and for putting effort into turning the team into a program that builds for the future.
"I think the improvements started to show last year. You're just starting our and getting new stuff done last year," Warren said. "Now we're starting to get good results."
East, meanwhile, won the team championship after the Warriors took the title last season. Spier, Cael Boever, Cole Johnson and Drake Anderson all cracked the top-6 in the tournament.
Boever was tied for third (82) with Sitzmann. Johnson and Anderson recorded an 83. Gavin Cote had an 85, which was tied for ninth. Cote tied with Michalak.
Black Raiders assistant coach Ras Vanderloo — who represented the team on Tuesday — said it varies from day-to-day to see who makes it onto the top-4 to have their scores count.
"After Ethan, all of those other guys have been counters one time or another," Vanderloo said. "We have six guys who are all capable of being in the top-4. We have six guys, and any of them can be a counter. They've proven that in the few meets we've had. Anytime you can win an event, it's a good day."
Vanderloo believes the Black Raiders can be a state contender, as Whispering Creek hosts a Class 4A district meet later this season.
"Just like any other sport, you still have to play well," Vanderloo said. "Having districts on our home course gives us a chance."
North's top golfer was Grant McGrory with a score of 19-over. Sam Johnson, the Wolverines' top golfer on Tuesday, also carded a 19-over.
Dylan Susemihl led the Bulldogs at 14-over.
Get in the game with our Prep Sports Newsletter
Sent weekly directly to your inbox!