DES MOINES -- North's Nick Walters thinks he can compete with anyone at 120-pounds in Class 3A.
He proved his point on Thursday during the first day of the Class 3A individual state tournament, knocking off the seventh-ranked wrestler in the first round.
Le Mars brought two wrestlers to the 3A state tournament and both moved on to the quarterfinals. Storm Lake also has a quarterfinalist.
Walters faced Norwalk's Keaton Moret in the first round of the 120-pound bracket. Walters, at the state tournament for the second time, fought off an early attack from seventh-ranked Moret for an early 2-0 lead.
That was the spark Walters needed. Even down 5-4 in the third period, he was confident he could win the match. The sophomore got an escape and then scored a takedown with 23 seconds left to take the lead.
Some backpoints near the end of the match was icing on the cake as Walters pulled off the upset and reached the state quarterfinals for the first time in his career.
"My mindset for every match, it doesn't matter who they are or what they've done in the past, I just go in with the mentality that I am going to beat this kid," Walters said. "It doesn't matter what he's done or who he is, I am just going to go out there and wrestling my match."
The early takedown of Moret also gave Walters a good amount of confidence early in the match.
"It showed me I can take this guy down and he can't stop my shots," Walters said. "That helped me later in the match to win it."
Moret did get a reversal but Walters got an escape and went into the second period up 3-2. Moret managed an escape and a takedown to take the lead but an escape by Walters put him down a point going into the third period.
Walters had no doubt he would get the escape and takedown in the third period to win the match and advance to the quarterfinals.
"Get the escape and I am confident in neutral and I am confident in my ability to take shots so I knew if I could get out, I could win the match," Walters said. "This feels really good. To beat a kid of that caliber, I can climb higher and higher. I believe I can place this year. Just keeping doing what I do. Stay on my shots and don't let them set the pace and I can win."
Walters lost his first match at state at 113 pounds last season. He won his first consolation match but lost his second to end his season as a freshman.
Now the sophomore advances to Friday's quarterfinals.
"Being down here last year, he got his feet wet helped. He stayed true to his style and got out after it. Good things happen when you stay in your game," North coach John Torno said. "Big win for Nick. Nick just took the fight to him. Hopefully, we can continue to stay in that flow and that's when kids have success."
Walters was the only North wrestler out of three to advance to Friday's matches. Senior Ethan Sorenson lost his first 138-pound match 13-2 to fifth-ranked Nathan Marchand of Southeast Polk and lost 13-4 to No. 8 Graham Gambrall of Iowa City West in the consolation round. Sorenson ends the season with a 27-18 record.
Senior E.J. McElmeel fell behind 7-1 in the first round to North Scott's Zachary Campbell. His couldn't finish a late shot and lost 8-6. Then he was pinned in 58 seconds on the backside by Cedar Rapids Prairie's Colton LaGrange to end his season 43-7.
"Great wrestlers with 100-plus wins and that's the way it goes," Torno said. "They've had great careers and a great season overall so I hope they see that as a positive. I know they would've liked to place but they qualified, did the best they could and put forth a great effort."
Le Mars had two qualifiers: Jake Francksen-Small at 152 and Travis Theisen at 220. It was the first trip for Francksen-Small and the second for Theisen, who finished eighth at 220 last season.
Francksen-Small's match went to overtime tied at 4-4 against Linn-Mar's Abass Kemokai. Neither wrestler scored in sudden victory. Francksen-Small got a reversal in the first overtime and held on for a 6-5 win over Kemokai to advance to the quarterfinals.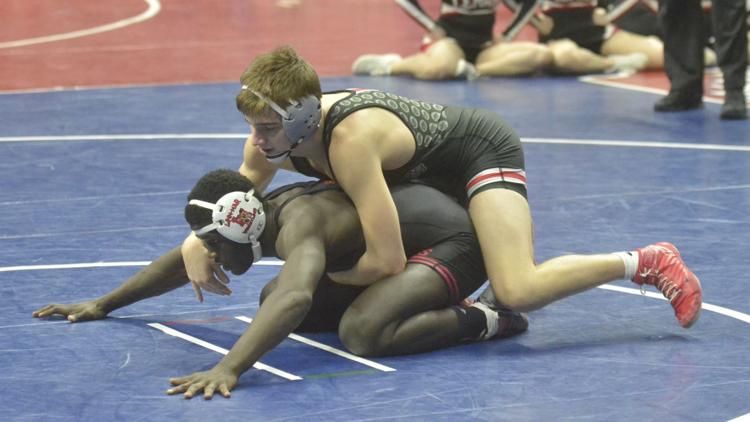 "To get here and to get that first match was pretty good. I think everything we do, practice or a meet, we train for stuff like this," Francksen-Small said. "The key was to just have fun. The hard part is over in getting here. So have fun and whatever happens, happens. Thanks to the coaches and parents for helping me get here."
Theisen trailed 4-2 after being taken down with about 45 seconds left in the third period of his first-round match by Waukee's Cael Thorson. Theisen got an escape and about 10 seconds later, got a takedown and rode out Thorson for the 5-4 victory to advance to the quarterfinals.
"I know I needed two and I knew I had to hold him for 20 seconds and it turned out alright. I am just happy I am onto the quarters. I wish I did a little better but it happens," Theisen said. "Keep the ball rolling."
Le Mars coach Shane Hessenius was happy with a two-for-two performance on Thursday.
"We get to go back to the hotel, get something to eat, relax a little bit and reset for (Friday) and hopefully we can do the same thing," Hessenius said. "It's awesome that they came up with those wins in those close matches. You never know how a kid is going to react and Jake is that kid and is steady. He did exactly what he needed to do.
"For Travis, it's a lot about higher expectations. That first match was a little jittery for him. I don't think he was as open as he will be. Just need him to relax a little bit and get on his offense. He came out with a win."
Storm Lake's Aaron Ungs didn't get a lot of offense going in his 195-pound match against Dubuque Hempstead's Owen Dunne, but it was just enough because he never let Dunne get into his offense.
In his second trip to state, Ungs, a senior, won his first-ever state match with a 6-0 victory over Dunne to advance to the quarterfinals.
"It's been a dream to make it and place so I am just working toward that as hard as I can anyway I can," Ungs said. "Anyone that is trying to get to state, it doesn't matter how good you are, it matters how hard you work."
East had two wrestlers at state. Senior Alex Kleider lost both of his 152-pound matches and finishes the season with a 41-10 record. Junior Dylan Harper lost both of his 170-pound matches and ends at 27-15.
Storm Lake senior Kail Shannon lost both of his matches at 285 and finishes the season with a 30-11 record.