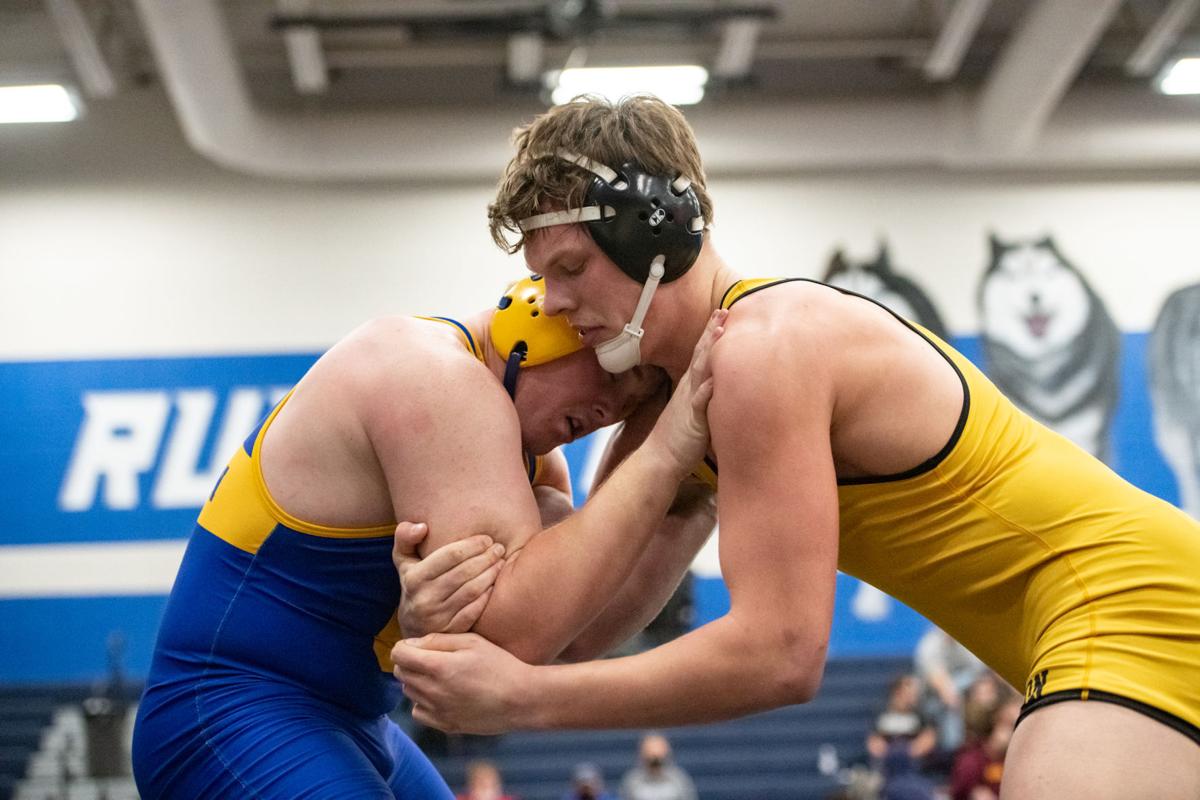 Coming off a third-place finish at 195 pounds at the Class 1A state wrestling tournament, Hinton's Derek Anderson had a full offseason of work ahead of him in order to not only hopefully make another run at a state title on the mat, but to potentially earn a spot on a college football roster.
However, the COVID-19 pandemic shut down the weight rooms and halted a number of offseason training programs.
That didn't slow down Anderson, though, as he went out and bought some weights in order to reach his goals.
"My whole goal was to use quarantine to my advantage," Anderson said. "We found some used equipment right away and if I was going to be home, I was going to lift a lot and try and get physically better. That was my whole mindset in the offseason, don't rest on what I did last year, in wrestling or football. I needed to get bigger, stronger, faster and I was going to take the time in quarantine to do that."
The investment has paid off so far for Anderson, the Siouxland Athlete of the Week.
Not only is Anderson undefeated on the season (16-0) after winning four matches at the Elk Point-Jefferson tournament on Saturday to go along with being ranked No. 2 at 220 pounds in 1A, Anderson also earned his coveted football scholarship.
He actually earned more than one scholarship at two high-level programs.
The University of Sioux Falls, an NCAA Division II program, offered the Blackhawk defensive lineman a chance to join its program and Anderson agreed to verbally commit under one condition, he could still listen to offers from NCAA Division I programs. The Cougars coaching staff agreed.
Northern Iowa then came along and offered Anderson a scholarship and he jumped at the chance to join the D-I FCS program and to have former NFL defensive lineman Bryce Paup as his position coach.
Last Wednesday Anderson made it official and signed with Northern Iowa.
"I kept looking at both programs and my head and my heart were both leaning toward UNI," Anderson said. "I felt that's what God was leading me toward, too."
Anderson drew the attention of UNI back in March when he decided he was going to take the initiative and email a bunch of different coaches his film and accomplishments.
UNI was one of the programs he emailed and it wasn't just to UNI head coach Mark Farley and Paup, it was to the Panthers' entire coaching staff, even the grad assistants.
"They were one of the ones that responded," Anderson said. "Coming from a small school, I think it's one of the reasons I got those looks. People aren't looking at small schools like Hinton, Iowa, too often for athletes. So I am going to go out and open doors. I was able to get responses from UNI coaches and talked to them throughout the summer."
Anderson didn't receive a full scholarship from the UNI football program because a majority of it is academic because he has a 4.24-grade point average to go along with a score of 34 on his ACTs.
"That opened a lot of doors in the academic world," Anderson said. "I will major in psychology and that will put me on the pre-law path and that will leave me with a lot of doors. I can go into psychology or pre-law. Honestly, my first choice would be to go into coaching and psychology will be good for that, too."
Anderson has a picture hanging up that he's using as motivation. It's of Tate Hagen, Anderson's opponent in the 195-pound semifinals last season. Hagen is flexing while Anderson is laying on his back. Anderson doesn't want to have that feeling again.
Anderson's run to the semifinals was a bit of a surprise since he wasn't highly ranked but he forced Hagen, who went on to win the 195-pound title, to an ultimate tiebreaker, which Hagen barely won.
Now Anderson is a highly-ranked wrestler at No. 2 but he has the same mindset he had going into last year's state tournament.
"I am a super competitive person. My mindset is I don't care what the records are, I don't look at guy's records or rankings, I believe I can compete with anybody when I work my best," Anderson said. "That's how I go into everything. I don't care if you are 48-0 or 0-48, I am going to go in and compete the same way."
Since his freshman season, Anderson's goal was to compete like he was going for a chance to be at the top of the podium. Each year he's gotten closer to his goal, especially with landing on the podium for the first time last season with the third-place finish.
For Anderson, it's just having that faith, not just in his ability to compete hard every match, but also in God, which drives him on the football field and on the mat.
"I am a pretty firm believer in God. That motivates a lot of what I do," Anderson said. "That's been a big thing in football and wrestling. I am going to control what I can control, I am going to work hard and wrestle the way I can. After that, God has everything else."
Logan Serck, Alcester-Hudson: Serck knocked off top-ranked Seth Peterson at the Elk Point-Jefferson tournament on Saturday to win the 152-pound title.
Camrin Baird, Woodbury Central: Coming into the week, Baird was averaging 21.5 points per game and she was fifth in the entire state with 215 points scored.