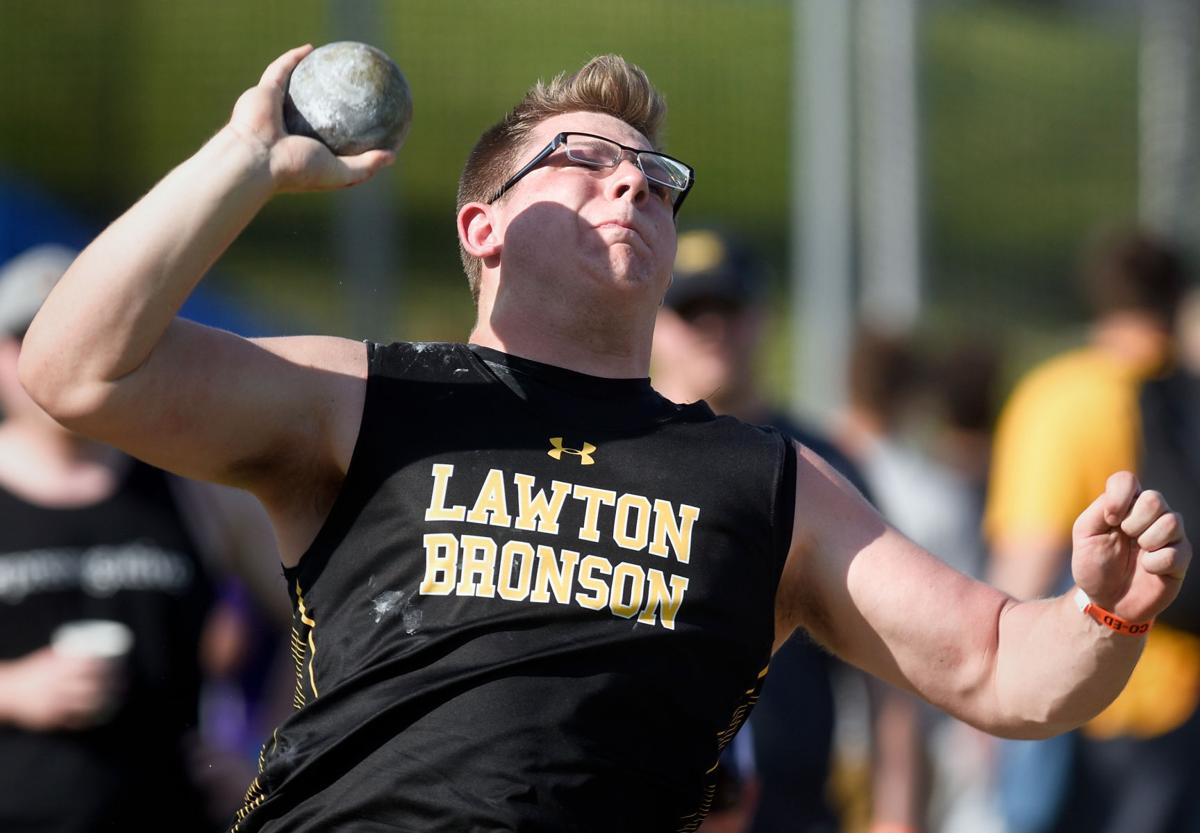 Zach Verzani has his name in the Lawton-Bronson High School record books. He's also making sure younger throwers have the chance to break his records in the shot put and discus.
Verzani is this week's Siouxland Athlete of the Week, and he broke his own shot put record last week on the biggest stage in Iowa track and field.
"Zach always thinks about other people," Lawton-Bronson track coach Jesse Pedersen said. "He's the leader of the whole team. Our team knows that when we start a meet, he's going to score a lot of points. He is the first one down there to be working with the younger kids.
The Eagles senior recorded a throw of 56 feet, 3 3/4 inches at the Drake Relays last week. That put him at third place among other throwers in the state.
"It's absolutely amazing for the simple fact that it shows what hard work and determination does," Pedersen said. "Zach is a tremendous athlete, but he never settles what he has. He works his rear end off to be the man. He's never satisfied when he sets a goal, no matter what sport he's in either."
Verzani's previous record was 55-6 1/2.
That mark was set on April 16 at the Homer meet, where Verzani broke Nick Phelps' meet record.
"So, when you start beating one of Nick Phelps' records, you're pretty special at that point," Pedersen said.
Verzani first broke the shot put record as a sophomore.
Breaking records has been nothing new for Verzani. Every time he steps into the ring, breaking his own record is his goal.
The records were there for a lot of years, until Verzani came into the picture.
Take the discus record, for example.
That record —148 feet — stood since 1979, but back in March, Verzani broke it with a throw of 150 feet, 1 1/2 inches.
"He is so focused on breaking his own record at each meet," Pedersen said.
After Verzani takes a throw during practice, he watches it on tape. Verzani is able to go back and watch his throw in the ring, and Pedersen lauded Verzani for being able to make the necessary adjustment.
"He and Coach Dave Harris are able to pick up the very, very small details," Pedersen said. "He'll focus on the tiniest of details. He'll work on them until he gets them perfected. It's proven that the smallest of details make the difference.
"It's everything to a coach," Pedersen added. "When he's able to pick that stuff up, that's everything you can ask for as a coach."
Verzani will then take those small details, and turn what he learned into becoming a coach for the younger throwers.
Verzani has been more than happy to coach those throwers, and not necessarily the younger ones, either.
Pedersen's son, Northwestern sophomore Cade Pedersen, switched to becoming a decathlete this season.
Cade Pedersen asked his dad whether Verzani could show him how to throw, and that's what they'll do in the summer.
"Zach knows everything that Cade needs to know," Jesse Pedersen said. "Zach is willing to share that knowledge with anyone. That's awesome. Zach is the example that every coach wants to coach. He's down to earth and good at all sports he does. The person he is is what I'm most proud of. Knowing the person Zach is, that's what makes me proud as a coach."
Verzani won the Class 1A shot put title in 2019, and he's ranked fourth in the entire state entering Thursday with his throw at Drake. 
He's second in Class 1A, behind Madrid senior Mason Lobeck (58-1 1/2). 
Verzani's longest throw in the discus — which is 150-3 — is sixth in 1A. The leader of the 1A field is Woodbine's Layne Prior (185 flat). 
Throwing is Verzani's speciality, but Pedersen can use him in a sprinting race if needed. Pedersen said that the Eagles senior is the sixth fastest runner on the team, and he has placed Verzani in a race before.
Verzani was clocked in at 12.5 seconds, but everyone knows that Verzani's bread and butter is in the shot and discus ring.
"He'll stay there with them," Pedersen said. "It's super hard to get him in the 100, because he's still throwing at that time. It's hard to find a thrower who's that fast."
Mason Weeks, Spirit Lake golf: Weeks has the state's lowest nine-hole score at 31 strokes. 
Delaney Iseminger, Kingsley-Pierson golf: Iseminger has the state's 10th-lowest round with a nine-hole score of 38.