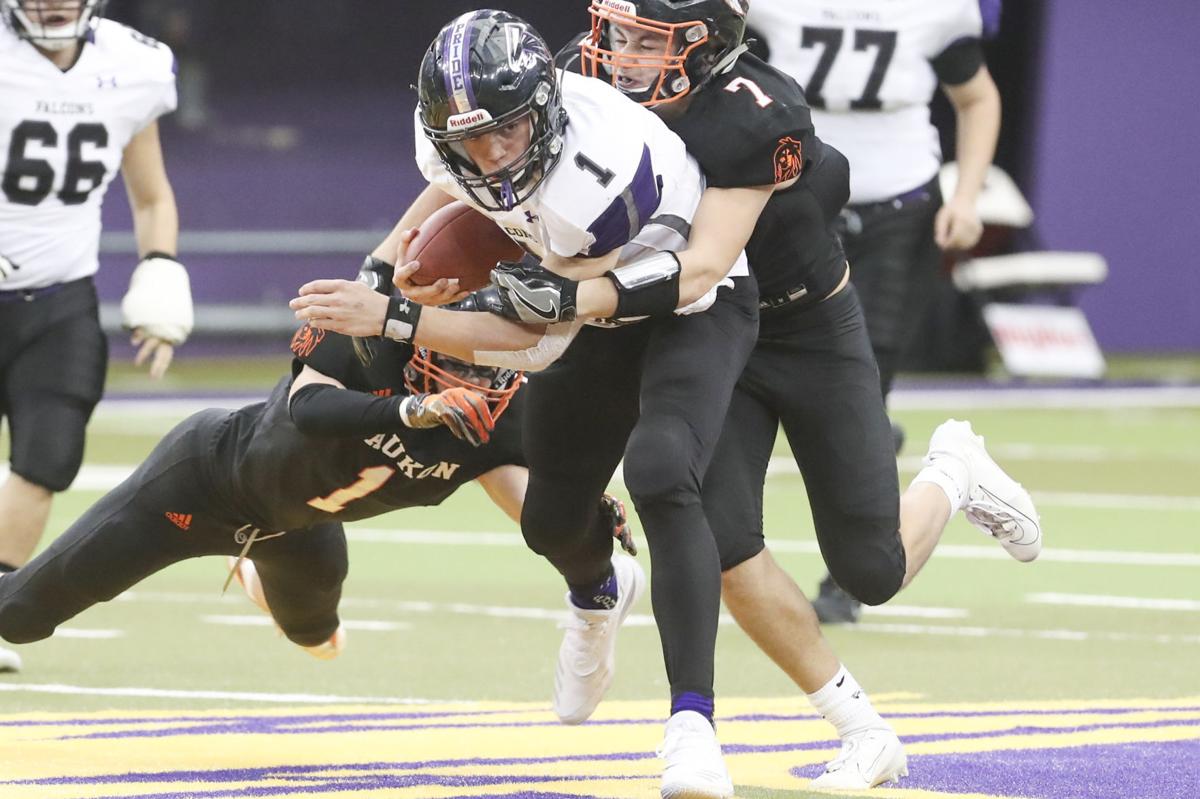 After combining for 66 total touchdowns last season (42 passing, 24 rushing), DeJean has already scored 14 touchdowns (eight passing, six rushing) in the Falcons three wins this season, which is tied for the seventh-most in the state.
The University of Iowa recruit has already drawn the attention of a major organization because earlier this month, the senior from Odebolt accepted an invitation to play in the 2021 All-American Bowl.
"You know, it's pretty special that he is one of the top kids in the nation," said Larry Allen, the head coach of Class 1A top-ranked OABCIG. "He's talked about how he's just a small-town kid and with hard work, anybody can have success like that."
However, DeJean probably won't be playing in the All-American Bowl as a quarterback. The four-star recruit will more than likely be lining up as a safety or somewhere in the defensive backfield, which is where early projections have him playing at Iowa.
While DeJean is making highlight reel plays on offense for the Falcons, he's been just as valuable on the defensive side of the ball over his career for the Falcons.
After a freshmen season where he had eight tackles and a fumble recovery, DeJean became an impact player for the Falcons on defense as a sophomore. He finished with the sixth-most tackles with 43 to go along with two interceptions and a fumble recovery.
Last season DeJean finished with 34 tackles and he had five interceptions, two of which he returned for touchdowns.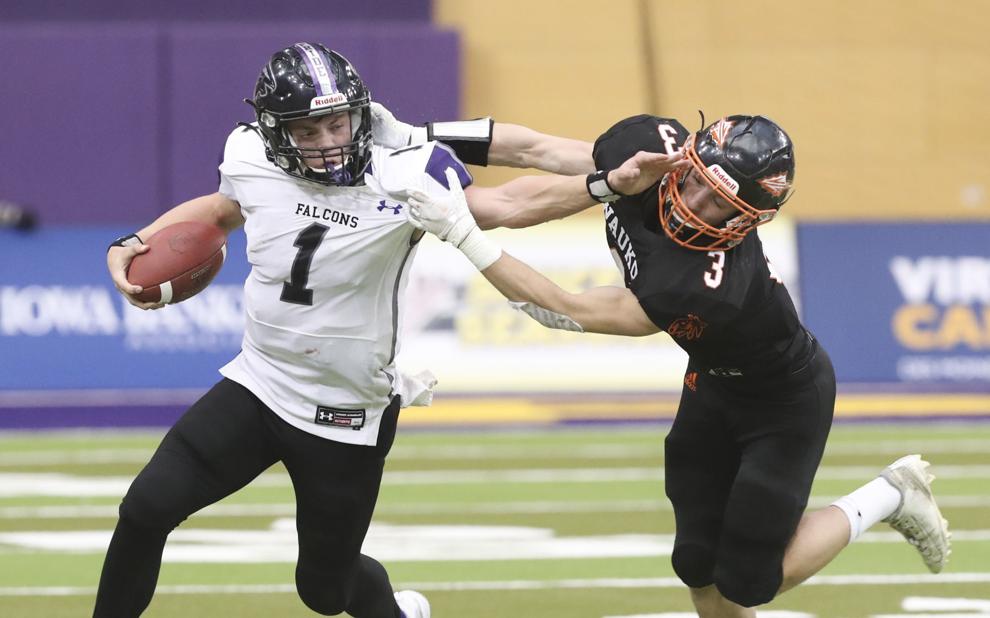 DeJean is one of the Falcons key defensive players back this season and he is second on the team with 18.5 tackles.
"He's showed those defensive skills he will utilize in college," Allen said. "He does a great job of reading the play and he runs to the alley and gets downhill to make a tackle. As he does on offense, in the secondary, he makes sure everyone knows the coverage we are in and that gives him the ability to read the play."
Most of those tackles came in OABCIG's biggest game of the season so far.
In week two, the Falcons were locked in a tight battle against Spirit Lake, a team that started the season ranked and was receiving votes coming into the game against OABCIG.
The Falcons built a 20-0 lead but Spirit Lake came back, making it a one score game in the second half not once, but twice. OABCIG's defense held Spirit Lake in check at key times for the 27-21 road victory.
DeJean finished the game with a team-high 14 tackles and 13 of those were solo stops against the Indians.
"That was the difference in the ball game, to be honest with you," Allen said. "He made a lot of plays near the line of scrimmage and if he doesn't make some of those plays, they would've been big gains against us."
OABCIG defensive coordinator Travis Chizek said DeJean is like a coach on the field, making sure everyone is lined up right and knows the play.
"One of our backup safeties made a huge play and I complimented him on it and he said Cooper told him the play," Chizek said. "He understands the game so well and takes what he learns on film to the game. He can pick up on things that makes everything go so smoothly. He's not only a tremendous athlete, but he's also a tremendous student of the game."
Last season DeJean and Jake Nieman teamed up to form one of the best safety combinations in the state last season. Nieman led the Falcons with 89 tackles and he intercepted six passes. Two were returned for a touchdown.
Senior Kolton Knop is playing next to DeJean this season. Knop has six tackles and an interception, which he returned for a touchdown.
Ethan Shever lead the Falcons with 19 tackles and Zach Hemer has 17. Andrew Sholty has two sacks and Josh Peters had two interceptions.
The Falcons defense has only allowed 21 points in three games. OABCIG shutout Ridge View to start the season and didn't allow Missouri Valley to score this past week.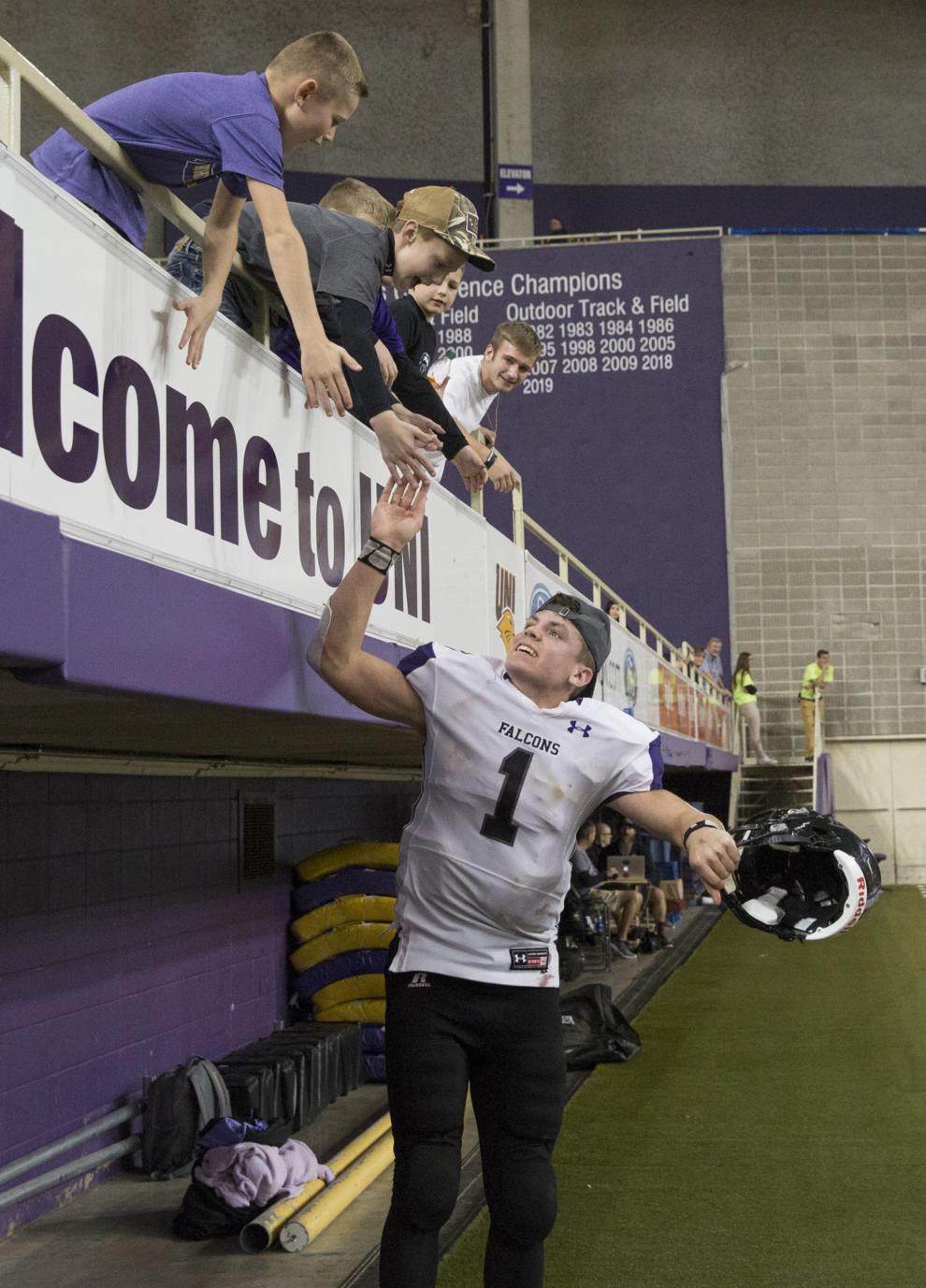 "We have a lot of inexperienced kids that are learning as this is all going on," Allen said. "Coach Chizek gets them coached up every week. If everyone does what they are responsible for, then we will have success. Some weeks are better than others but that's part of high school football."
Jaylen Bork, MMCRU - The senior had 31 kills in a four-set match against Trinity Christian last week. She has 188 kills this season, the second-most in the state.
Tyler Towne, River Valley - The senior has 384 yards receiving this season, the third-most in the state.
Refer
Check out the SCJ Sports podcast with Justin Rust and Zach James as they touch on the latest on area football, volleyball and cross country. The podcast can be found on siouxcityjournal.com.