SPIRIT LAKE, Iowa | Kyler Rieck wanted exactly what Zach Skopec and Chris Sandy achieved.
They are the role models Rieck followed as his wrestling dream continued for the fourth consecutive Class 2A state tournament year at Wells Fargo Arena. They're among Spirit Lake Park's seven state champions.
Rieck worked just as hard, if not harder. All of those two-day-a-week sessions with the Legends of Gold wrestling program in Beresford, S.D., were on his mind as the week progressed, along with the appearances at the Greco-Roman/Freestyle Nationals in Fargo, N.D., to the times spent training with Spirit Lake Park teammates like 145-pound freshman Zach Jensen, who wasn't among the team's six state qualifiers, yet worked out with Rieck at the Des Moines venue.
"Winning state has been a goal of mine for a really long time," said Rieck, the Sioux City Journal's Siouxland Athlete of the Week, who capped a 42-2 season and a 170-15 career following Saturday night's 16-8 major decision over No. 1-ranked Adam Ahrendsen of Union.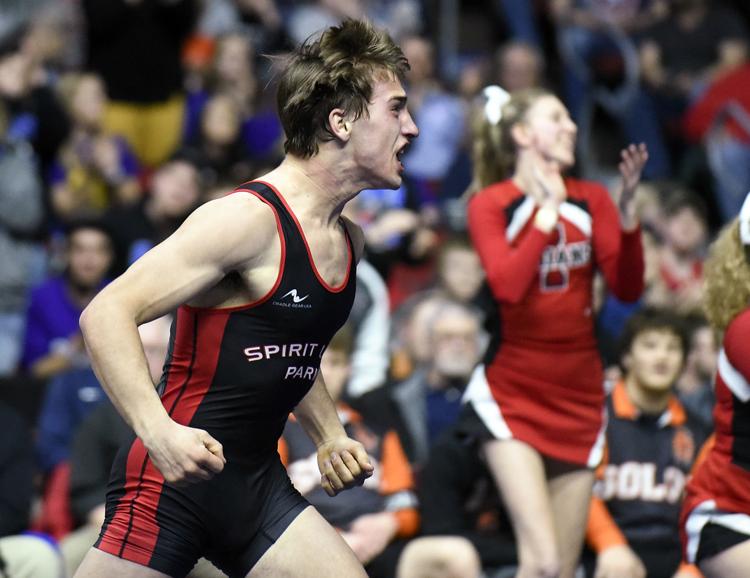 "There have been a lot of setbacks. I'm just letting it all sink in. It's something I've worked hard for, for a long time. It started freshman year when I got fourth after having a lot of high hopes and my dreams got crushed. Then when I was a sophomore I lost in the quarterfinals and then I lost the next match and that fueled the fire more than anything else. Then last year, I lost to a tough kid (Isaac Judge) from South Tama. It's been a stepping stone to get to this point and I'm glad to be there."
Judge now competes as a freshman 157-pounder at Iowa State, the same university where Clear Lake's Ryan Leisure (the quarterfinal winner over Rieck in 2017) wrestles at 141. Rieck will continue his wrestling career at Minnesota State (Mankato) where he plans to continue his high-octane style and maintain the positive attitude that was well in place when Spirit Lake Park coach Andrew Lundgren first met him as an eighth-grader, as one of his physical education students.
The son of Brent and Kim Rieck of Hartley was in his first year of living with his grandparents, Tom and Kathy Rieck of Spirit Lake. It was his first year of enrollment in the Spirit Lake school district and Lundgren knew by then he had a special young man in his future who had wrestled many youth tournaments, including a few matches with Kory Van Oort, the Class 1A 152-pound state champ.
Another major influence on the 18-year old Rieck's wrestling career was his grandfather, Stan Krosch, a longtime Kingsley-Pierson assistant wrestling coach.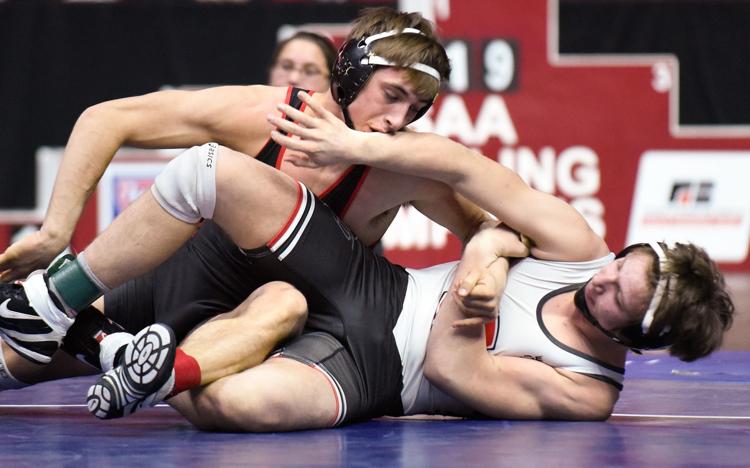 "Kyler came into this program with high expectations of himself," said Lundgren. "A lot of kids come into high school saying they want to be a state champion, but Kyler was unique because he knew what he had to do and what sacrifices he'd have to make to get there. He had the ability and he had the drive. You knew because of the way he carried himself on and off the mat.
"Sometimes when you don't get something you want, it's when you see the most growth. Every time, Kyler had to deal with those things, he did such a great job of responding. It's about how he handles the next step forward. How you pull yourself out of that hole, that's what Kyler did at state. I can't be more proud of the young man and the wrestler he is. He finally won that elusive state championship. He is very much deserving."
Rieck collected his 28th and 29th pins of the season in the state meet's first two rounds, utilizing his favorite move, the double-chicken wing in the quarterfinal 1:36 pin over Atlantic's Connor Pellett. Then, the third-ranked Rieck, one of eight Spirit Lake Park four-time state qualifiers, avenged an earlier-season loss when he won by decision over No. 2 Easton Graff of Sergeant Bluff-Luton in the semifinals.
The win over Graff was part of a streak of 21 straight wins to end the season for Rieck, who collected 109 career pins as a prep. Rieck topped a list of four placewinners for the 2A state runner-up Indians, a group that also featured senior Dakoda Powell (3rd, 220), senior Joe Waters (5th, 126) and freshman Jonathon Burnette (8th, 106).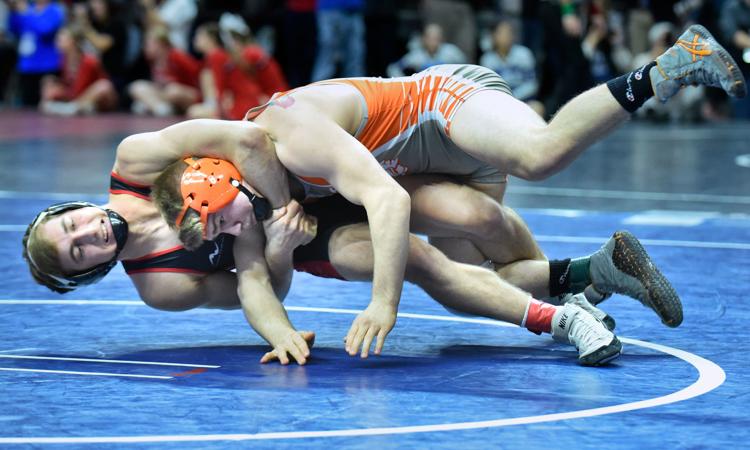 "I stuck to the game plan and listened to my coaches and peaked at the right time," said Rieck. "All of those matches are for this tournament right here. I can't take a loss to the heart all of the time. It's just part of the process of building and getting better and peaking at the right time. Losses, they are not fun when they happen, but when you look back at everything, it's part of God's plan and it feels good."
Adam Allard, West Sioux…. The junior, No. 1-ranked among Class 1A 120-pound wrestlers by The Predicament, won his third straight state title and finished the season with a 56-0 record.
Wade Mitchell, Woodbury Central…. The junior, No. 2-ranked by The Predicament, won the Class 1A state 145-pound title and ended the season with a 42-1 record.