HAWARDEN, Iowa -- Having a big game is nothing new for West Sioux receiver Kade Lynott. 
Not only did Lynott lead the state with 1,567 receiving yards last year, he also led the state in total rushing and receiving yards with 2,561. Lynott averaged 11.1 yards per play.
But on Friday, Lynott even surprised himself with how many receiving yards he had in 47-20 win over Central Lyon/George-Little Rock.
Lynott finished the game with 12 receptions, four touchdowns and 342 receiving yards, which broke the single-game record for receiving yards in a game - previously set Logan Garrels of Des Moines Lincoln in 2014. Garrels had 340 receiving yards.
"It's awesome. I didn't even think about it during the game and I didn't know what the record was," said Lynott, this week's Siouxland Journal Athlete of the Week. "I was kind of surprised by how many yards I had. I had a good start and knew early on I would have at least 200 yards around there but not that much."
Lynott's big game was part of a monster performance for the Falcons, the two-time defending champions who are ranked No. 1 in Class 1A. West Sioux had 564 yards of total offense in the game against a Lions team that is usually known for its solid defense.
"It was definitely a really good week for him and the whole team. It takes the whole team to get that record," West Sioux coach Ryan Schwiesow said. "Obviously the offensive line had to do their job and everyone had to do their jobs. If everybody does that, sometimes you break records. It's a great individual effort coupled with a great team effort. He's an awesome character kid."
Neither Lynott or Schwiesow knew the receiver set the record. West Sioux Athletic Director Ben Bouza came up to Schwiesow and told him that Lynott broke the record right after the game. Schwiesow had to watch the film to confirm it and after going over the game, he called Lynott to let him know his record-breaking performance stood.
"I knew he had a lot of yards, I had no idea he had 342 yards," Schwiesow said. "To put up 342 yards is something you don't even have in your mind. We've been fortunate enough to have quite a few names at the top there. It's not like we are trying to set these record, we just do what we have to do win and fortunately, that has been good enough to get those records."
But it was Lynott who broke the first record of the season for West Sioux and the Falcon senior could break another major record before the season is done. Lynott has six receiving touchdowns already this season and has 34 in his career, good for seventh all-time in Iowa's history.
You have free articles remaining.
He needs 15 more touchdown receptions to tie T.J. Hockenson's record of 49. He has seven regular-season games left to tie the record.
"I think I can get that. After these first two games, I am easily on pace to get it," Lynott said. "If Hunter can get the passing record and if I can get the receiving record, that would be pretty cool."
Dekkers is Lynott's cousin and the two were on the sidelines for Iowa State's season-opener against Northern Iowa. Dekkers is an Iowa State commit and the Cyclone coaching staff has been in contact with Lynott, too.
On Thursday, Iowa State assistant coach Joel Gordon offered Lynott a preferred walk-on spot next season. Lynott also has an offer from Augustana and he will be on Iowa State's sideline this Saturday when ESPN comes to Ames for College GameDay for the contest against Iowa.
"Hunter has been talking to (the coaching staff) about me and told me it might be happening. When I got the call from coach Gordon, it was pretty awesome," Lynott said.
Schwiesow is hoping the Iowa State preferred walk-on offer is the start of many more potential opportunities for the 6-foot-1, 195-pound receiver.
"I think it's great for him. I think he's still flying under the radar and I am happy for him to finally get the recognition he deserves," Schwiesow said. "USD and SDSU were coming around early when they were checking on Hunter. Hopefully, Kade gets the opportunity to play at the highest level and showcase his talents."
Cooper DeJean, OABCIG: The Falcons quarterback passed for 392 yards and seven touchdowns in OABCIG's 57-22 win over East Sac County on Friday.
Rico Garcia, Lawton-Bronson: Garcia had 131 yards and two touchdowns last week and he also led the team with eight tackles as the Eagles beat Akron-Westfield.
111618-dike-newhartford-westsioux-championship-02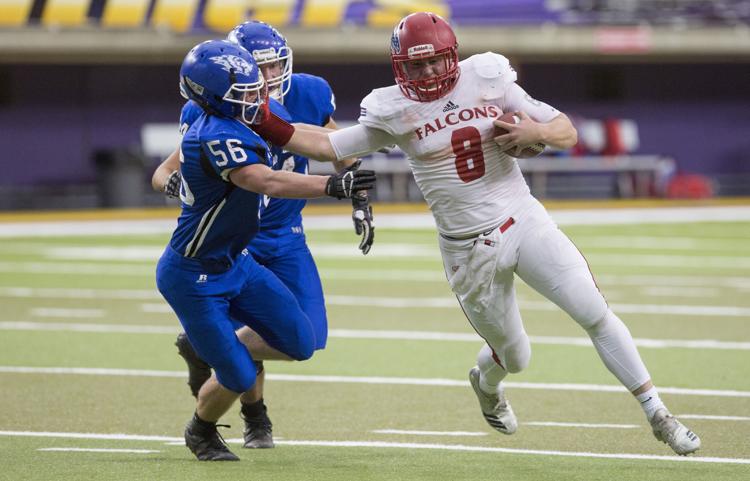 111618-dike-newhartford-westsioux-championship-01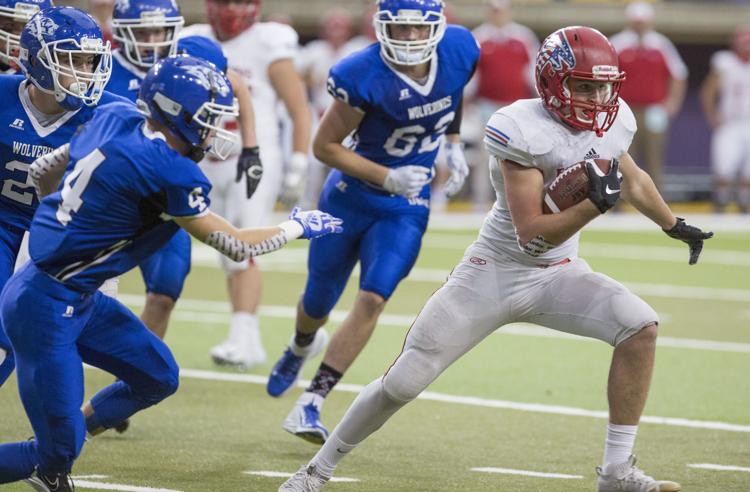 111618bp-dnh-w-sioux-02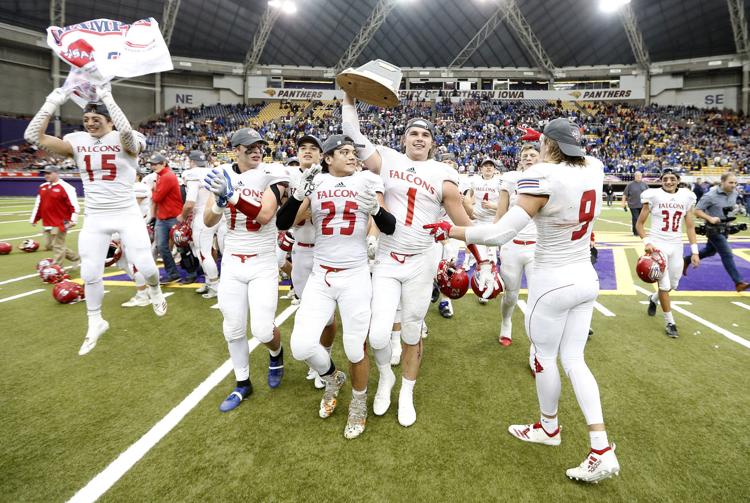 111618-dike-newhartford-westsioux-championship-03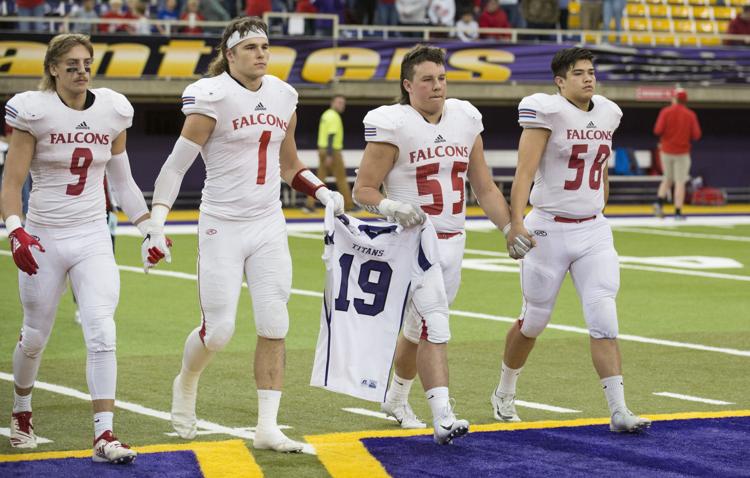 111618-dike-newhartford-westsioux-championship-05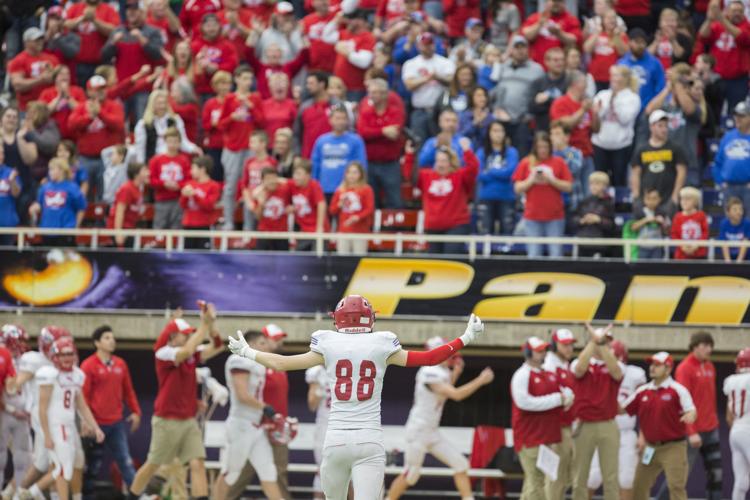 111618-dike-newhartford-westsioux-championship-04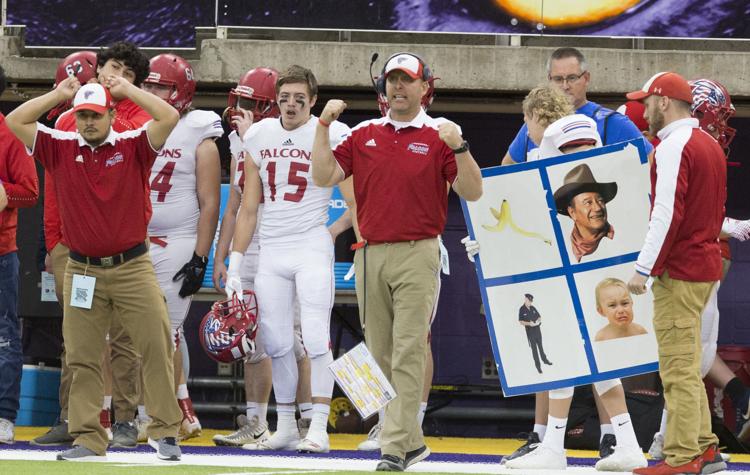 111618-dike-newhartford-westsioux-championship-07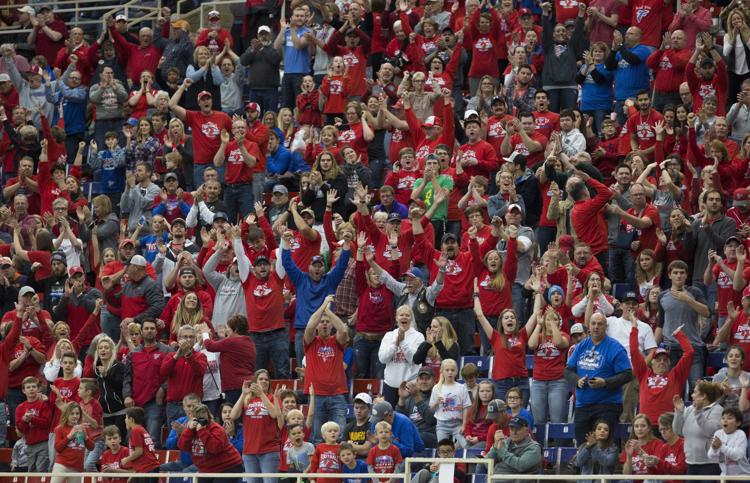 111618bp-dnh-w-sioux-01