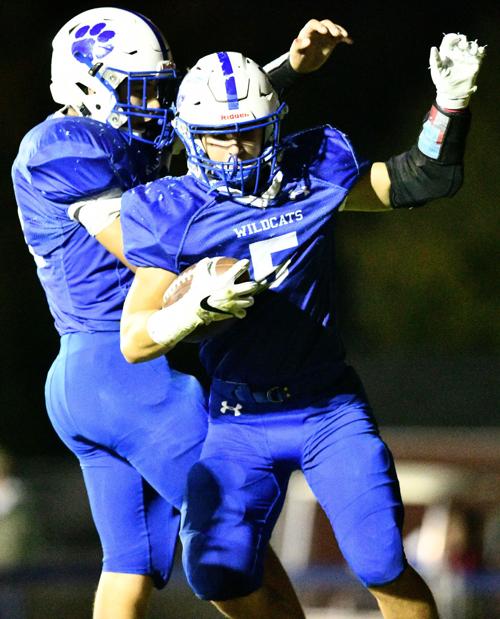 MOVILLE, Iowa -- When Gaige Heissel moved from Everly to the Woodbury Central School District before his sophomore year, his goal was to be a running back for the Wildcat football team, the same position he played at Clay Central-Everly as a freshman.
But Woodbury Central coach Kurt Bremer had other ideas since the Wildcats were deep at running back but they needed some help on the offensive line. He thought Heissel had the build to fill one of those spots on the line.
Heissel had never played on the line before but it was an easy decision for him. As much as he had his heart set on being a running back for the Wildcats, he was more willing to do what it took to help out the team.
So Heissel moved to the offensive line his sophomore season and now as he is a game into his senior season, he is still on the line.
"I am a team player when it comes to sports. I play for the team and I go where the coaches want me to go," said Heissel, the Journal's Siouxland Athlete of the Week. "It might hurt the gut once in a while, but I go where the coaches want me to go. It's been good, I've learned a lot. Protect (quarterback) Jase Manker and keep him safe and help us get those yards. It's been a blast keeping the guys in the backfield safe."
While Heissel is keeping his quarterback and running backs safe, he's causing havoc on the other side of the ball as one of the two middle linebackers for the Wildcats in their 4-4 system.
Heissel was in Lawton-Bronson's backfield a fair amount in the Wildcats 21-8 victory to open the season on Friday. Heissel finished with 10 tackles, five of which for a loss and he had two sacks. The 10 tackles were a team-high for Woodbury Central on Friday.
"He does a nice job of reading the play fairly quickly. If he sees the guard pulling, he reads it quickly and is able to produce for us," Bremer said. "I told Gaige at the start of the season that he's going to be picked out and teams were going to try and get him blocked more. He goes in and did what he does. Then again, if you know Gaige, he's a great young man, works extremely hard and does exactly what he is told and it's nice to coach a kid like that."
Friday's game was a continuation of what Heissel did as a junior.
In sophomore season, Heissel finished with 25 tackles and then he had a breakout junior season. Last season he led the Wildcats with 76 tackles, 16 of which were for a loss and he had three sacks. He added two fumble recoveries.
Heissel said reading the plays comes with gaining more and more experience.
"I've always been taught to read the guards, read the footing, read their eyes because they show everything and watch their waist," Heissel said. "The first step is going to show you where they go. Hit the gap. Also, our coaches always have an awesome gameplan going into every week and they are able to make adjustments on the fly.
"We have a strong team and the focus is on the team and family and the coaches provide that culture. We have to be a family, not one."
The family attitude shows in the way Heissel has worked with the rest of the Woodbury Central linebackers this season.
Heissel was one of a few Wildcats back with plenty of experience on defense. However, the Wildcats lost linebacker Wade Mitchell and Ethan Copeland to graduation, so outside of Heissel, Woodbury Central's linebacking unit is young.
Sophomore Max McGill did have 29.5 tackles last season and returns with Heissel this season. They are joined by junior Luke Paulsen, who had 6.5 tackles and 3.5 for a loss on Friday, and junior Kaleb Bleil.
"Max and Luke have stepped up. They are learning and doing well and filling the gaps," Heissel said. "(Defensive lineman) Dallas (Kluender, who had 4.5 sacks and 8.5 tackles Friday) is another one. He's on the line but he has stepped up really well, too. Tackling, reading the defense, the guys are just doing really well."
Bremer credits Heissel for helping out the players who don't have the experience he does. He counts on Heissel being the lead of Woodbury Central's defense.
"He calls out what we are doing. He leads by example and they feed off that. He harder he works, the more work the rest of them want to put in," Bremer said. "He does a great job of staying positive and gets the rest of the kids to work hard and play extremely fast on that side of the ball.  He's a great young man."
Cade Walkingstick, Akron-Westfield: The Westerners junior quarterback passed for 223 yards and four touchdowns plus he rushed for 86 yards in a season-opening 34-19 win over Hinton.
Aaron Salazar, Sioux Center: After joining the football team for the first time in his career, the Warrior junior had three sacks and eight tackles in the team's 13-0 win over Le Mars.
Get in the game with our Prep Sports Newsletter
Sent weekly directly to your inbox!