DES MOINES--The Class 1A soccer state championship game on Saturday, June 5, was a historic moment for the sport in the state of Iowa.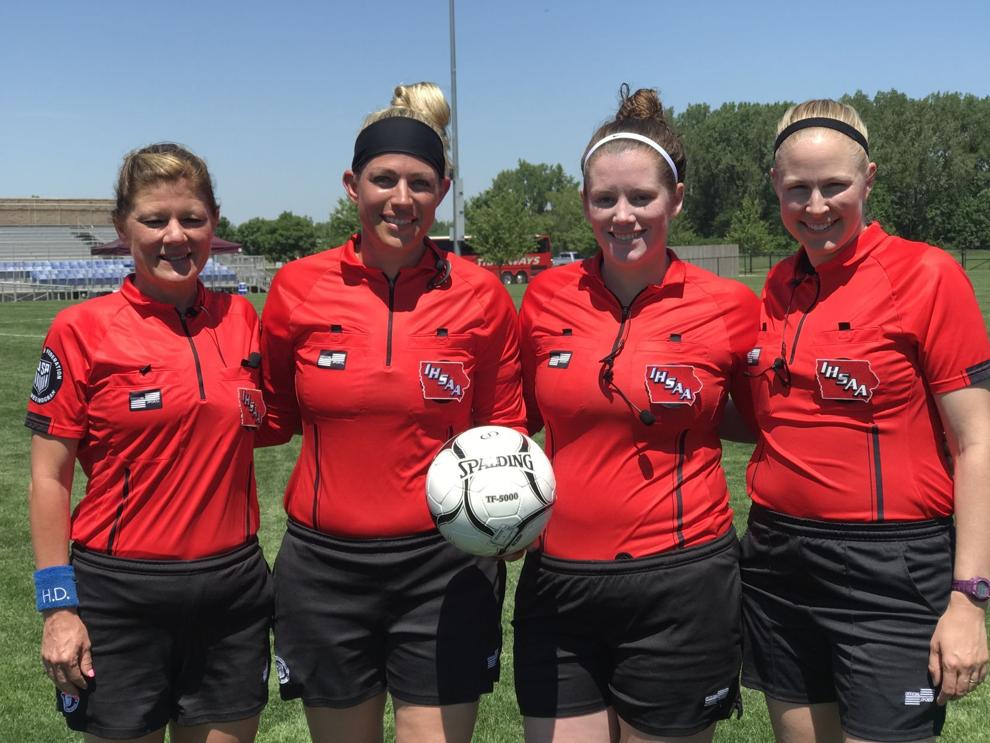 While the players on the field battled for the championship trophy in the state final between Western Christian and Burlington Notre Dame, referees Millie Phillips, Sarah Curry, Kelly Dunbar, and Jennifer Dunn kept everything running smoothly, while simultaneously shattering a glass ceiling.
The four women were the first ever all female crew to officiate an Iowa boys state soccer final. 
Dunn, who works as the Iowa high school liaison for the state's soccer officials, has been a referee at 11 boys 13 girls state soccer tournaments. She was the center referee for Saturday's game. 
In 2016, she was the first woman to ever blow a whistle at the boys state tournament, and has now done so for all three classes at both the boys and girls tournaments. 
She's been a pioneer many times before, but there was one more thing she wanted to accomplish before hanging up her whistle. 
"That last straw that was there was to be able to have an all-female crew on a boys championship game," Dunn said. "That was kind of our goal, leading into the season here, trying to figure that out, and make that work. There are plenty of capable females to join me, and that was the crew we ended up with to make that happen, and create some history."
Between the four of them, the referee crew had more than 60 years of officiating experience. Phillips is the least experienced of the four, and said that she was honored to be asked to take part. 
"Sarah and Kelly have worked with (Dunn) for many years, and I regard them as the three top refs," Phillips said. "Honestly, I don't know how I got in on it. I was very excited to know that she thought enough of me to ask me to be what I assume as one of the top refs in the state."
Phillips said that she was scheduled to attend a wedding, but changed her plans once she was invited to be a part of the history-making crew. 
"We had plans to go, and then I got this invite and I backed out of it," Phillips said. "I understood the magnitude of what we were going to do with being the first all female crew reffing in Iowa in a boys final."
The game itself went smoothly, according to both Dunn and Phillips. Before the game, Dunn said that Burlington Notre Dame coach John Wagner expressed his excitement when he saw that the four of them would be officiating his team's game, which the Nikes eventually won, 4-1, over the Wolfpack.
"As soon as we got to the front and did our coaches and captains meeting, he looked at all  four of us, and said 'This is pretty dang cool. I'm excited for you guys," Dunn said. "There wasn't that standoffish attitude or anything like that that would have created conflict, or thinking that a thing is going to go wrong with it."
Dunn and Phillips admit that they had some nerves going into the game, but they received lots of encouragement from their officiating peers, and universal acclaim from the coaches and parents, even from the losing side. 
"We had parents approach us and say 'that was great,' and that 'you all did a wonderful job," Dunn said. "Those are always encouraging words as an official when you get them from both sides."
For Dunn, this history-making event was a last hurrah, of sorts. Following Friday's Class 3A state title game, she is stepping away from being an official in order to spend more time with her family, and be there to support the growing soccer interests of her two young children. 
To her colleagues, Dunn's impact on the sport is something to admire, and last week's event will always be a special memory. 
"Being able to do this, I think it is wonderful,..." Phillips said. "It is hopefully showing the younger girls that they can do this too, and have success with it."