FORT DODGE, Iowa – It was a fine line between victory and defeat for eighth-seeded Newell-Fonda in the opening game of the Iowa Girls High School State Championships on Monday. Two errors and a walk proved to be the difference as the Mustangs fell to top-seeded Maxwell-Collins 5-0 in Class 1A action at Harlan Rogers Sports Complex.
The Spartans struck first in the bottom of the first inning as eighth-grader Alexis Houge legged out an infield single before stealing second and third base. Houge, who came into state hitting .604, would score on an error. Her speed out of the batter's box also forced an errant throw in the third inning to put runners on the corners after Emma Kahler drew a leadoff walk off Newell-Fonda freshman pitcher Ella Larsen.
Mikayla Houge would help her own cause as the pitcher smacked a one-out single to left field to score both runs and put the Spartans up 3-0.
"The hits were five to four but like I told the girls the difference in a tight game is a couple of mistakes here and there," Newell-Fonda coach Tim Gauley said. "We made some base running (mistakes), we made some in the field, we made some pitching, we made some batting so they came up some big timely hits."
"Coach told us that people are going to make you pay for your errors and they did," Newell-Fonda's Olivia Larsen said. "They took advantage when they had the chance and we just came up short."
Mikayla Houge was even more impressive in the pitcher's circle as the sophomore threw a four-hitter with one walk and 14 strikeouts.
Four times the Mustangs were able to get the leadoff batter on base, but each time Mikayla Houge had the answer. Megan Morenz reached on an error to start the second inning only to see the next three batters strikeout. Ellie Lago started the fifth with a single to left field before a sacrifice moved her to second, but a strikeout and a popout ended the threat.
The Spartan pitcher gave up a single to Olivia Larsen to start the sixth but again struck out the next three hitters. Newell-Fonda's best chance to score came in the seventh when Maggie Walker walked and Lago singed, but once again Mikayla Houge used a strikeout and a double play to end the game.
"We struck out too many times," Gauley said. "She is a strikeout pitcher, she does a great job, she is one of the best we have seen all year that is for sure."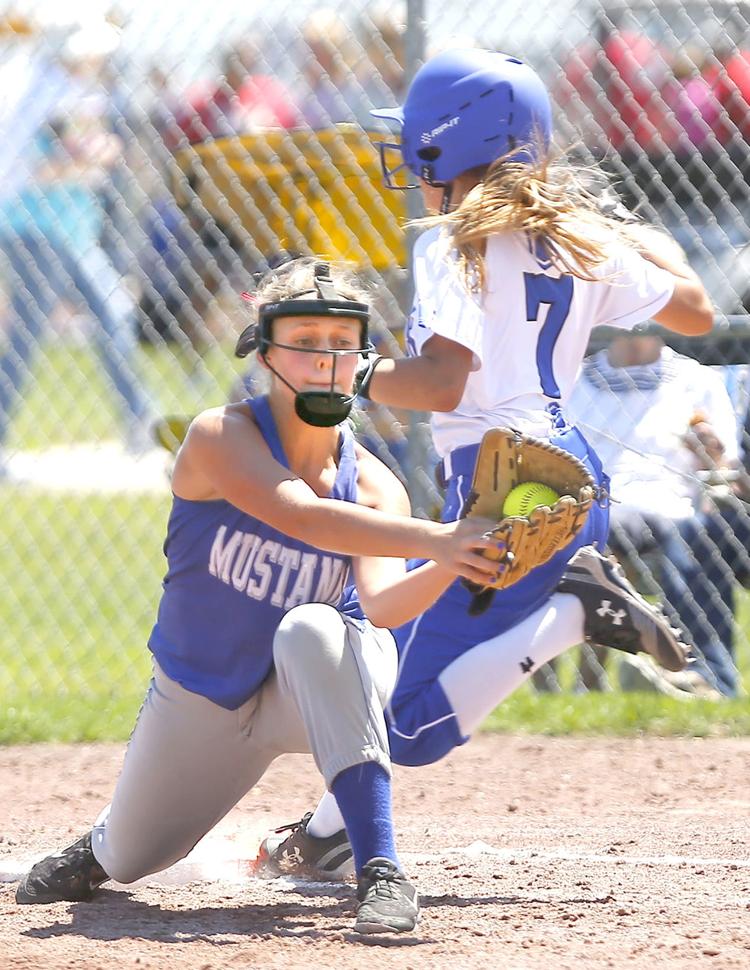 Collins-Maxwell managed just five hits off Ella Larsen but it added two insurance runs in the bottom of the sixth. A hit batter and an Ella Kahler single set up Brailyn Tankersley for a two-RBI double to center to score the final runs of the game.
Ella Larsen allowed three earned runs in six innings, walked one and struck out two. Olivia Larsen and Lago had two hits apiece to account for Newell-Fonda's offense in the game.
"It wasn't as hard as I thought it would be against (Mikayla Houge)," Olivia Larsen said. "She is a really good pitcher but her speed was good enough so if we just got the bat on the ball we knew it would go the distance. We have seen pitchers like her, that fast, so it was beneficial that we played bigger schools and tough pitchers to prepare for her."
Collins-Maxwell (28-1) will face fourth-seeded Lisbon in the semifinals at 11 a.m. Wednesday while the Mustangs, who are at state for the third time in the past four seasons, will take on fifth-seeded Martensdale-St. Mary's in the consolation bracket Tuesday at 11 a.m.