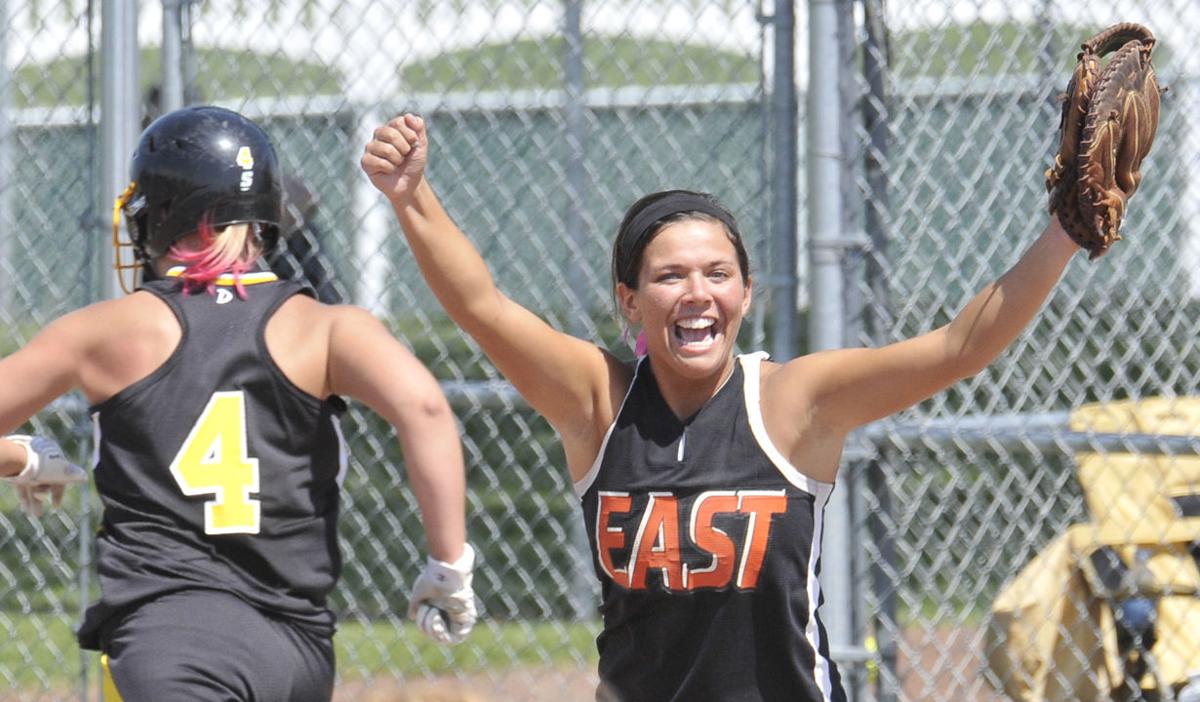 SIOUX CITY — Ashley (Vanderloo) Pugh added another memory to her softball collection on Thursday at East High School.
The 2009 Black Raiders graduate was honored in-between games of a doubleheader between East and Bishop Heelan, as she will become the third Black Raider softball player to be inducted into the IGHSAU Hall of Fame next month.
Pugh will join Jamie (Mahnke) Zyzda and Jeree (Carlson) Menning as the other two East players in the state's softball hall of fame.
"Obviously, it's a huge honor," Pugh said. "Naturally, I'm a humble, low-key person. I try not to overthink it, but for East to do this (Thursday), it's a huge deal. It's super humbling."
Even though Pugh will be inducted in July during the state softball tournament at Fort Dodge, the Black Raiders wanted to pick a night this summer, so that Pugh could be recognized at home.
Thursday night was that night in front of the home crowd.
"When I get inducted in Fort Dodge, that's not necessarily in front of a home crowd," Pugh said. "To have the East High community come out and to help me celebrate, that's a huge deal for me."
When she was in high school, Pugh recorded the two best hitting seasons in East history.
As a junior, Pugh set the record hitting .602, then the following summer, Pugh recorded the second-highest average at .558.
Pugh hit .498 lifetime while donning an East uniform. She was also the 2009 Journal Metro Female Athlete of the Year. 
She was a four-time all-stater, including first-team nods in both 2008 and 2009. 
As far as memories, Pugh remembered the times where she spent with teammates on and off the field.
On the field, the memory that stuck out in Pugh's mind the most was making it to the state tournament in 2009.
She was one of two seniors in that lineup, and the rest were mostly freshmen or sophomores. Brianna Mozer was the other Black Raiders senior on that roster, and Pugh remembered how much she and Mozer took the team on their backs. 
East softball had made it to state before that, but there was good competition around, even in the Metro. 
"That was always a goal of mine growing up," Pugh said. "Looking back on everything, it makes everything a little bittersweet but getting inducted into the Hall of Fame makes everything a little sweeter."
The Black Raiders placed fourth that season. They opened up the state tournament by defeating Bettendorf during the first round. Then, Johnston and West Des Moines Valley knocked off the Black Raiders.