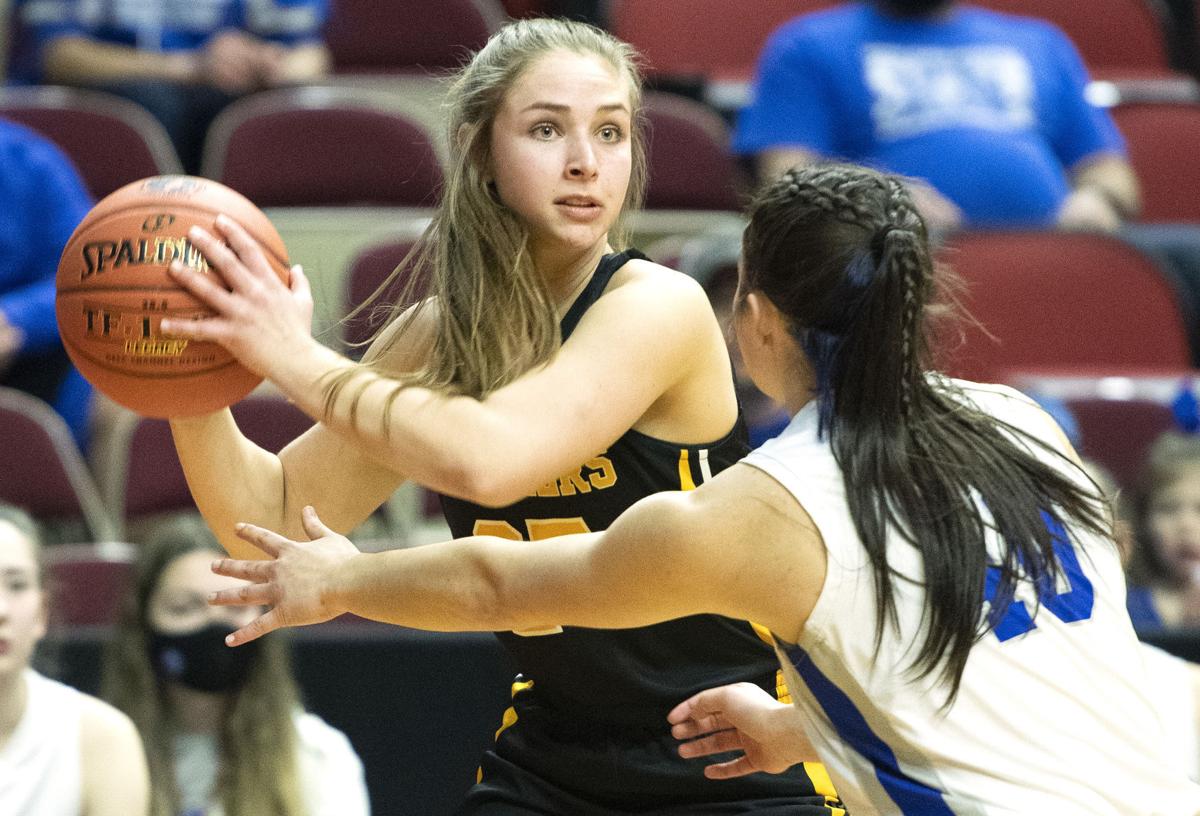 KINGSLEY, Iowa — Delaney Iseminger doesn't think when she's behind the plate.
When the Kingsley-Pierson High School senior sees a runner trying to steal a base, Iseminger lets the ball fly and trusts that her teammates will take care of the rest.
So far, that's been working for the Panthers.
Iseminger is second in the state entering play Wednesday in runners thrown out with 17, and because of that, the Panthers senior is this week's Journal Siouxland Athlete of the Week.
That equates to one runner per game.
Iseminger trails Mason City junior Lainna Duncan, who has thrown out 19 would-be attempts.
Iseminger is one of eight catchers to have double-digit runners thrown out.
"It's a lot of fun, but it's a lot about my teammates, too," Iseminger said Wednesday. "They get to the bases and be where they need to be. For me, it's intense. It's my job to pay attention. I have to make sure our pitchers are hitting their spots and being where I need to be. I get the ball down to second or first, and that's what I need to do."
Iseminger has allowed 16 stolen bases on the season. She said that the credit goes to the infielders who get to the bases so that they can apply the tag from Iseminger's throws.
She said that it was awesome to see the play get executed by her teammates, and she hopes to have more chances at that in the remaining 10 games, including Wednesday's affair against Lawton-Bronson.
Iseminger is second among Panthers hitters with 16 RBIs, only trailing McKenzie Goodwin by one. Iseminger is hitting .368, and she leads her team with eight doubles and one triple.
Iseminger is the battery mate of a pitching staff that has a 3.21 ERA, led by Hannah Koch.
Iseminger thought going into the season her hitting wouldn't be as productive. She knew she was going to see tough pitching, including girls she's not familiar hitting against.
"It's been an adjustment getting on them, but other than that, I just hit in the offseason," Iseminger said. "I think this year, it's just a wake-up call. I work every day to get ready for the next game."
The Panthers are 9-8 overall, and have a 4-5 record in the Western Valley Conference. The Panthers face tough competition every night, including against the likes of West Monona, Ridge View, River Valley and Westwood.
"I think it's just who we are as a team," Iseminger said. "We lift each other up and we move on to the next play."
Iseminger's softball season has gone about as well as the other sports she has played in this year.
In basketball, Iseminger was the Panthers' No. 3 scorer on a team that went to the state tournament. She scored 12.2 points per game, and she nearly shot 40 percent from the floor.
She said that her favorite memory was the postgame locker room celebrations, especially during the playoffs.
"We were always having fun and always laughing," Iseminger said.
She was also a member of the girls golf team that sent fellow senior Brooklyn Berry to state.
Iseminger recorded the season's best 18-hole round for the Panthers, as she recorded an 89. She averaged a 97 during 18-hole rounds.
Iseminger tied with Berry for the season's 9-hole low with a 38.
This was Iseminger's first season playing competitive golf. She's played recreationally before, but she thought trying out for the Panthers was a good way to stay active before she played softball this summer
Iseminger said her favorite memory about playing golf was playing in groups with girls from other schools and getting to know them both on and off the course. Iseminger said that she stays in touch with her new friends, even though the golf season is over.
"This school year has been amazing, and it's pretty much been a dream come true," Iseminger said. "It's just been awesome. I didn't expect all this to happen. I loved every minute of it."
Iseminger will play softball and basketball at Northwestern. She said she has chatted with new Red Raiders women's basketball coach Kristin Rotert, and is eager to play under her this season.
Honorable mentions
Alexa Johnson, Spencer soccer: Johnson scored twice in a state quarterfinal win over North Polk.
Gavin Nelson, Hinton baseball: Nelson leads all Class 2A pitchers with 55 strikeouts. Nelson trails CAM (Anita) junior Joe Kauffman by one for the overall state lead.