FORT DODGE, Iowa – The veterans led the way and an eighth-grader showed she had the mettle to get the job done.
A year after suffering a disappointing first-round loss at the Iowa Girls' High School State Softball Championships, Akron-Westfield opened strong with a convincing 12-2 six-inning victory over seventh-seeded New London at Harlan Rogers Sports Complex here Monday.
Westerner seniors Brynn VanEldik, Danika Smith, Kiana Appley and Courtney Waterbury combined to go 9 of 15 at the plate with seven runs driven in and six runs scored.
"Our older kids did a great job right from the beginning getting on base, handling the bat and I knew there was going to be some nerves today with the young kids and they put the ball play, but as long as they hit it to my older kids we were fine," Akron-Westfield coach Todd Colt said.
The Westerners jumped out to a 5-0 lead after two innings and that was enough for eighth-grade pitcher Natalie Nielsen, who worked her way out of trouble in the early innings to get the win in her state debut.
"She has pitched a lot of innings for us against some very good teams this year so yes she is an eighth-grader but she plays like a 10th-grader," Colt said. "She is doing a great job."
"Scoring runs is really important and we put the ball in play today but so did they. I think at one time we had one more hit than them but six runs and the difference was we had timely hits and they unfortunately did not have timely hits."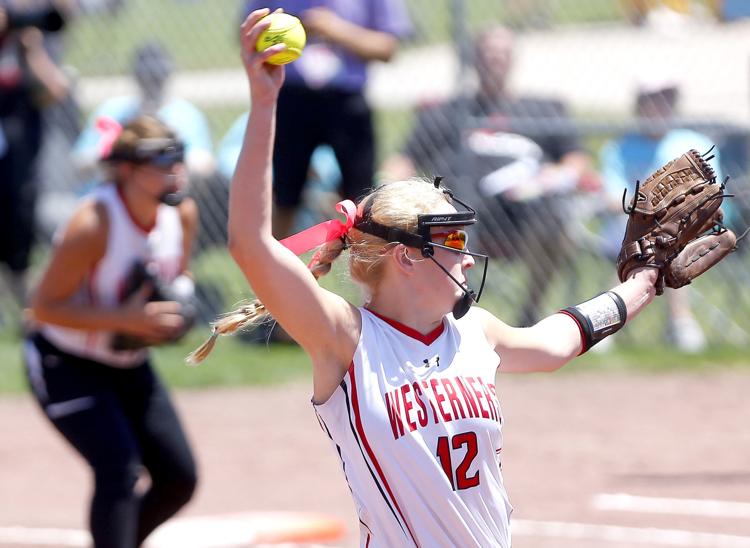 After Nielsen worked a 1-2-3 top of the first, A-W went right to work as the Westerners are making their 14th trip to state in the past 16 seasons.
VanEldik led off the bottom of the first with a double and Jaden Harris followed with a walk. Smith singled to score VanEldik and after two outs Waterbury connected on a single to right to drive in two more.
Walks to Chloe Colt and Harris set up Smith in the second inning as she delivered a two-out double to center to make it 5-0. The Westerners added single runs in the third and fourth innings to go up 7-0.
VanEldik began the fourth with a single and stole second before moving to third on a groundout. Smith would bring her home on a suicide squeeze bunt that saw both players safe.
"We all played good and we have a real young team so we told them just to get the jitters out and play a regular softball game," Smith said. "We lost two very good pitchers last year so our mindset was just to come in and play a regular softball game.
"We just wanted to have fun and if we lose, we lose. We ended up winning and they will see us Wednesday."
Smith went 3-for-3 at the plate with four RBIs and Lily Kenny had a triple with the bases loaded and two outs in the bottom of the six to drive in all three and end the game early.
New London (20-10), making its sixth trip to state, would finally get on the board in the sixth inning as Sydni Coleman hit a one-out double and scored on Alexa Wenger's single. Wenger would come home one batter later a Marah Hartrick's double.
That is all the scoring they would get off Nielsen who went six innings, allowed seven hits, struck out two and did not issue a walk.
New London had two runners on in the second with no outs, but poor base running and two straight groundouts got the Westerners out of the jam. The Tigers also had runners on first and second in the third and didn't score and saw a lead-off double from Coleman go wasted in the fourth.
The Westerners (27-4) will face third-seeded AGWSR in the semifinals at 1 p.m. Wednesday. AGWSR held off Janesville 4-3 on Monday.
"We know every game down here is going to be a challenge and we expect the next one to be a battle," Colt said.