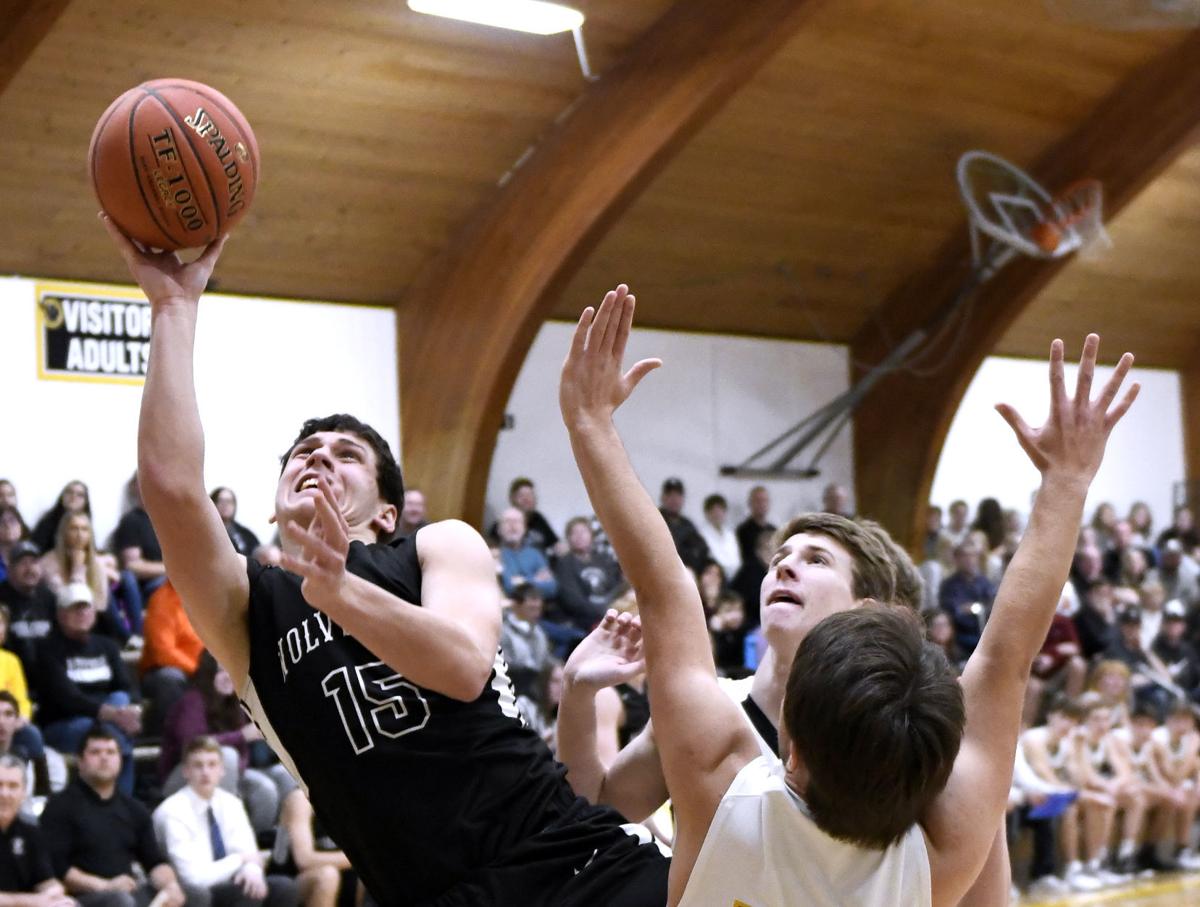 HINTON, Iowa — When Kiley Yates checked his phone on Thursday night, the South O'Brien High School boys basketball coach discovered several text messages on his phone.
The messages were from his players, saying that the Hinton Blackhawks had upset the Class 2A top-ranked West Sioux Falcons at home.
That was an indicator that the Wolverines needed to bring their A-game to Hinton High School on Friday night, and they didn't let the Blackhawks have a fast, strong start like they did the night before.
The Wolverines rushed out to a 45-point first half en route to an 82-53 win in Hinton. South O'Brien outscored the Blackhawks 24-14 in the second quarter thanks to a 20-7 run that lasted the first five minutes of the quarter.
"Hinton coming off that win against West Sioux, we knew we had to come off with a great start," Yates said. "We did a great job and drove to the basket. ... Getting the lead early was key and we could go from there. It was more of a matter of what Hinton had done well (Thursday). We knew we really had to challenge their shots."
Even when Yates discovered that the Blackhawks had beaten the Falcons, he didn't rush to the drawing board to make any changes. He knew that Hinton was going to be a tough challenge on the road.
"They have an outstanding team, and we knew there would be the possibility of them winning two games this week," Yates said. "We were just glad we were the third team (behind Remsen St. Mary's and West Sioux)."
Jackson Louscher — who scored a game-high 24 points — wasn't at the game on Thursday, but he watched film of the game on Hudl when he woke up on Friday, and knew he had to step up.
Louscher broke the press, attacked the basket and helped set the tone.
"It was a heck of a game, and it was fun to watch," Louscher said. "Just coming out tonight with great intensity, which is what coach has been preaching the last couple of weeks. Start with a '10' effort, don't start with a '6' or an '8.' Hinton is a good team, well coached, and a couple of really good perimeter players. We knew it was going to be a battle."
Louscher wasn't the only Wolverines scorer in double figures.
Alex Presthus scored 18 points for South O'Brien. He made eight of nine shots on the night and he made both his free throws as a reserve player.
You have free articles remaining.
He had 14 first-half points.
Those 18 points are a season-high in a single game for the Wolverines senior. He's averaging 8.2 points per game, fourth among South O'Brien scorers.
"He had some good finishes around the hoop," Louscher said. "Alex is a great player. He's one of those guys where he doesn't care if he starts or not. That's everyone on this team. It's a blessing to play with him.
"We have a whole bunch of players out there that need some attention," Louscher added. "When everyone is a threat to score on the court, it's really tough for a defense to stop us."
Josh Johannsen, also a bench player for the Wolverines, scored 10 in the win.
The Blackhawks, meanwhile, were still in a good mood after Friday's win. The vibes in the locker room were still high following Thursday's win.
Blackhawks junior Jacob Means had the means to knock down the game-winning 3-pointer late in the fourth quarter.
Means knew that the Falcons were going to try to limit Caleb Holmes from racking up any more points, as Holmes ended up with 33 on the night.
"Caleb had a great night, and I figured they were going to double team him," Means said. "I saw my guy go double-team him, and I went to the corner. I gave myself enough space, Caleb found me and I hit it."
Means said it felt good off his fingertips, and after the ball fell through the hoop, the Hinton bench leaped up and hugged Means.
On the other side of the gym, the student section was hopping up and down while the West Sioux players on the court walked to the handshake line with disappointed countenances.
"I knew that that was our one shot to beat them," said Means while he was eating ice cream after Friday's game. "I wasn't scared at all that whole game. Going into that shot … I wasn't scared. We knew that we could run with them. We were hoping that we could outscore them."
Holmes was the Blackhawks' leading scorer Friday with 20 and Jake Koons scored 11.