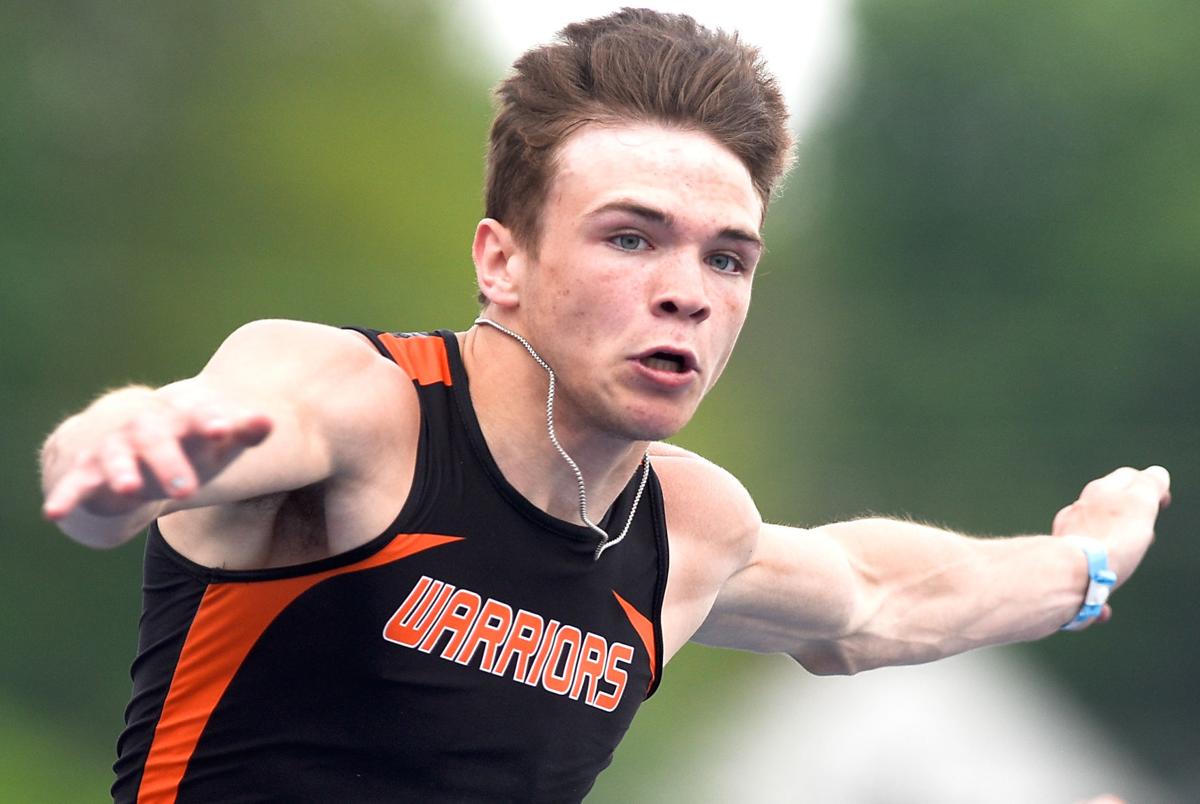 SERGEANT BLUFF — Jorma Schwedler can't wait to compete at the Iowa high school state track and field meet this week. 
The Sergeant-Bluff Luton High School junior will compete in three individual events — all on Thursday — in Des Moines.
The first race for Schwedler is the 200 when the Class 3A portion of the race will be held at about 11:10 a.m.
Then, the 3A 100 is at 1:12 p.m. Thursday, and the 400 will be held about 38 minutes later.
Oh, by the way, he's got the top seed in all three events among Class 3A runners.
"I'm just ready to go right now, and I'm ready to run right now," Schwedler said. "It's nice to know that (I'm a No. 1 seed), but kids run different at state. I always keep that in my head, too. I just go out there and run the best I can and beat the guys that are next to me.
"It's not about time anymore," Schwedler added.
Schwedler has the following times in the following events: 11.03 seconds in the 100, 22.32 in the 200, 48.94 in the 400.
Atlantic's Tyler Moen is the No. 2-seeded runner in the 200 and 400. Schwedler's biggest lead in the three races is in the 400 as it's .74 seconds ahead of Moen.
"It's not proving you're the best anymore through time," Schwedler said. "You're already running against some of the best kids in the state. So, it's beating the guy next to you."
Schwedler is happy he gets a two-hour, two-minute break in-between running the 200 preliminary and his 100 preliminary.
"I'm happy I get to have fresh legs," Schwedler said. "To have my 4(00) after that, I'm super happy it set up that way. I think the way the schedule is spaced out, I'll be able to be fully recovered for each race. I'm ready to see what kinds of times I can put up."
Schwedler will also compete in the sprint medley relay at 10:10 a.m. Saturday. He is also listed as an alternate in the 4x200 and 4x400. An athlete can only compete in four events, so if he runs in the 4x200 or the 4x400, he has to give up another event or two.
Team up
The Warriors boys want the team title. After all, SB-L is listed 17 times on the Class 3A qualifier list, whether it be for an individual event or for a team event.
That doesn't lead the state in 3A, however.
Dubuque Wahlert has 19 entries and could challenge SB-L for the state title.
The Warriors have crossed two off their list this season: the MRAC and the district titles over the last two weeks.
"What we've been focusing on is what we can do," Warriors coach Monte Larsen said. "The district times are an indication of how the weekend will go, but it's not the end of everything. Everything else will then take care of itself.
You have free articles remaining.
"We've had high hopes going into the last couple of years," Larsen added. "Things didn't go right. They're well aware that there are some darn good 3A schools that will compete right with us. I'm sure they've checked Twitter and see their stats, but like I said, we know it looks good on paper but we have to take care of business."
On Monday just before practice, the Warriors were writing down projected team points and what each event had to do.
"I think we have a great shot this year, and we have a ton of events that can place and the personnel to do that," SB-L senior Max Murphy said. "We do look at other teams. Obviously, we're not the only ones on the track. We have to look at other teams and see how they're placing. Every single point will matter."
Mosier finds a new event
Just three weeks ago, SB-L freshman Addy Mosier wasn't even competing in the long jump.
Larsen was at varsity practice when Mosier sent him a text message from a junior varsity meet saying that she tried the long jump — and won it with 14 feet, 11 inches.
"I was just, like, bored and wanted to try it," Mosier said. "I tried that and I jumped longer than some varsity jumpers. I tried it in middle school one time, and I never really had an interest because my coach never really put me in it. I decided I wanted to try it one more time."
Larsen was impressed and decided to put Mosier in the varsity MRAC meet. She finished third with a result of 15-6.5. He knew it was a risk to put a freshman in that spot, but the decision paid off.
"If she truly jumped that, which I'm sure she did at that JV meet, she was our top jumper," Larsen said. "It was a pretty easy decision. When we see an opportunity that someone is going to excel, we're going to give them that opportunity. She's taken it and run with it."
So, Larsen put Mosier into the state-qualifying meet.
Mosier admitted she was nervous. She knew she had a shot but wasn't sure how well her performance was going to be despite having a No. 3 seed in the district.
Mosier finished second on Friday and again exceeded her previous jump.
Her best jump was 16-4, and she qualified for state with an automatic bid.
"I didn't think it was even possible," Mosier said. "It was a big shock. I didn't think I was going to get over 15 feet."
There's still some potential, too. At the conference meet, Mosier jumped at least 17 feet, according to Larsen, but the Warriors freshman scratched and the jump didn't count.
Mosier realizes there's still some polishing to do, especially with her form.
"Sometimes when I jump, I straighten out my legs and you're supposed to have them bent and keep them moving," Mosier said. "I try to meet my feet to the ground. I don't let the ground come to me. So, I straighten out which could lead to a few more inches."
Mosier has also competed in the high jump, 100 hurdles, the shuttle hurdle relay and the 400 hurdles this season.
Mosier will compete in the 3A state long jump at 11:30 a.m. Friday.