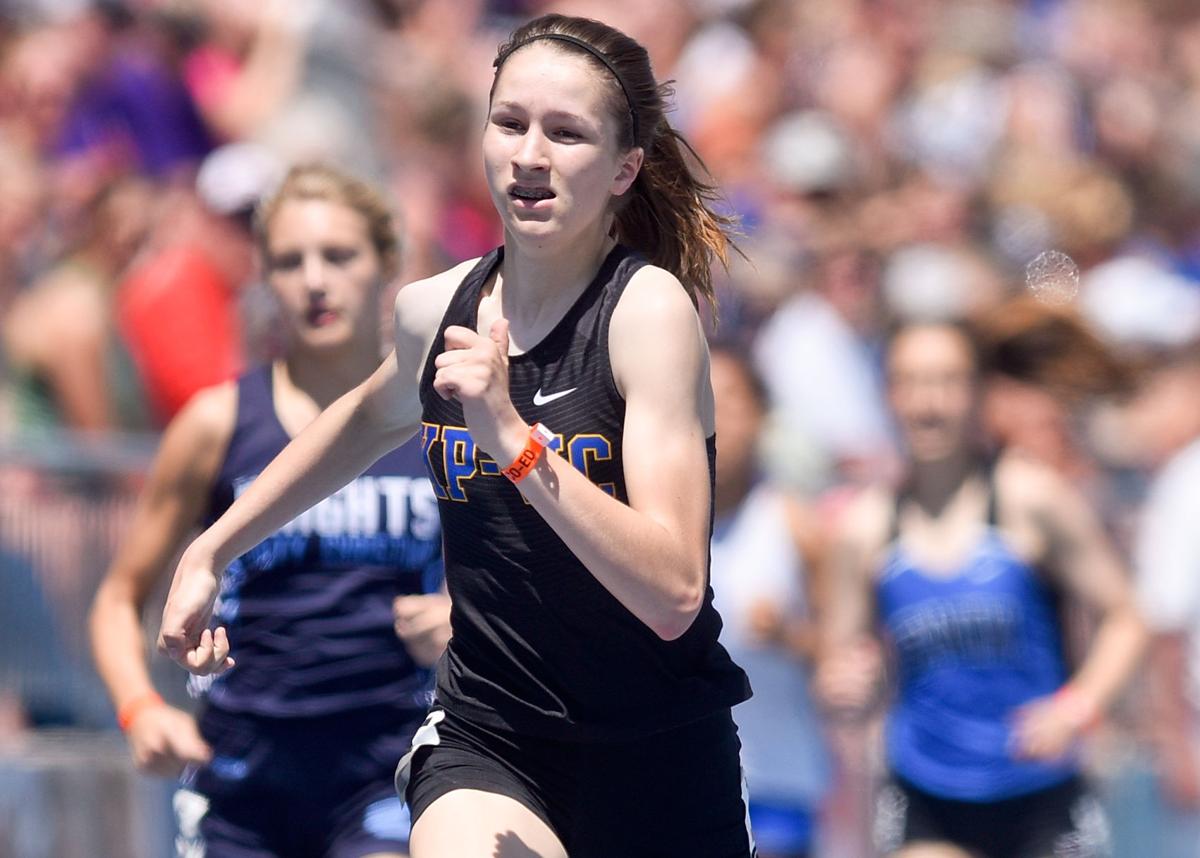 SIOUX CITY — The Iowa High School Girls Athletic Union released the Class 1A and Class 2A state-qualifying lists on Friday.
Class 1A
100-meter dash: South O'Brien's Annika Jenness is seeded fourth with a seed time of 12.93 seconds. Remsen St. Mary's freshman Claire Schroeder is seeded 14th at 13.32.
200: Wolverines senior Willa Sickelka is sixth, with a time of 27.05.
400: Westwood junior Cora Shull is seeded seventh with a time of 62.22. Hawks junior Whitney Jensen has the No. 22 ranking with a time of 64.20.
800: Newell-Fonda senior Bailey Sievers has the No. 5 seed at 2:26.63. There are four other area runners in this race: West Monona's Mallory McCall (7th, 2:27.23); Newell-Fonda's Kierra Jungers (14th, 2:30.51); Alta-Aurelia's Alaina Westphal (16th, 2:31.01) and Lawton-Bronson's Jolee Mesz (24th, 2:38.97).
1,500: Mesz is in this race, seeded 11th in 5:22.13. She'll be joined by teammate Emma Ricke, seeded 22nd at 5:27.83.
3,000: Ricke stands alone among area runners, seeded 23rd in 12:09.44.
100 hurdles: Gehlen senior Tiffany Woerdehoff is seeded eighth with a time of 16.53. Storm Lake St. Mary's junior Danika Demers is seeded 15th with a time of 16.83. Schroeder got the No. 19 seed in 16.91.
400 hurdles: Demers has the No. 2 seed at 67.45, just behind state-leader Kiya Johnson's time of 67.08. Johnson is from North Butler.
Gehlen sophomore Sophie Ruden is seeded sixth at 69.23. Then, there are three area sophomores down the list: South O' Brien's Taja Conley (16th, 71.11); Alta-Aurelia's Shea Peterson (17th, 12:02); and Newell-Fonda's Emma Erickson (22nd, 72.42).
Shuttle hurdle relay: The Jays and Hawks both have teams with top-4 seeds. Gehlen is third (69.22) while the Hawks are fourth (70.16).
Lawton-Bronson (ninth, 71.77) and South O'Brien (23rd, 73.52) are also qualifiers.
4x100: The Wolverines are second (51.16) while Newell-Fonda and Remsen St. Mary's are both seeded seventh (52.58).
4x200: There are three teams in the top-24: South O'Brien is second (1:48.51); Newell-Fonda is fifth (1:49.73) and West Monona is 13th (1:51.54).
4x400: West Monona has the No. 1 seed among the field, with a time of 4:13.64. Newell-Fonda has the fifth seed in 4:16.57.
The Eagles and the Wolverines are seeded 10th and 21st in the race.
4x800: Newell-Fonda has the No. 2 seed at 10:06.21, just about four seconds behind of Earlham's No. 1 seed.
West Monona is seeded 11th at 10:27.96. South O'Brien has the 19th seed at 10:36 while MMCRU is 22nd at 10:42.
Sprint medley relay: The Wolverines are seeded third with a time of 1:53.63. The Mustangs are ranked 15th at 1:55.47.
High jump: MMCRU junior Emily Dreckman has the No. 4 seed at five feet. Her teammate, Hannah Neddermeyer and Akron-Westfield sophomore Lauren Saathoff are among 13 girls with a seed mark of 4-foot-10.
Long jump: South O'Brien sophomore Karlee Warnke is seeded sixth with a mark of 15 feet, 4.5 inches. Akron-Westfield's Hailey Wilken is 22nd at 15-6.
Discus: Westwood freshman Addy Johnson is fourth with a mark of 113-7. Whitehead is 16th at 106 feet even and George-Little Rock's Brynn Krull is 21st at 103-9.
Shot put: Mustangs sophomore Lexi Roberts has the No. 16 seed with a throw of 36 feet, one-half inch. Whitehead is 23rd at 35-2.
Distance medley relay: Newell-Fonda leads the local pack with a time of 4:23.56. West Monona is 12th (4:31.02); Lawton-Bronson 17th (4:33.54) and Gehlen Catholic at 21st (4:37.92).
Class 2A
100: OABCIG senior Anna Winterrowd has the No. 2 seed with a time of 14.51. Kingsley-Pierson/Woodbury Central junior Aubree Bell is seeded 12th at 13.03. Cherokee junior Camille Zwiefel is 16th at 13.18.
200: West Lyon senior Kennedy Kramer is seeded fifth with a time of 26.45 while Winterrowd and KPWC's Paige Kuchel ninth and 10th with times of 26.86 and 26.90.
400: There are two Siouxland runners who hold the top-2 seeds. Kramer has the No. 1 seed at 57.15 while Erika Kuntz of KPWC has the second seed at 58.52.Falcons freshman Abby Winterrowd is 20th at 1:03.95.
800: S-O's Madison Brouwer is No. 1 at 2:18.79 while Western Christian senior Emilee Heynen is eighth at 2:23.45.
1,500: Three runners are seeded in the mid-teens, led by Cherokee junior Kristin Agnitsch's 15th-seeded time of 5:13.54. Her teammate, Megan Courtright, is 17th at 5:14.32. Okoboji's Lexi Duffy is 19th at 5:15.42.
3,000: Agnitsch is the No. 5 seed at 11:07.60. Unity's Amaya Van Essen holds the No. 15 seed. Ridge View freshman Jaycie Vohs heads to state with the No. 19 seed, with a time of 11:40.94.
Cherokee's London Rogge is the 21st seed at 11:43.95 while Unity freshman Olivia Hoogland is 23rd (11:52.29).
100 hurdles: Ridge View freshman Rowan Jensen is eighth in 16.14. Hinton junior Anna Coffee has the No. 15 seed at 16.75. Sioux Central's Berkeley Johannsen, Ridge View's Tatum Shepherd and Sheldon's Makenna Kleinhesselink each made the cut.
400 hurdles: Anna Winterrowd and Unity's Gracie Schoonhoven earned the top-2 seeds in this race. Winterrowd's seed time is 66.88; Schoonhoen's seed time is 67.15.
West Lyon's Jenessa VanVeldhuizen, Sibley-Ocheyedan's Bria Wasmund, Kleinhesselink and Hanna Rogers of KPWC are seeded 18th through 23rd, respectively.
4x100: Sioux Central was one of five teams that qualified for this race. The Rebels' seed time — good for fourth — is 69.44. Ridge View is fifth (69.52), Sheldon ninth (70.62), West Lyon 14th (71.28) and Cherokee 16th (71.43).
4x200: OABCIG leads a local pack of five teams. The Falcons have a No. 5 ranking (51.53). West Lyon is seventh (51.73), Cherokee 10th (52.09), Okoboji 15th (52.31) and Western Christian 19th (52.50).
4x400: KPWC has the No. 2 seed (1:46.03), behind Williamsburg's top time of 1:45.29.
Unity Christian has the fourth seed (1:47.59) while the Wildcats are 11th (1:49.76) and the Wolfpack 19th (1:50.68).
4x400: KPWC holds the top seed, with a time of 4:07. Unity has the No. 7 seed at 4:13.01. The Wolfpack are ninth (4:14.26) while the Generals and Lions qualified in this race.
4x800: Sibley-Ocheyedan has the No. 2 seed at 9:55.59. The Generals are one of two teams with a seed time sub-10 minute. Hinton has the No. 4 seed at 10:01.26; Cherokee seventh (10:08.18); Western Christian 10th (10:09.85); Central Lyon 11th (10:10.89).
Ridge View has the 23rd seed at 10:33.79 while Sioux Central has No. 24 (10:48.12).
Sprint medley relay: KPWC got the No. 1 seed at 1:49,30. The Wildcats were fifth at 1:50.92 while the Knights were seventh at 1:51.83.
High jump: Sheldon's Maddie Olson claimed the top seed in this event, with a seed mark of 5-foot-8. Coffee has the No. 2 seed at 5-6.
Unity sophomore Molly Zylstra has the No.3 seed at 5-4. Aubrey De Groot also qualified at 5-1 for the Knights.
Long jump: Rebels freshman Preslie Peterson has the seventh seed at 16-8.75. Her teammate, Berkley Johannsen, has the 13th seed at 16-2.75.
Johnson, Bell and Ridge View freshman Shae Dutler also made the cut.
Discus: Ridge View junior Katie Pickhinke has the No. 5 seed at 121-2. Sheldon junior Peyten Lode is 17th at 111-5; Hinton's Lauren Kounkel has the 23rd seed at 107-2.
Shot put: West Lyon freshman Jana Ter Wee has the No. 11 seed at 37-3.5. Kounkel has the 16th seed (36-2). Pioneers senior Morgan Robinson has the 17th seed (36-1.5) and Falcons senior Addie Hickey has the 19th seed at 35-7.5.
Distance medley relay: Central Lyon, Okoboji and Hinton are all in, seeded consecutively from eighth to 10th. Western Christian holds the 20th seed.