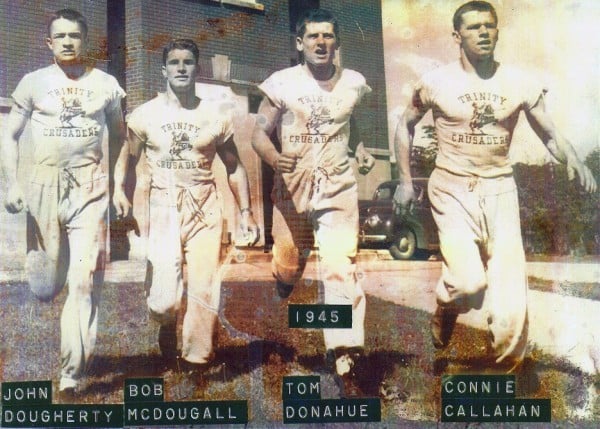 SIOUX CITY -- All of 67 years later, three of them are still around to savor the recognition they'll receive Saturday at Olsen Stadium, being inducted into the Sioux City Relays Hall of Fame.
In a sense, three-fourths of the "Four Horsemen'' from old Trinity High School are winning the biggest race of all -- the race against Father Time.
They were definitely a special group, though, from the time they competed in one of the final one-class state track meets and reigned in 1945 over the mile medley relay at Clyde Williams Field on the campus of Iowa State University in Ames.
With two-time city 880-yard dash champion John Dougherty on the anchor, the Crusaders of Coach Don Joynt were crowned state champions with a clocking of 3:40.8 -- at the time, the second fastest performance in the history of a state meet that expanded to two classes in 1948 and has been a four-class affair since 1953.
Football star Connie Callahan ran the opening 220 yards, followed by a 220 leg from sophomore Bob McDougall.
Tom Donahue ran the next 440-yard lap before Donahue circled the oval twice, collecting a win a year after running on a runner-up two-mile relay foursome.
All but Callahan, who died in 2001, are still living.
Dr. John Dougherty spent the final 30 years of a long medical career as a Sioux City orthopedic surgeon, retiring in 1999. He resides at Trinity Heights after last summer's Missouri River flooding forced he and his wife of 58 years, the former Shivaun Murphy, to evacuate their home in Dakota Dunes.
Former Sioux City mayor Marty Dougherty is the eldest of the Dougherty's eight children, the rest of them all daughters. And, perhaps not coincidentally, Marty Dougherty's son, Brendan, became a track star at Bishop Heelan and is now a junior at Notre Dame, where he helped the Fighting Irish set a school record in the 4x400 relay with a 3:07.51 effort on March 25 in Houston.
McDougall was employed in the local meat packing industry until the age of 74 while his wife, Betty, worked 40 years at the popular Green Gables restaurant on Sioux City's near north side. Parents of one son and two daughters, the McDougalls are residents of Sergeant Bluff.
Donahue, raised in a family quite prominent in the glory years of the old Sioux City Stockyards, is retired from a lengthy career in the cattle business, most of it in Denver. And, the brother of two former three-time Sioux City golf champs, Phil and Jack, maintained his family's interest in that sport, as well, serving on the organizing committee for the 1978 U.S. Open at Denver's Cherry Hills Country Club.
Callahan followed up high school by starring at halfback for legendary Coach George Allen at Morningside College, where he was the only official Little All-American during the school's nearly eight decades in the North Central Conference. Callahan and his wife, the former Ruth Jordahl, raised 11 children.
Get in the game with our Prep Sports Newsletter
Sent weekly directly to your inbox!