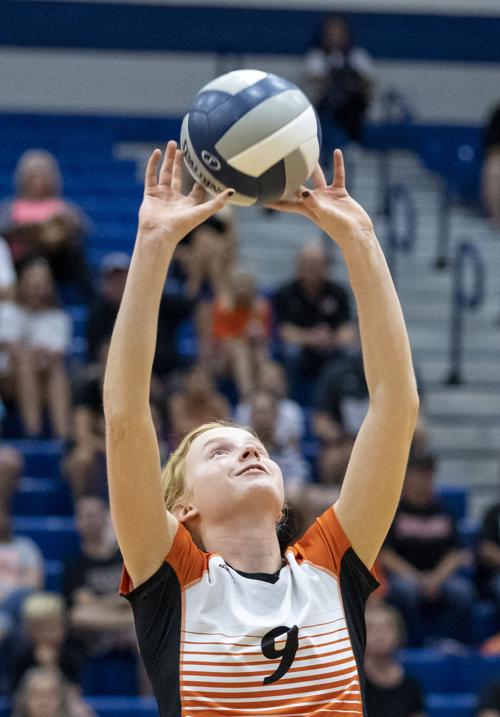 SIOUX CITY — Maddie Hinkel has to think on her feet.
As a setter, the Sergeant Bluff-Luton High School senior has had to adjust to giving passes to different hitters on the volleyball court, most notably Kenzie Foley and Emma Salker.
Those adjustments on the floor and making some good passes along the way paid off for Hinkel a couple of weeks ago, as she crossed the 1,000-assist milestone in a win over Council Bluffs Jefferson.
"Honestly, it was kind of a surprise," Hinkel said. "I really didn't know how close I was. It was a huge surprise. Getting it with my teammates is a great feeling. This whole high school career is really great."
Hinkel is this week's Metro Athlete of the Week.
Even though she's an accomplished athlete at SB-L, Hinkel said reaching the 1,000-assist milestone ranked high on her list.
"I didn't know whether I was going to hit 1,000, and honestly, after hearing it, it was a great feeling," Hinkel said.
The stat sheet further proves that Hinkel has improved at her craft since being called up to the varsity level her sophomore year.
During that 2019 year that ended in a Class 3A state championship. Hinkel was the No. 2 setter, starting off her career with 467 assists.
She was 170 behind classmate Madison Wilcoxon.
Then last season, Hinkel recorded 449 assists, leading the Warriors. She was also third on the Warriors in blocks with 36.
Hinkel had to learn how to set the ball up for hitters like Foley and Elle Sneller.
"She matured and she became a lot more coachable," SB-L coach Renee Winkel said. "She started to build those relationships. That really started to flourish her senior year. Every year, she's had to set a different ball based on the team that was around her, basically. She's worked hard to really cater to the teams around her."
So far this season in nine matches entering Tuesday, Hinkel has 247 assists, second in the MRAC. That's also good for 11th-most in Class 3A, with the class leader being Spirit Lake senior Brooke Smith (436).
She's doing all this switching from a 6-2 system to a 5-1 system, which will give her many more chances to rack up that number as the season progresses.
"I couldn't have had it happen with great passers, it wasn't just me," Hinkel said. "This year has been one of my best years. We're really meshing together well and we're a really close team. It's been a great season so far. Our senior class is so close, and we're all great friends."
The Warriors entered this week with an 8-1 overall record and had won both their conference matches.
Winkel said that for a setter to process all of that in a fast-paced game is difficult, but Hinkel has successfully made those adjustments.
"Maddie's job in a game is to process what her hitter needs," Winkel said. "For her to be able to do that is really impressive and that's a credit to her. She's going to play the second ball, no matter where it goes. If it's a bad pass, she has to do something with it. She finds a way to be the glue of the team and make something out of nothing."
Honorable mentions
Drew Benson, West football: For the second straight week, the Wolverines senior running back had a breakout game.
He had 260 yards last week in a win over Des Moines Hoover.
Natnael Kifle, North XC: Kifle won two meets last week, and he helped the Stars get two wins as a team.