TEA, S.D. — The Dakota Valley High School volleyball team swept Tea Area on Monday, as the Panthers swept the Titans by set scores of 25-13, 25-16, 25-21.
Sophie Tuttle led Dakota Valley with 10 kills while Jorja VanDenHul had eight kills. Tuttle had five kills in the second set.
VanDenHul had three kills apiece in the second and third sets.
Logan Miller led the Panthers with 29 assists.
Sammi Archer had 13 digs, while Kate VanRooyan had 18 and Tuttle 14.
The Panthers had five ace serves, two apiece from Archer and Tori Schulz.
Iowa regional volleyball
Gehlen Catholic 3, MMCRU 0: The Jays advanced to the Class 1A, Region 1 finals with a 3-0 sweep over MMCCRU on Monday night. Gehlen took the first set 25-18, set two 25-23, and set three by a score of 25-11. 
The Jays were led on offense by junior Miyah Whitehead with 10 kills, while junior Cadence Goebel had 22 assists and 12 digs. For MMCRU, Taylor Harpenau had 14 assists, while senior Emily Dreckman had 15 kills. 
The Royals end their season at 16-11 overall, while Gehlen Catholic will play Akron-Westfield on Wednesday for a spot at the state tournament. 
Akron-Westfield 3, Westwood 0: The Westerners move on  to the Class 1A, Region 1 finals after a 27-25, 25-22, 25-22 sweep over the Rebels on Monday. 
Senior Natalie Nielsen had a team-high 11 kills for Akron-Westfield, while Aubie Hartman was close behind with 10, in addition to 16 digs. Freshman setter Josie Jacobs finished with 23 assists on the night. 
For Westwood, the top offensive contributors were Addy Johnson and Cora Shull, who each had 13 kills. 
Westwood ends its season at 24-13, while Akron-Westfield will play Gehlen Catholic for a spot at state 8 p.m. Wednesday at Bishop Heelan High School , following the Class 2A regional final between Western Christian vs. Treynor.
Newell-Fonda 3, Bishop Garrigan 1: Newell-Fonda beat Bishop Garrigan on Monday by a 3-1 score, as the Mustangs earned the win by taking sets one, three, and four by scores of 25-17, 25-11, and 25-19, while losing set two 27-25. 
Senior Macy Sievers had a team-high 15 kills, and junior Mary Walker had 12. On defense, Anna Bellcock finished with 12 digs in the match, and Kinzeee Hinders had three service aces. 
The Mustangs improve to 28-3 on the season, and will face Janesville on Wednesday at Clarion-Goldfield-Dows High School, for the Class 1A, Region 4 championship. 
Boyden-Hull 3, Central Lyon 0: The Boyden-Hull High Scholl volleyball team took down Central Lyon by a 3-0 score on Monday night in the Class 2A, Region 1 semifinals. The win was the Comets' fifth straight victory by sweep, dating back to Oct. 9. 
Boyden-Hull's victory came by set scores of 25-18, 25-9, and 25-17, as senior Ellie Woelber led the offense with 18 kills. Senior setter Jewell Bergstrom had an impressive 42 assists in the match, and Woelber and junior Avery Noble led the defense with 16 digs apiece. Senior Sarah Boogerd had a team-high four service aces.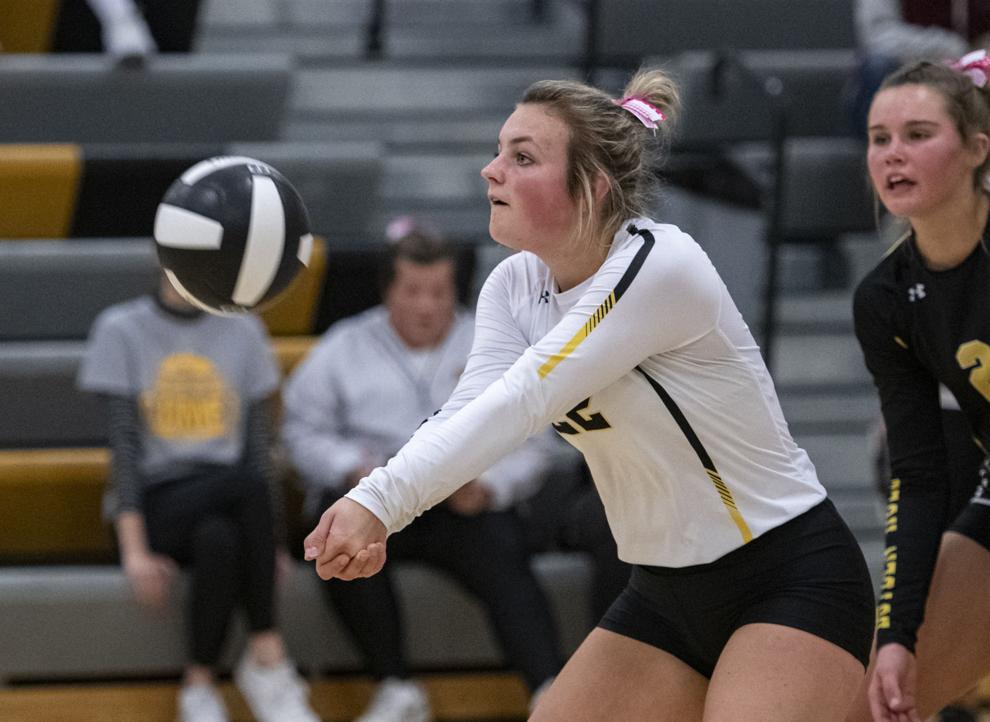 For Central Lyon, junior Dionne Jansma had seven kills. The Lions end their season with an 11-18 overall record, while Boyden-Hull advances to Wednesday's Class 2A, Region 1 championship game against Ridge View, at Sioux City East High School. 
Ridge View 3, East Sac 1:  Ridge View took down East Sac County on Monday night in four sets, as the Raptors won the Class 2A, Region 1 semifinal, 3-1. 
The Raptors won sets one, three, and four by scores of 25-14, 25-21, and 25-19, while Raiders captured set two, 25-20. 
Senior Emma Vohs led the Raptors with 21 kills and 19 digs in the match, while Sky Henkel had 25 assists. Freshman Sydney Blackmore had five blocks. 
On the Raiders side, sophomore Kate Vondrak had 14 kills, and Paige Wunschel had a team-high 16 assists. 
East Sac County finished 21-8 on the season, while Ridge View will play for the Class 2A, Region 1 title on Wednesday against Boyden-Hull. 
Western Christian 3, Hinton 0: The Wolfpack swept the Blackhawks with a 25-10, 25-18, 25-11 sweep over the Blackhawks.
Abby VerBurg led the Wolfpack with 13 kills, while Stella Winterfeld had 11.
Emma Westphal had nine kills.
Jaylin VanDyken led the Wolfpack with 34 of the 38 total assists.
Lydia Van Kley had 19 digs.
The Wolfpack hit .337 on the night.
The Wolfpack will face Treynor at 6 p.m. Wednesday at Bishop Heelan High School.
South Dakota volleyball
Parker 3, Vermillion 0: The Tanagers were swept by set scores of 25-16, 25-20, 25-21.
Tanagers junior Claire Doty reached the 1,000-career assist mark on Monday. She had 22 assists.
Kara Klemme had nine kills while Brooklyn Voss had eight.