The West Sioux wrestling team already broke a barrier last season by qualifying for the Class 1A state dual tournament for the first time in the program's history. The Falcons finished in sixth place.
This season the Falcons want to break through the glass ceiling again. For the first time in the program's history, West Sioux brings eight wrestlers to the traditional state tournament and once against qualified for the duals.
Instead of bringing home one trophy from the dual tournament, West Sioux coach Mark Van Oort thinks the possibility exists for the Falcons to bring home a top-three trophy from the traditional tournament as a team.
"This group of kids has been all about breaking records and doing what hasn't been done. They really, really want a traditional trophy to come back to West Sioux," Van Oort said. "They aren't discounting how hard it will be. We will go out there and wrestle. I think our kids' minds are right and we feel very fresh. When the kids want it this bad, it's more likely to happen."
Denver-Tripoli qualified the most wrestlers for the 1A traditional tournament with 10. Underwood and Don Bosco qualified nine wrestlers each. Then it's West Sioux and Lisbon with eight wrestlers each.
It's not just having eight wrestlers at the Wells Fargo Arena in Des Moines that has Van Oort excited. It's the level that those eight are wrestling at that currently has Van Oort excited.
"When you look at it, I've looked at our draws. We need to have a really good first round. It's a lot easier to get that first win out of the way. We know there will be setbacks and guys on the consolation side. There are only 14 champions," Van Oort said. "May we will have one or two champions but know there aren't six. We are realists and look at the best possible finish we can.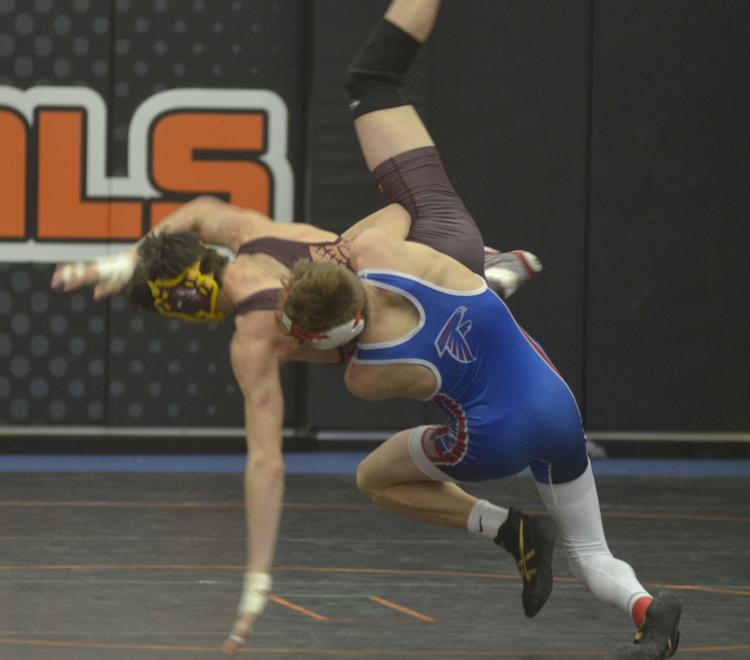 "I am really happy with where West Sioux wrestling is at. I am really excited about what we have and I thought we had a great district."
Before the traditional tournament starts on Thursday, West Sioux has a tough first-round dual matchup with Lake Mills. The Falcons earned the No. 4 seed and Lake Mills is the No. 5 seed.
It didn't take long for Van Oort to crunch the numbers when he saw the bracket and the first-round matchup with Lake Mills.
"Lake Mills, they are a balanced team, a lot like us. We are looking at it, if you put it on paper, we are maybe favored in six matches, three tossups and they are favored on four to five matches and that just depends on bumping weight classes," Van Oort said. "We gotta get past a talented Lake Mills team and there is not a lot of margin for error."
The winner of that dual, which starts at 11 a.m. on Wednesday, goes on to face top-seeded Don Bosco, which faces eighth-seeded Missouri Valley. The loser moves on the consolation bracket for a chance at fifth place.
"Don Bosco might be the best team in the entire state and we understand what we would be up against but that doesn't mean we won't attack them," Van Oort said.
On the other side of the bracket, No. 2 Denver-Tripoli faces No. 7 Logan-Magnolia and No. 3 Lisbon faces No. 6 Emmetsburg.
In the traditional tournament, West Sioux's Adam Allard is the top seed at 120 pounds. The two-time state champion leads the state in wins with 52. The West Sioux junior also leads the state in pins with 32 in a total time of 45:29.
Don Bosco's Daniel Kimball (40-1) is on the other side of the bracket as is Colfax-Mingo's Cauy Fitch (31-2) and Interstate 35's Casey Baker (43-2). AGWSR's Trey Lashbrook (40-2) and D-T's Jacob Moore (22-5) are on Allard's side.
Allard, who is going for his third state title, hasn't surrendered an offensive point this season yet.
"Adam is a special kid. I think Adam is really comfortable at the state meet and he understands the state tournament," Van Oort said. "He understands that he doesn't have to win by eight or 10 points, just win. He has an incredible defense and he's very good in the top position. He hasn't been ridden yet this season. If the best version of Adam shows up, he can get his third medal."
West Sioux senior Kory Van Oort is making his fourth trip to state. As a sophomore, he finished as a runner-up. Last season he finished in fifth place. This season he is ranked No. 2 at 152 pounds and comes in with a 49-1 record.
The seedings didn't give him any favors, though, as he faces Cardinal's Kade Chance in the first round. Chance is 27-2 on the season. The quarterfinal matchup for Van Oort potentially involves a familiar foe with Woodbury Central's Garrett Arment, who is 25-3 this season and ranked fifth. Top-ranked Kaleb Krall is on the other side of the bracket.
Mark Van Oort said Kory isn't even looking to a potential matchup with Arment, who Kory defeated for the district title 6-4 in an ultimate tiebreaker.
"We never look ahead. The first guy that we have is a tough draw. Kory has never had an easy route. As a sophomore in his deep run, he knocked off the second-ranked wrestler," Van Oort said. "The match against Garrett at districts felt a lot like that. That was a good eye-opener for him and every kid will be tough. I think he's ready."
Dillon Lynott is making his third trip to state and the junior is 42-3. He's ranked No. 8 at 132 and faces Wapsie Valley's Christopher Ewart (24-12) in the first round. His potential quarterfinal match could be against top-ranked Cael Happel (46-0).
At 195 pounds, Logan Koedam is ranked fifth and is 50-1 on the season. He faces D-T's Trever Dorn in the first round. Top-ranked Zach Ryg (43-0), of Central Springs, is on Koedam's side of the bracket and will be a semifinal match if the two make it that far.
At 106, freshman Drayven Kraft (48-10) faces Lisbon's Cade Siebrecht (36-9). At 113, freshman Cullen Koedam (47-3) faces Cascade's Aidan Noonan (45-0). At 138, freshman Carson Lynott (37-4) faces Dyersville Beckman's Grant Hoeger (38-6). At 182, senior Trevor Schuller (38-7) faces North Linn's Quinton Rechkemmer (29-5).
Wrestling for the traditional state tournament in 1A starts at 1:30 p.m. on Thursday. Van Oort said no matter what happens, the only approval his wrestlers need are from themselves.
"Don't look for approval from coaches and fans. Look at the man in the mirror and look for approval because he is the one putting the work in," Van Oort said. "We go into the state tournament with the intent to win at every weight class and every line on the bracket to make sure that we are in a position to get medals. Can we get eight? I don't know but that's the goal."