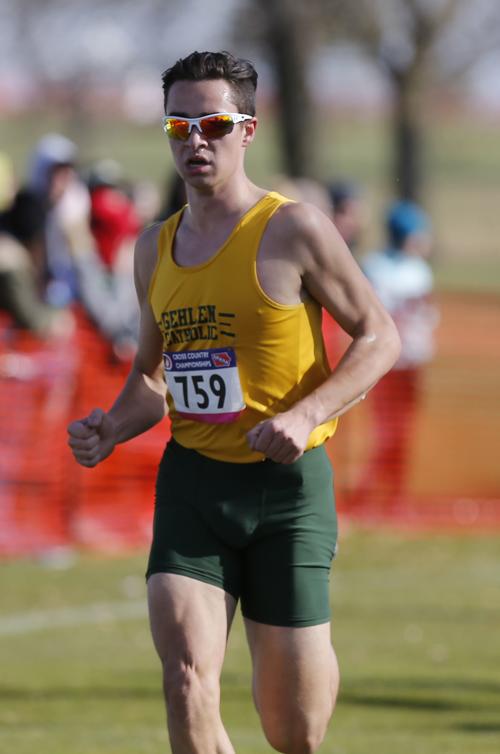 FORT DODGE, Iowa -- Throughout the season, the Woodbury Central/Kingsley-Pierson and Unity Christian High School girls cross country teams were closely competitive.
It was no different on Saturday.
WCKP and Unity finished back-to-back in the Class 2A girls state meet team standings, but WCKP edged the Knights 179-191 for seventh place in Class 2A.
The two tied for the regional title last week in Orange City and that took WCKP by surprise. They didn't want that to happen again at state.
There were two major factors in WCKP edging out its familiar foe - Sarahy Hamman finished with single-digit points for WCKP, and its No. 5 runner scored more points than Unity's fifth runner in the lineup.
Hamman scored nine team points and was the 13th overall runner with a time of 19 minutes, 43 seconds.
"I felt amazing out there," Hamman said. "I really pushed myself, but I feel like I did pretty good."
Once Hamman crossed the finish line at Lakeside Municipal Golf Course, she looked back to see if any of her Wildcats teammates were close to the finish.
"We always push each other every race, and we run in a pack, and we always push each other," Hamman said. "Knowing that (Unity) tied with us (last week), we knew we needed to step it up. We had a lot more competition out there than we thought."
Unity's top runner, Amaya Van Essen, scored 25 points, and finished in 40th with a time of 20:51.
WCKP sophomore Erika Kuntz ended up being the team's No. 5 runner, as she scored 51 points -- and finished in 77th place -- with a time of 21 minutes, 33 seconds.
Unity's No. 5 runner, sophomore Amy De Groot, scored 55 points in 21:36.
In that same race, the OC regional individual champion, Western Christian's Whitney Minderhoud, placed 25th in 20:17.
Roder has disappointing day
Will Roder crossed the finish line in the Class 1A boys race, and he instantly fell to his knees.
He was out-of-breath, his face full of tears and stunned to what had just happened.
Roder finished in seventh after going step-for-step with eventual champion Joshua Baudler of Nodaway Valley for the majority of the race.
"It was neck-and-neck for the whole two miles," Baudler said.
Baudler finished in 16:11, but Roder crossed the finish line 29 seconds after Baudler did.
Roder was in second at the 1-mile marker, but at the 2-mile marker, the Jays senior was in fifth.
He could tell something was wrong, and it happened in the beginning of the race.
"I just couldn't breathe," Roder said. "My throat swelled up and I couldn't breathe at all. My side hurt from the start. I just couldn't breathe at all."
You have free articles remaining.
Roder said that hadn't happened to him in any other running event, and isn't sure whether that could happen again down the road.
The Jays were 13th as a team with 254 points with Odgen (247) being the next closest team in the standings.
Madrid won the team title with 74 points.
Hulstein, VandeVegte both place in 2A top-15
Tage Hulstein wanted to forget about a regional runner-up finish last week in Orange City.
So, the Western Christian sophomore left the season with a good memory, a sixth-place finish in the Class 2A boys race.
Hulstein finished the race in 16:34 behind Camanche's Dylan Darisidan, who won in 16:02.
"I think I just focused more," Hulstein said. "I had the ability, and I believed I could do better. I pushed beyond my limits and working on my speed a little bit more so I could be comfortable after the first mile."
Hulstein changed his strategy to going out at the start of the race faster about two weeks ago. Hulstein's father saw that the Wolfpack sophomore wasn't comfortable getting into a consistent pace after the first mile.
Hulstein heeded the advice, and will use it for both track and next cross country season.
"It did feel a little weird," Hulstein said. "We had to work on more repeats and pushing a lot."
Also, Sioux Center senior Carter VandeVegte closed out his cross country career with an 11th-place finish with a time of 16:42.
VandeVegte was nervous about where he ended up as he crossed the finish line, but those nerves were long gone as he proudly wore a top-15 medal around his neck.
"I was hoping for a top-25, so this was a nice surprise," VandeVegte said. "I know I didn't have the strongest kick, so I always try to get up with the leaders so I can hold there."
Other metro finishes
Sergeant Bluff-Luton's Issac Bryan and Carlos Rodriguez each earned top-45 placings in the Class 3A meet.
Bryan, a Warriors junior, had a 38th-place time of 17:03 and Rodriguez, a sophomore, was 43rd in 17:06.
Rodriguez had to overcome knee problems since last season, and was happy to have the chance to run among some of the best runners in the state.
"It's a great accomplishment for me," he said. "I enjoyed my time here. It's a lot of hard work and a lot of running for the summer."
In the Class 1A meet, Siouxland Christian's Eric Brannon finished in 110th with a time of 18:41.
Brannon was ranked in the preseason, but the Eagles junior suffered a stress fracture in his right foot.
"It was not as near as good as I was hoping for," Brannon said. "The season started out really great. That took away all my stamina. It was really hard sitting for a couple weeks then trying to get back in it."