MOVILLE, Iowa | Woodbury Central's girls basketball team hangs their hats on defense.
Entering Tuesday night's Class 2A Region 8 quarterfinal game on their home court, the Wildcats yielded a stingy 41.3 points per game. Playing for the first time since falling to No. 10 Kingsley-Pierson in the Western Valley Conference Tournament finals, the offense looked rusty, shooting 25 percent (8 of 32), but the defense wasn't.
Woodbury Central forced 23 turnovers during its 52-37 victory over WVC rival West Monona. Plus, the Wildcats held an opponent under 40 points for the 10th time this season.
The difference was the third quarter. West Monona, which had a narrow 21-20 lead in a game where neither team was shooting well, committed turnovers in each of its first four possessions to begin the second half. On one of those occasions, the Wildcats' Sidney Steffen hit a three immediately after she tipped a pass, resulting in Autumn Weaver's steal.
"We had a really good 10 days of practice," said Maddie Paulsen, who scored a game-high 14 points for Woodbury Central, which will take an 18-4 record into Friday night's Region 8 semifinal at Denison against IKM Manning (17-4), a 44-39 winner over Logan-Magnolia Tuesday night at Manning.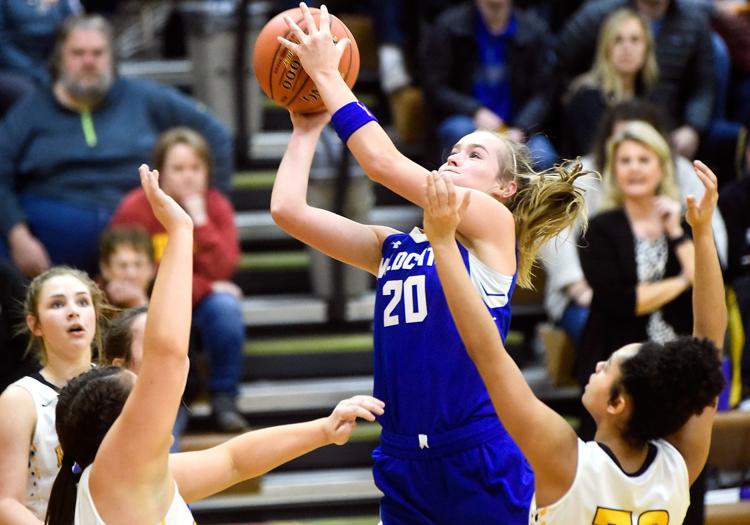 "We worked a lot on defense. We came together more as a team. We weren't really worried. We were confident coming in. We love defense. It's all we work on. We wanted to focus on Macie McCall and not let them get easy points underneath the hoop. I think we did a good job, though it was a little rough in the beginning."
True. Tayah Struble had two of West Monona's first four baskets in the game's first 2 ½ minutes. Lexi Lander and McCall also contributed early offense as Coach Kevin Brandt's team made their first four shots while opening up a 9-3 lead.
However, Woodbury Central's defense remained constant. The Spartans, who shot 11 of 31 (35.4 percent) in the game's final 2 ¾ quarters, had 11 turnovers by halftime and nine in the third quarter as Coach Matt Jenness' squad turned the game around, outscoring the visitors from Onawa 25-9.
"The third quarter was the difference," said Brandt. "You take the first half and the fourth quarter, we win by one, but they won the third quarter by 15. Defensively (Woodbury Central) has always been sound. They're long and they're athletic. They make it tough to get good shots."
"Really, all night except the first two minutes, we played great defense," said Jenness. "We made it hard for them to score. I thought that was the difference, just being locked in defensively when we knew we'd be a little rusty on the offensive end."
West Monona (16-7), which received a team-high nine points from McCall, received consecutive baskets from Lander (8 points, 5 rebounds) and McCall for a brief 25-23 lead. Woodbury Central responded by scoring the game's next eight points, which included Steffen's steal/layup combination for a 31-25 lead, part of her team's 10 of 17 third quarter which included 10 Paulsen points.
"Everybody's going to have an off night," said Paulsen. "That's when other people on the team need to step up. That's what we did tonight. Camrin Baird stepped up a lot. Sidney Steffen stepped up with a couple of layups and a couple of plays. Sally Gallagher got us going with a couple of threes."