One hundred years ago today, Mason City High School was a part of sports history. 
Iowa, one of the nation's premier wrestling states, can thank the school for helping kick off what has been a long and storied love affair with the sport. 
The event was announced in the Jan. 15, 1921, edition of the Des Moines Register, saying "The Mason City High school wrestling squad left late today for Fort Dodge, where it will meet Fort Dodge High school squad tomorrow afternoon in the first high school mat meet ever staged in Iowa. Ted Haynes, Leo Allstott, Raymond Buirge, Harold Saylor, Roland Strickland, Richard Burke, and Roy Newman are the Mason City wrestlers."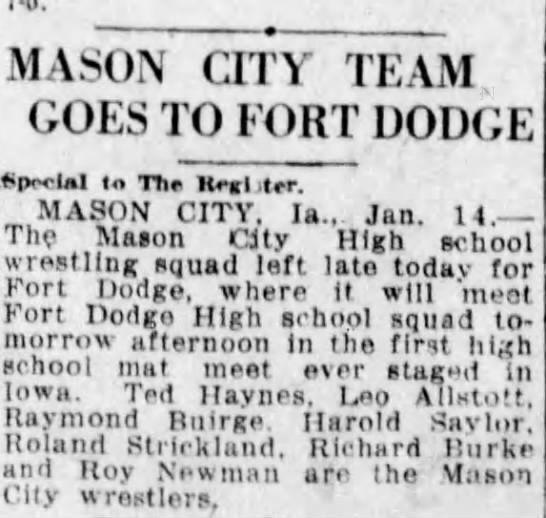 In that first meet, held at The Armory in Fort Dodge, the Mohawks and Dodgers wrestled seven matches, and the Mohawks took the win, 24-19. The 3 p.m. event was held before the season opening basketball game between the Mohawks and Dodgers, which was slated to tip off at 4 p.m.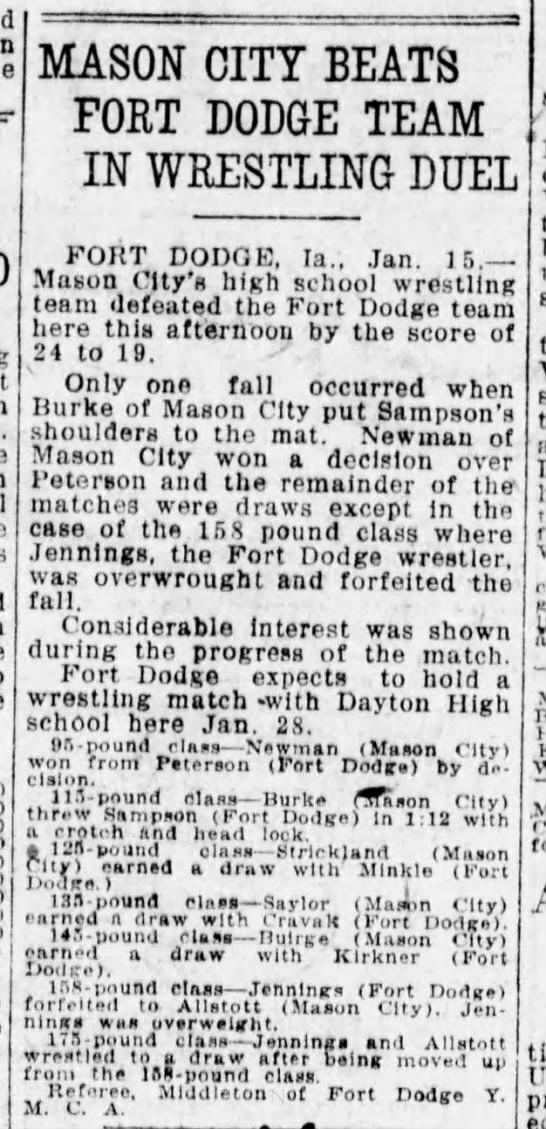 After that event, interest in the sport seemed to snowball. On Feb. 5, 1921, Iowa State College (now Iowa State University) hosted the first state high school wrestling tournament, where Mason City finished second overall, behind Cedar Rapids Washington. The Mohawks took the title in 1922, one of three traditional team championships in program history. 

'Huge rivalry'
Since that fateful January day, wrestling has become something like a religion in the state of Iowa, and the Fort Dodge vs. Mason City rivalry is still as heated as ever. 
Last week, the Dodgers and Mohawks faced off in a dual meet held in Mason City, which the Dodgers won, 68-9. Despite the lopsided score, Mohawks' head coach Dusty Rhodes and Fort Dodge coach Bobby Thompson agreed that the rivalry is still extremely meaningful.
"It's a huge rivalry," Thompson said. "I kind of consider us sister cities. We're pretty close in our demographics and everything, and it has been a fierce rivalry, not just in wrestling, but every sport."
In their 100 year histories, both Mason City and Fort Dodge have had lots of success on the mat, though the Dodgers have come away with more state hardware.
Fort Dodge has won 12 traditional team championships, one dual state title, 33 team top four finishes, and 62 individual state champions in its history, while Mason City has three traditional team championships, one state duals tournament appearance, eight team top four finishes, and 30 individual state titles. 
"It's a source of pride for (Mason City) and Fort Dodge," Dusty Rhodes said. "For two similar-type towns to have held that rivalry for as long as they have, and have it be the first one, the 100 year anniversary of the first high school wrestling meet, is pretty fun."
According to two of Mason City's top wrestlers, the rivalry might be fierce, but that doesn't mean there is any bad blood between the schools. Mohawks' juniors Jace Rhodes and Cooper Wiemann both wrestle with some of the Dodgers at Sebolt Wrestling Club in Jefferson, leading to some friendly, though competitive, relationships on the mat.
"I have a lot of respect for those guys," Jace Rhodes said. "We work out with those guys a lot in the room at Sebolt, but whenever we get a chance to wrestle those guys, it's intense. They've got a lot of good guys, and we have some good guys too."
A century ago, Mason City and Fort Dodge helped to begin an Iowa institution. After the Dodgers' win over the Mohawks last week, Thompson credited both schools on their long and successful sports histories, and capped off his comments with a humorous nod to Friday's centenary. 
"I think it says something about both schools," Thompson said. "The longevity of it, we were the first dual, and here we are in 2021 going at it. I don't know if a lot of programs can say that. They got us 100 years ago, so we got revenge tonight."
Shane Lantz covers sports for the Globe Gazette. You can reach him at Shane.Lantz@GlobeGazette.com, or by phone at 641-421-0526. Follow Shane on Twitter @ShaneMLantz.