DES MOINES -- West Sioux is still in contention for a third-place trophy with six of its eight wrestlers still alive in the Class 1A state wrestling tournament while Western Christian's Tristan Mulder and Westwood's Trenton Dirks each pulled off major upsets on Thursday at Wells Fargo Arena.
Mulder was coming off a tough district tournament. He was able to advance to the state tournament still as a district runner-up but the seventh-ranked sophomore was upset in the district finals match at 170 pounds.
That cost Mulder, who came into the state tournament ranked No. 5 by IAwrestle.com and No. 7 by The Predicament, a potential seed at state, even with a 37-2 record.
The draw didn't do Mulder any favors, either, as he was pitted against Denver's Cael Krueger, who is ranked No. 1 at 170.
But it was Mulder who scored the first points with a takedown just 20 seconds into the match.
"Those quick two points were the momentum of the match," Mulder said. "It came right to me."
Mulder worked ahead the rest of the way, pulling off the upset with a 5-4 decision over Krueger.
Mulder said the rankings didn't really matter to him coming into the match.
"They are just a number. Anybody can be beaten at any time and this is the time of the year it counts," Mulder said. I just came out with the mindset that no one could beat me and I am the best one out here. I just need to prove that on the mat."
Mulder had a 4-1 lead after the first period and it was evident early that he could sprawl to hold off Krueger's shot attempts. Mulder had the only two takedowns of the match despite numerous shot attempts by Krueger.
"He shot from a long ways away, no setups or anything, no (tie-ups). We've been practicing getting hips back because I've been having trouble with that the whole year," Mulder said. "We finally fixed it. I am feeling good about my defense."
Dirks was a district champion at 285 pounds last week in Sibley and even then, he felt he could wrestle with anyone at state because "no one was undefeated."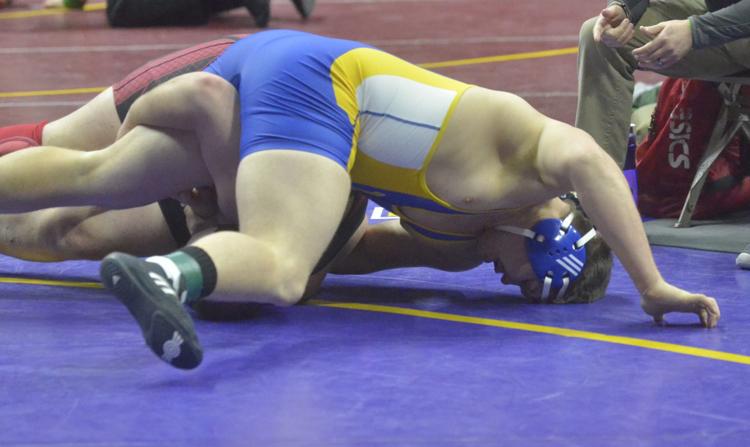 Dirks had the opportunity to prove that theory right away in the first round when the senior, who is ranked No. 7 by IAwrestle.com and No. 10 by the Predicament, faced Mount Ayr's Josh Cox (No. 2 by IAwrestle.com and No. 5 by the Predicament) in the first round.
Dirks got a takedown against Cox and shortly after he pinned Cox in 1:43 to advance to the quarterfinals.
Dirks didn't even know how high Cox was ranked coming into the match.
"I think I just did prove it. He's taller than me, he's bigger than me. I can beat him. It makes me feel good that he was ranked number two. I beat him real quick," Dirks said. "I just had to keep all of the pressure on him I could. As tall as he is, I just had to keep him down. I knew I could beat him."
Even with beating the No. 2-ranked wrestler, Dirks isn't really going to look at his opponents going forward. He's going to focus on his goal of making a deep run at the state tournament.
"I don't like to know a whole lot about them going into it. I don't like to get it in my head that they are super good or anything," Dirks said. "Honestly I feel like I can (win the state title)."
West Sioux has six wrestlers still alive and four of them are in the quarterfinals - Adam Allard (120), Dillon Lynott (132), Kory Van Oort (152) and Logan Koedam (195).
Cullen Koedam (113) and Trevor Schuller (182) stayed alive on the consolation side with wins and Schuller gained some bonus points with a pin on the backside.
"It was big to me because my first match was so close, coming down to the last seconds and a mistake caused it to slip away. Those bonus points were huge there," Schuller said. "First trip down here, why not end up on the podium and help my team by scoring points."
Freshmen Drayven Kraft (106, 48-12) and Carson Lynott (138, 37-6) saw their seasons end.
West Sioux scored 19 points on the first day, four points behind Lisbon for fourth and 4.5 behind Underwood for third. Don Bosco leads with 31 points and Denver is second with 29.5.
Despite a couple of setbacks, West Sioux coach Mark Van Oort said it was a positive day for the Falcons.
"Advancing six guys today is a big deal. Down here, you focus on the positives and continue to go forward. Your team feeds off the positives," Van Oort said. "If you focus on the negatives, you will see more of it happens. It's about going back to the hotel, getting some food in the guys' system, maybe do a little bit of scouting and focus on the positives. The season is over for a couple of guys but we still have six going on."
All of West Sioux's quarterfinalists scored bonus points for the Falcons in the opening round with Allard, Kory Van Oort and Logan Koedam winning by fall and Dillon Lynott winning by major decision.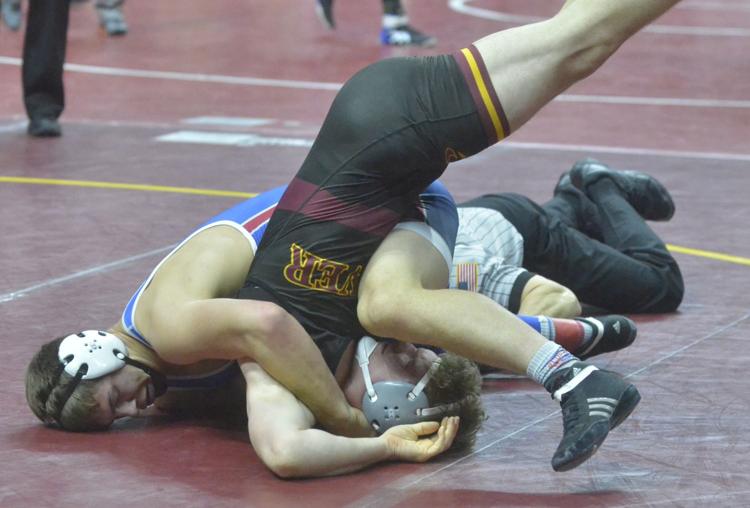 Those four will be leaned on going forward.
"Those guys have been down here a few times so they know how to wrestle this tournament," Van Oort said. "Dillon started a bit slow but got the win. Kory wrestled a tough first period and got the fall. Adam went out and did what Adam does. Logan is in beast mode and we are excited with where he is at and think he can make a deep run."
Akron-Westfield sophomore Jader Briggs advanced to the 106 quarterfinals with a 9-7 decision.
Woodbury Central's Beau Klingensmith won by fall in 2:20 to advance to the quarterfinals at 113.
Sibley-Ocheyedan's Trey Schuck got a tough test in the first round at 126 and moved on with a 7-4 decision.
Woodbury Central's Wade Mitchell won by fall in 3:50 to advance to the 145 quarterfinals.
Woodbury Central's Garrett Arment got through to the quarterfinals with a tight 7-5 decision at 152.
Akron-Westfield's John Henrich won by fall in 38 seconds to advance to the 160 quarters.
Alta-Aurelia's Nick Gaes won by fall in 1:06 to advance to the quarterfinals at 220.
Hinton's Aiden Christiansen lost his first match 10-7 but bounced back with an 8-4 decision on the backside at 120.
West Monona's Darius Gashe lost his first match at 195 by a 10-7 decision but bounced back with a 17-7 major decision in the consolation round.
West Lyon's Easton Fleshman was pinned in the first round at 220 and his consolation match went to overtime before he went on to win 6-1.
Woodbury Central freshman Tristen Jessen lost both of his matches at 126 and ended the season 25-12.
Woodbury Central junior Nate Monahan lost both of his matches at 138 and ended the season 32-11.
Alta-Aurelia sophomore Alex De Roos lost both of his matches at 182 and ended the season with a 39-7 record.
Westwood senior Zach Adams lost both of his matches at 195 and ended the season with a 26-14 record.