DES MOINES -- Woodbury Central's Beau Klingensmith and Wade Mitchell both have a one-track mind at the Class 1A state tournament this weekend.
Last season Klingensmith finished in third place at 106 pounds as a freshman. Mitchell wrestled for the 145-pound title, losing to Lisbon's Cole Siebrecht.
So both wrestlers expect to be in the state finals matches this season -- Klingensmith at 113 pounds and Mitchell, a junior, at 145 pounds.
"That was their mindset last year and this is the time of the year where it's always bittersweet because it's a one-track mind -- state title or bust," Woodbury Central coach Jake Thomas said. "That's tough at times but they are capable of doing it and that's the mindset to have. They are both seeding number one and they are excited to cash it in."
Klingensmith is ranked No. 2 at 113 in 1A by both The Predicament and IAwrestle.com. He is 36-4 this season. Top-ranked Hagen Heistand, of Logan-Magnolia, is on the other side of the bracket.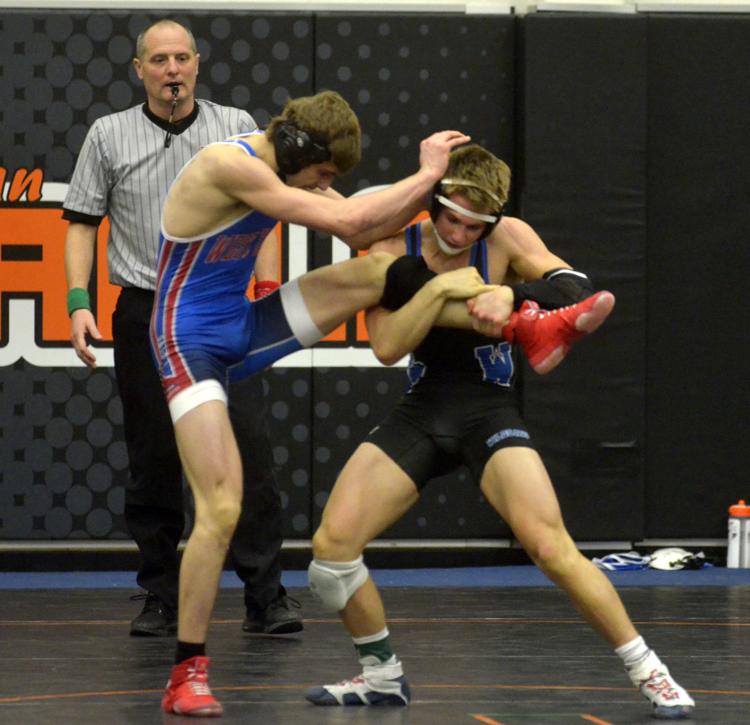 Mitchell is 38-1 on the season and has the fourth-most takedowns in the state with 160. He's only been taken down five times this season. Mitchell is ranked No. 1 by IAwrestle.com and No. 2 by The Predicament. Union-LaPorte City's Blake Thomsen is ranked ahead of Mitchell by The Predicament and right behind Mitchell by IAwrestle.com.
Thomas said both just have to do what he's been talking to them about all season.
"We don't have to manage matches, just go out there and hit wrestling moves. Enjoy scoring points," Thomas said. "If they can put the situation out of their heads and go wrestle like they do in the room, they are in good shape and anyone will have trouble staying with them for six minutes."
Woodbury Central junior Nate Monahan is ranked No. 6 by the Predicament at 138 pounds and No. 8 by IAwrestle.com. Monahan is 32-9 this season and faces ACGC's Easton Benson in the first round. If Monahan advances, he would potentially face Lisbon's Siebrecht in the quarterfinals. Siebrecht is undefeated.
Thomas liked how Monahan looked at the district tournament on Saturday.
"It's the best he's looked. He makes all of the right choices and he puts the time in. He said he's going to be at the top of the podium (at state)," Thomas said. "You love that mindset and he has a tough matchup with Siebrecht in the quarters. I am not going to tell Nate he's not going to be at the top of the podium."
Freshman Tristen Jessen qualified at 126 pounds. He's 25-10 on the season and faces Logan-Magnolia's Briar Reisz in the opening round. Reisz is undefeated.
"We expect Tristen to go compete. We talk a lot about goal-setting and it's coming for guys to say state qualifiers," Thomas said. "Why not be a state placewinner then. If you reach state qualifier status, adjust that goal. Go down there, win a couple of matches and be on that stand."