DES MOINES, Iowa -- For a year, Woodbury Central's Wade Mitchell used last year's loss in the state title match as motivation to get back to the finals this year.
As did Sergeant Bluff-Luton's Jack Gaukel.
And same with Woodbury Central's Beau Klingensmith, who didn't reach the state finals last season, falling one point short. Klingensmith ended up finishing third last season.
All three found their way to the finals this season.
It was Mitchell that achieved his goal of becoming a state champion as he defeated Emmetsburg's Spencer Griffin 12-7 for the 145-pound Class 1A state title on Saturday at the Wells Fargo Arena.
"This is the lifelong dream right here. My coaches push me every single day to be the best I can be and that's the results right there," Mitchell said. "I knew I could do it. My coaches knew I could do it. It was just a matter of doing it. Ever since I was a little kid, I remember looking from the crowd and thinking I want to do that some day."
Last year's loss in the state final drove Mitchell to the top of the podium this season.
"Last year, that was heartbreaking. I came off the mat and I was so hurt inside. All of my work didn't pay off," Mitchell said. "This year it did. I am ecstatic right now."
Mitchell wishes he could wrestle the whole match on his feet. That's basically what he did against Griffin. He got a quick and let Griffin right back up for an escape.
Mitchell then got in on another shot for two points and let Griffin right back up. But Griffin couldn't stop the shots, allowing Mitchell to wrestle the whole match on his feet. He had six total takedowns.
"That was the strategy, let it fly. Everything I could do, I left it out on the mat," Mitchell said. "That was the plan, I knew I could be the best I could be on my feet."
As much as Mitchell showed off his offense, his defense was needed late in the match. While all of the takedowns added up, so did the escapes. Griffin took a shot in the third period and got in on the leg but Mitchell got out of it and got his last takedown shortly after.
"That's why we work defense every single day. We work defense, offense, everything right there," Mitchell said. "Next year is going for two."
Gaukel and Klingensmith both lost in their title matches.
Gaukel had to find a way to counter Faught's offense. While he's used the same move many times, it's been very effective for Faught, who is now 38-0.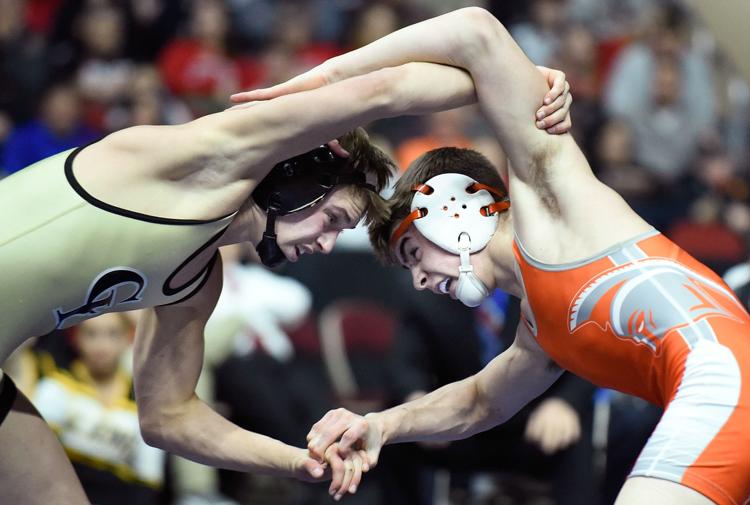 Gaukel fought off Faught's single-leg attack throughout threes periods of action, which was tied at 1-1. But Faught was able to get in on Gaukel's leg in sudden victory, getting the takedown for a 3-1 win in the 132-pound Class 2A title match.
"He wrestled like Jack does. He's a really smart wrestler and he knows as much about his own skills as he does about his opponent's," SB-L coach Clint Koedam said. "We knew that (Faught) had a really good single leg to our right side. We had to change a few things in terms of positioning and hand-fighting and that's the whole part of this process, knowing what you have to do and what the other guys does. Hopefully, it pans out and in this case it didn't."
For the second season in a row, Gaukel, a sophomore, fell short of his goal of becoming a state champion.
Koedam is confident Gaukel will be back in a third finals match yet and have another chance to win a state title.
"I always say he's a student of the sport. He's going to be upset tonight but I guarantee on Sunday, he's already thinking about his next workout to make his offense even better," Koedam said. "So the next time those chances increase even more."
Klingensmith and Noonan were scoreless after one but Noonan took control of the match in the second period. He got an escape and scored a point on a penalty. Then with 55 seconds left in the second period, he got a takedown to go up 4-0.
That was enough for Noonan, even after a reversal for Klingensmith, Noonan won the 113-pound state title 4-2.
Woodbury Central coach Jake Thomas said while this loss may hurt now, it could help Klingensmith grow as a leader.
"The fact that it hurts, it's going to. We've invested so much and to get this close and not get your goal, that's gotta hurt. If it doesn't, you didn't invest anything," Thomas said. "It will be a learning experience. He learned from last year. He will learn from this one and he's already talking about getting eighth-graders involved and set the example.
"I have no doubt that this is going to drive him to another level and help drive our program to another level because of that."