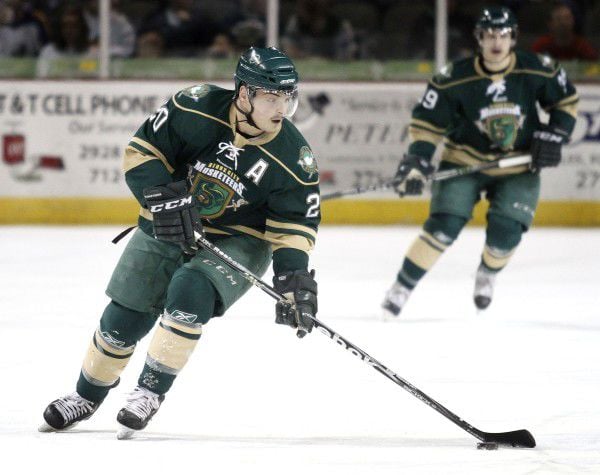 Former Sioux City Musketeer Tommy Olczyk announced his retirement on Twitter on Monday.
Olczyk came to Sioux City when he was 17 years old and spent four seasons with the Musketeers.
"It was around year three when I learned that some dreams change. With that said, my time in Sioux City was far from lost. I was immersed in a great community with great people and made great friends," Olczyk said in his message on Twitter. "It was my first home away from home, and I wouldn't trade my time with the Musketeers for anything. Thanks for not trading me!"
Musketeers coach Luke Strand, who coached Olczyk when he was in Sioux City, said Olczyk went above and beyond to make sure it was more than just hockey.
"He cared. His family has tons of passion, not just for hockey but the community," Strand said. "At the end of the day, he grew up in a hockey family knowing the importance of it. He was a constant communicator and he wanted to be involved with kids. He made it bigger than hockey when he was here."
Olczyk became a central figure for the Musketeers because of his play and because of his lineage. His father, Eddie Olczyk, was on the 1986 U.S National Team and had a 16-year NHL career. He was a Stanley Cup champion for the New York Rangers in 1994.
Eddie Olczyk is a brodcast analyst for NHL on NBC and Chicago Blackhawks games. He was inducted into the United State Hockey Hall of Fame in 2013.
Eddie Olczyk was frequently at Musketeers games to watch his son play.
Tommy Olczyk was a winger for the Musketeers. He played 30 games in 2007-08 and scored four goals to go along with five assists. His next season he played in 55 games and had five goals and nine assists. In 2009-10, he played in all 60 games, scoring six goals to go with 12 assists.
"He got better. He came here early. It took him a while to get his feet under him. He had the 'I think I can attitude.' He was a shootout specialist and he scored some big goals for us," Strand said. "If you look at the big picture of the Olczyk family, it's a special tenure. It's like the honor of the guard for the family. Big Eddie, Eddie Jr. and Tommy, and Tommy played the final game. He went out of his way to really represent the organization."
In 2010-11, Olczyk had his best season with the Musketeers, scoring 10 goals to go with nine assists. He had a goal and an assist in three playoff games.
Olczyk went to Penn State after his time with the Musketeers and was part of the first-ever NCAA Division I Penn State hockey program. He had 10 points in his sophomore and junior seasons and then as a senior, in 38 games, Olczyk had 11 goals and nine assists.
"Penn State was starting out and needed someone like him to get it off the ground," Strand said.
Olczyk went on to play for the Alaska Aces in the ECHL in 2016-17, finishing with 13 points. The next season he stayed in the ECHL and played for the Indy Fuel. He had 10 goals.
Olczyk played one game for the Rockford IceHogs in the AHL in 2017-18. Olcyzk played for Cergy "C" in France last season.
"I've told a lot of people over the past year that this hockey season would probably be my last. I knew that if I didn't find a way to make it over to Europe for at least one year, I would regret it the rest of my life," Olczyk wrote on Twitter. "Not just to simply play hockey in a different country on a different continent, but honestly more so to experience life in a new place and see some of the most amazing cities in the world.
"Now, with no regrets, I can say that my time as a hockey player has run its course."
Be the first to know
Get local news delivered to your inbox!