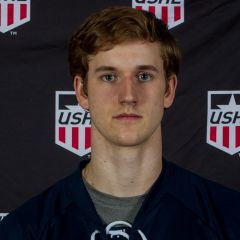 KEARNEY, Neb. | Connor McMenamin burned his old teammates again.
McMenamin, who recorded eight assists for the Anderson Cup-winning Sioux City Musketeers of the 2016-17 season, contributed a goal and two assists Saturday night while leading the Tri-City Storm to a 5-1 win over the Musketeers during United States Hockey League action at Viaero Events Center.
McMenamin scored two goals in Friday night's 5-1 win over the Musketeers. Saturday night, his goal at the 12:58 mark of the second period snapped a 1-1 tie and he later added an assist on a third-period goal from Filip Forsmark.
McMenamin has 39 goals and 49 assists in his third USHL season, which includes 23 goals and 17 assists for the Western Conference leaders. Dating back to last year, he has five goals and six assists against the Musketeers.
Sioux City (22-21-7) slipped to seventh place in the Western Conference after suffering its third straight loss. Omaha (22-21-8), winners of four straight, moved to sixth following a 3-2 win over Fargo.
Coach Luke Strand's squad took a 1-0 lead as Josh Boyer scored off assists from Parker Ford and Marcus Kallionkieli at the 7:31 mark of the first period. It was Boyer's second goal for Sioux City since coming in a trade from Madison in late February.
Tri-City, which has already clinched a spot in the Clark Cup's Western Conference playoffs, outshot the Musketeers 21-10 in the last two periods.
Sioux City will play at Central Illinois Friday and Saturday as USHL action continues.
Be the first to know
Get local news delivered to your inbox!