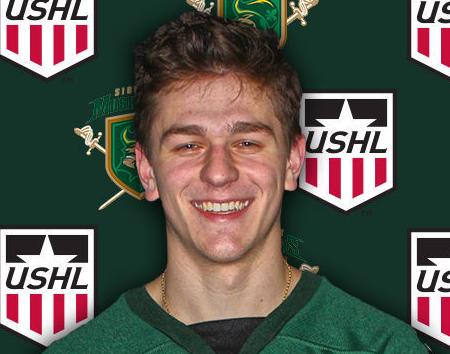 MUSKETEERS WEEKEND OUTLOOK
WHO: Sioux City (19-13-6) at Omaha (13-19-6)
WHEN/WHERE: 7:35 p.m., Ralston Arena
WHO: Chicago (*25-13-1) at Sioux City (*19-13-6)
WHEN/WHERE: 7:05 p.m., Tyson Events Center
*-Records going into Friday's games
One of the five assists from Dominic Vidoli (2 goals, 5 assists) was taken away as United States Hockey League officials reviewed the play during Saturday's 7-4 win over Madison … Originally credited with the second assist, following the first assist from Martin Pospisil (12, 30) on a first-period goal from Bobby Brink (17, 20), the assist was instead given to Marcus  Kallionkieli (19, 11), who finished the game with two goals and an assist, his sixth multi-point game of the season … Still, Vidoli dished assists on first-period goals from Matt Miller (11, 11) and Kevin Lombardi (5, 6) and Kallionkieli's second and third-period goals and nevertheless recorded his second multi-point game of the season … Vidoli, who shares the 4-assist game with Luke Johnson (2, 19), one of several in the USHL this season, also had two goals in a 4-3 overtime win over Omaha on New Year's Eve … Lombardi and Aaron Grounds (4, 3) became the 12th and 13th Musketeers with multi-point games this season with multi-point totals … Brink is the -team's runaway leader with 14 multi-point games while Pospisil, the USHL's seventh-leading scorer with 42 points, has nine … Sioux City's seven-goal outburst against the Eastern Conference's last-place team equaled the amount of goals they scored in their previous three games … Coach Luke Strand's squad, with four power-play goals in their last three games, have moved up to fourth in the USHL at 23.1 percent … Brink recorded the first of his two hat tricks in the 3-2 win over Omaha on Nov. 3, a game where Pospisil threw two assists … Albin Nilsson (4, 10) and Adam Samuelsson (3 assists) each recorded assists on Vidoli's first goal against Omaha, while Vidoli's second goal in then, only in his second game with the team, the game-winner in overtime, was unassisted … Jordan Steinmetz (7, 11) and Vijami Nieminen (4, 1) also scored New Year's Eve goals in front of 3,416 Musketeers fans … Nieminen also scored the squad's lone goal in a 5-1 loss at Chicago on Jan. 19.
The Lancers have played well as of late, going 5-2-3 in their last 10 games … Goaltender Akira Schmid (5-7-1, 2.46 GAA), a native of Langnau, Switzerland, has gone 2-0-1 in Omaha's last three games, converting 72 of 77 save chances for a .935 save percentage … Aleksi Peltonen (7 goals, 10 assists), who had one of his team's three third-period goals in the New Year's Eve overtime loss at Sioux City, had a goal and an assist in Saturday's 4-1 win over Lincoln … The night before, in a 5-1 win over Madison, rookie Brian Silver (5, 5) scored two goals … First-period goals from Tyler Carpenter (8, 10) and Bryce Brodzinski (3, 7) gave Omaha a 2-0 lead in the November meeting at the Tyson Events Center … Harrison Roy (8, 8) has five goals and an assist in 14 games for Omaha since arriving from Cedar Rapids … Jaxon Nelson (7, 11) has three-year USHL career totals of 22 goals and 31 assists … Defenseman Zach Plusinski (0, 2), who was Sioux City's first-round Phase II pick last May, is scoreless in five games at Omaha.
Third in the USHL with 150 goals, the Eastern Conference's second-place team has a whopping eight players with double-digit goal totals, including a pair who are ranked at or near the top the league ... Nick Abruzzese (16 goals, 33 assists) is tied with Youngstown's Brett Murray for a first-place 49 points ... Matteo Pietroniro (14, 19) is the USHL's second-leading defenseman scorer with 33 points while Gunnarwolfe Fontaine (14, 13) and Travis Treloar (12, 14) rank 10th and 11th in rookie scoring with 27 and 26 points, respectively ... Treloar and Fontaine scored back-to-back goals three minutes apart in the third period to break open a narrow 1-0 lead in the 5-1 win over Sioux City on Jan. 19 on home ice at Fox Valley Arena in Geneva, Ill. ... Chicago's fifth-place power play (22.2 percent) has three skaters with 10 or more points, topped by Adam Robbins (10, 22), who has six goals and nine assists ... Former Musketeer Mathieu De St. Phalle (6, 23) dealt two assists in the win over his former teammates.
Be the first to know
Get local news delivered to your inbox!