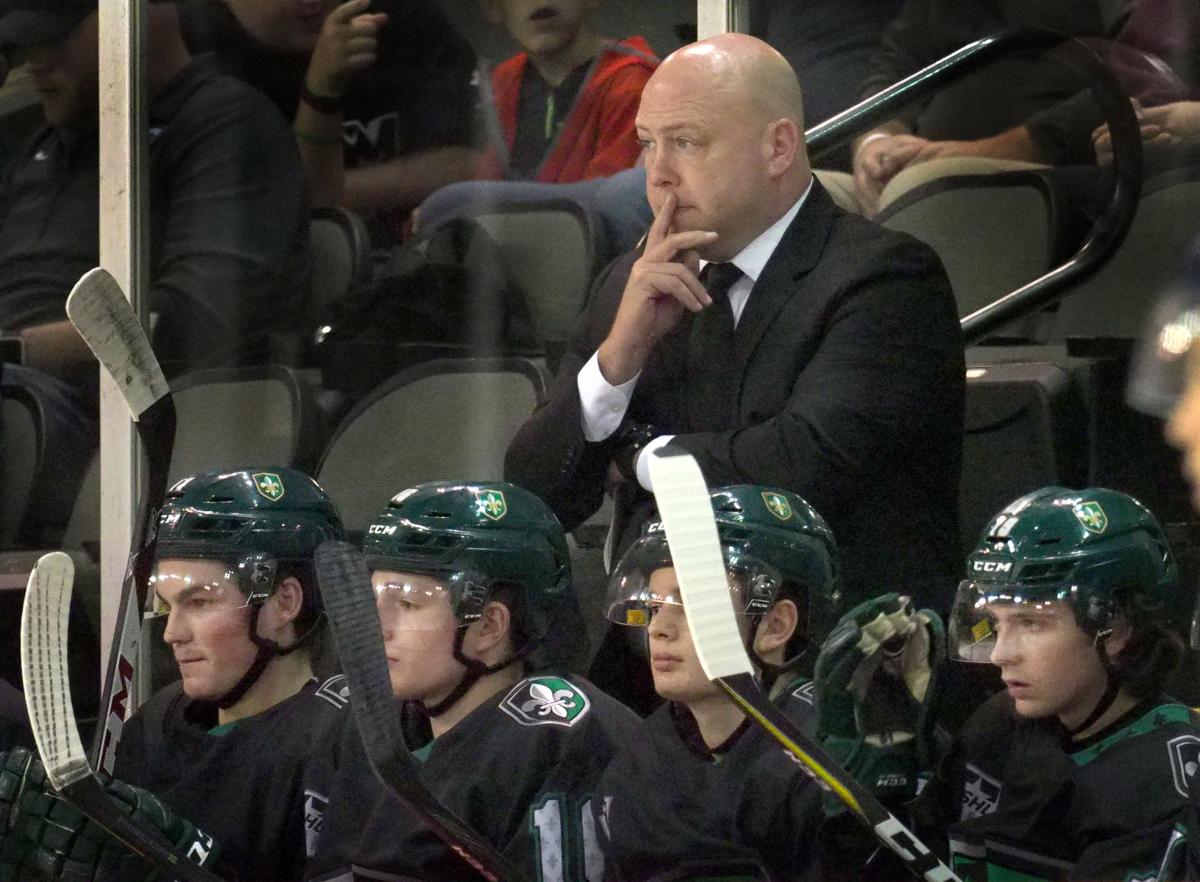 SIOUX CITY — The Sioux City Musketeers selected 15-year-old Drew Tsakounis on Monday with their first pick in the USHL Phase 1 Draft.
Tsakounis, a defenseman from Arlington, Va. who will turn 16 this July, was the top choice and the sixth overall pick in the league's draft.
Tsakounis attends prep school and plays hockey at Avon Old Farms school in Connecticut, and he's already caught the eye of the Penn State coaching staff, which has given him an early verbal offer. Tsakounis, is 5-foot-10 and 165 pound and he scored three goals and had eight assists in 26 games for Avon this past season.
The Muskies went north of the border for their second selection, taking Zachary Bolduc of Bécancour, Quebec with the sixth pick in the second round. Bolduc, who played for Trois-Rivières Estacades of the Quebec Midget AAA League, had 17 goals and 37 assists in 42 games this past season for the Estacades. Bolduc, at 5-11 and 158 pounds, is similar size to Tsakounis.
Sioux City's third round choice was Griffin Ludtke, who played prep hockey for Lakeville South in Minnesota this past season. Ludtke, a defenseman who recently turned 16, had four goals and nine assists in 23 games. Ludtke had a goal for unranked Lakeville South in its 3-2 triple overtime loss to No. 3 Eden Prairie in the quarterfinals.
Ben Doran, a 5-8, 153 pound center from Chesterfield, Mo., was the fourth round pick for Sioux City. Doran who played for the St. Louis Blues U-16 team in the Tier 1 league. Doran had eight goals and 20 assists during the regular season and three more goals at the 2019 Nationals in Grand Rapids, Michigan. St. Louis lost to eventual champion Pittsburgh Pens Elite 2-1 in the semifinals of the tournament.
Sioux City also selected Dylan James, a forward from Calgary Buffaloes of the Midget AAA/AMHL in the fifth round. James, a 15-yard old like Tsakounis, has committed to North Dakota despite being drafted in the Alberta Junior League.
Shai Buium, a San Diego native who played prep hockey at Shattuck-St. Mary in Minnesota, was the Muskies sixth pick. Buium is a 6-1, 220 pound defenseman. David Hymovitch, a forward from Pheonix, Ariz was picked in the seventh round, Joe Kelly, a forward from Eau Claie, Wisc. was taken in the eighth and Anthony Cliche, a defenseman from Bishop's College Prep in Quebec, went in the ninth round.
Aiden VanRooyan, a defenseman from Dakota Dunes, was drafted in the eighth round by Fargo.
Phase 2 of the draft starts at 10 a.m. Tuesday. 
Be the first to know
Get local news delivered to your inbox!