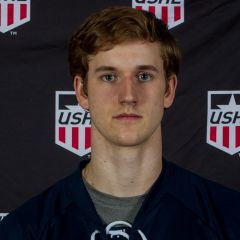 WHO: Team USA (19-15-5) at Sioux City (21-17-7)
WHEN/WHERE: 7:05 p.m., Tyson Events Center
WHO: Team USA (*19-15-5) at Sioux City (*21-17-7)
WHEN/WHERE: 7:05 p.m., Tyson Events Center
WHO: Sioux Falls (29-12-4) at Sioux City (*21-17-7)
WHEN/WHERE: 3:05 p.m., Tyson Events Center
*-Record going into Friday's game
Musketeers Coach Luke Strand is expecting 12 forwards and six defensemen for this weekend's action at the Tyson Events Center … Defensemen Dominic Vidoli (2 goals, 6 assists) and Adam Samuelsson (4 assists) will join the hard-working blue line of Jack Babbage (1, 10), Anthony Kehrer (1, 9), Nolan Krenzen (4, 5) and Tommy Pasanen (1, 6), which had been the only D-corps members to play in the previous three games ... Meanwhile, 11 forwards played in losses to Fargo and Sioux Falls, then 10 in the setback at Waterloo … Vidoli had missed five games with a lower body injury while Samuelsson had missed 10 days because of the flu … Defenseman/team captain Luke Johnson (2, 19) is still inactive with a lower body injury while defenseman Brady Smith (2, 9) was traded Monday (along with a 2019 USHL Phase II pick), to Madison for Josh Boyer, who as a center, contributed nine goals and 13 assists … Boyer, a 6-for-3, 195-pound native of Wasilla, Alaska, has four multi-point games and had dished four assists while scoring in three of his last four games … Sioux City has also been without Martin Pospisil (12, 31) for the last six games as he was suspended by the USHL for multiple violations during a 4-3 shootout loss Feb. 8 at Omaha … Pospisil has already served a game for spearing, two games for abuse of officials and the first three of a seven-game suspension for interference with spectators triggered when a fan threw an object at him and he threw a different object … Pospisil has four games remaining on what originally was a nine-game suspension, but the Musketeers appealed it and the sentence was shortened to seven … Sioux City has a 7-6-1 record against Eastern Conference teams this season … Marcus Kallionkieli (22, 14) leads the Musketeers with nine goals against teams from the East while Parker Ford (16, 15) has seven and Matt Miller (11, 12) has five ... Devlin McCabe (7, 15) dished two assists in last Friday's 6-2 loss to Sioux Falls at the Tyson Events Center on goals from Krenzen and Ian Malcolmson (8, 10) ... Sunday's game against Sioux Falls is the makeup date for a game postponed because of a blizzard warning ... Nine different Musketeers have scored at least one goal against Sioux Falls, including Malcolmson, who has a team-high two.
Team USA 17-Under will take a 5-13-3 record into action at the Tyson Events Center while the Team USA 18-Under squad is 14-2-3 heading into Friday and Saturday's games at Madison … As part of the National Team Development Program, the team that will face the Musketeers has a 5-4 record against European teams (1-2 against Russia) and a 1-4 mark against Canada competition … Team USA's most recent USHL win was a 4-3 decision at Youngstown on Feb. 18, where defenseman Brock Faber (2 goals, 5 assists) scored the game-winning goal … Team scoring leader Thomas Bordeleau (9, 6) scored two goals in a 5-4 shootout win over Western Conference-leading Tri-City ... Faber scored a goal in last Friday's 7-3 loss to Muskegon along with Ty Similanic (6, 5) and Daniel Dzhaniyev … Other scoring threats include Matthew Bemers (5, 8), Brett Berard (5, 6), Luke Tuch (4, 8) and defenseman Eamon Powell (3, 7).
Winners of three straight and eight of their last 10, Sioux Falls is positioned third in the Western Conference with 62 points, two behind second-place Waterloo and six ahead of fourth-place Fargo ... Team scoring leader Jami Kranilla (14 goals, 25 assists) ranks second among USHL rookies with 39 points ... Three more rookies have also been impressive, including Anthony Romano (17, 15), whose first-period goal snapped a 1-1 tie in last Friday's 6-2 win over the Musketeers at the Tyson Events Center ... Romano has four goals and an assist against the Musketeers ... Artem Ivanyuzhenkov (22, 16) and defenseman Max Crozier (8, 22) each have six power play goals while Ethan Phillips (10, 20) has four goals and 11 assists on the man-advantage ... Sioux Falls' rise as of late has also featured the strong play of goaltender Alec Calvaruso (14-3), 10th in the league with his 2.86 GAA.
Be the first to know
Get local news delivered to your inbox!